Nick Cave's Art About Everything Now Seems Like It's Everywhere
An exhibit in Denver feels like the sculptor-painter-puppeteer-costume designer's coronation.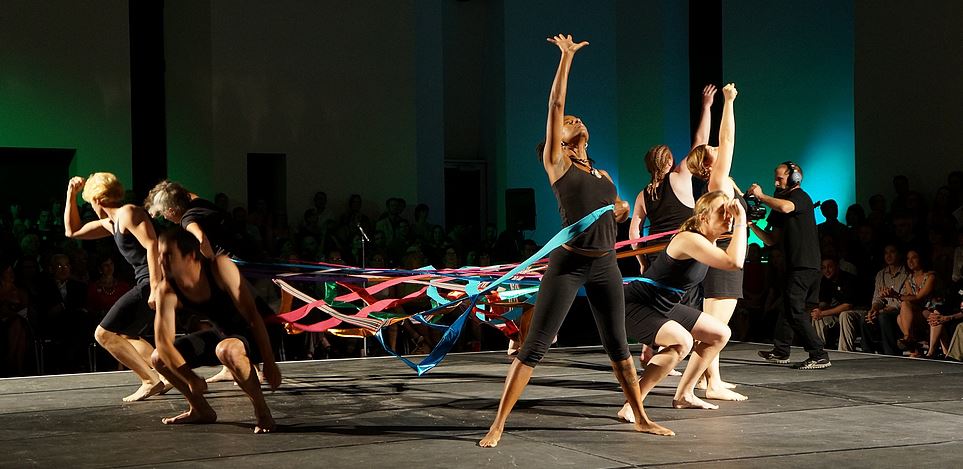 Hampton Stevens
Nick Cave--the artist, not the musician--belongs to a very exclusive club. Along with Damien Hirst, Jeff Koons, Banksy, and maybe a half-dozen others, he's one of the rare living artists who has managed to escape the cultural enclave of the art world and win recognition in the broader pop consciousness. He has done so by being virtually undefinable.
That was evident this spring at the equestrian-themed performance "HEARD New York," which used life-sized, horse-shaped, moving sculptures vaguely resembling Mr. Snuffleupagus to cause a ruckus in Grand Central Station. And more recently, it's been evident at the Denver Art Museum's exhibit, "Nick Cave: Sojourn." The ambitious, expansive show, which opened last month and runs through September 22, is both a retrospective and a showcase for Cave's new directions. With a smattering of his best work from the last decade alongside some 40 new pieces created especially for Sojourn, the exhibition feels like a coronation--a portrait of the burly, 59-year old African-American artist at his creative peak. Combined with the Grand Central performance in March, another major solo show running this summer at the Trapholt Museum in Denmark, and huge exhibits set for next year in Boston and New York, Nick Cave is officially having his moment.
"Sojourn" sprawls, meandering through much of the DAM's top floor. There is a touchable whole-room installation strewn with inflatable punching bags. There are sparkling stand-alone sculptures. There's a room of video projections, and wall hangings big enough to envelop a minivan. Other walls are glossed with a symmetrical, kaleidoscopic pattern that serves as a thematic coda for the exhibit. It looks fractal from a distance, but turns out to be made by endlessly repeated photographs of plastic birds. And there are dozens of Cave's signature creations, the Soundsuits. Heavily decorated, oversized human figures, they can function as sculptures, costumes, musical instruments, or all three at once.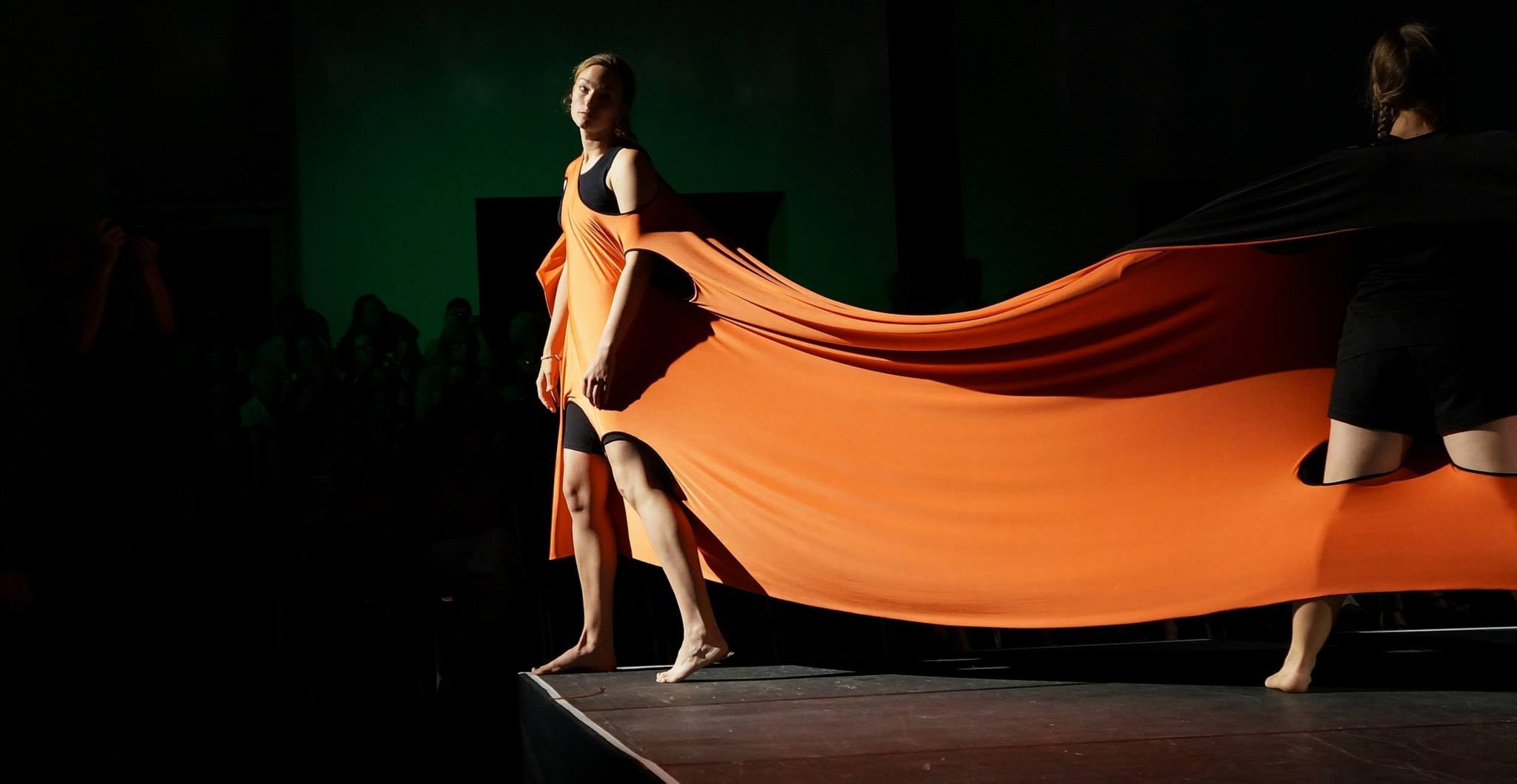 Hampton Stevens
Nearly everything, too, is constructed from, or festooned by, glittering mountains of consumer detritus. That includes thousands upon thousands of buttons, beads, feathers, metal shards and mop-like scraps of shredded polyester--virtually all of it "found" material, rescued and repurposed by Cave.
Despite all the hallucinogenic color and sparkle, though, Cave's work is not lighthearted. This is Gatsby's "vast, vulgar meretricious beauty" refashioned for an age when the lush variety of life is expressed by cheap, plastic replicas of nature pumped out by dirty factories in China. He never descends to mere irony, or a satire of consumer culture. The meticulous, obsessive placement of every button, sequin, and bead is a sort of pleading--almost maudlin--for us to love what others throw away. There is a menace here, too, powered by the same compulsive mania that makes Hoarders such watchable TV. You can sense eerie danger when viewing the towering Soundsuit covered by stuffed toy monkeys--it's a body entirely made of chillingly identical embroidery smiles.
With an oeuvre that encompasses so many media, across so many disciplines, the hardest thing about Cave might be figuring out what to call him. He's most often given the vaguely seedy-sounding catchall title of "performance artist"--probably because "sculptor-painter-puppeteer-costume designer" takes too long to say.
Cave, for his part, told me he is "a messenger first and an artist second."
We spoke last month in Colorado, after a performance to celebrate the opening of Sojourn. In a faded black tank t-shirt, work boots, and with a rainbow-striped elastic band around his bicep, he sat at a small, white table in an atrium just outside DAM's Ponti Hall, where the performance was staged. About 300 people had seen the combination of dance, music, and videography. Cave, who also brought the audience into the start of his creative process while on stage, called the event a laboratory.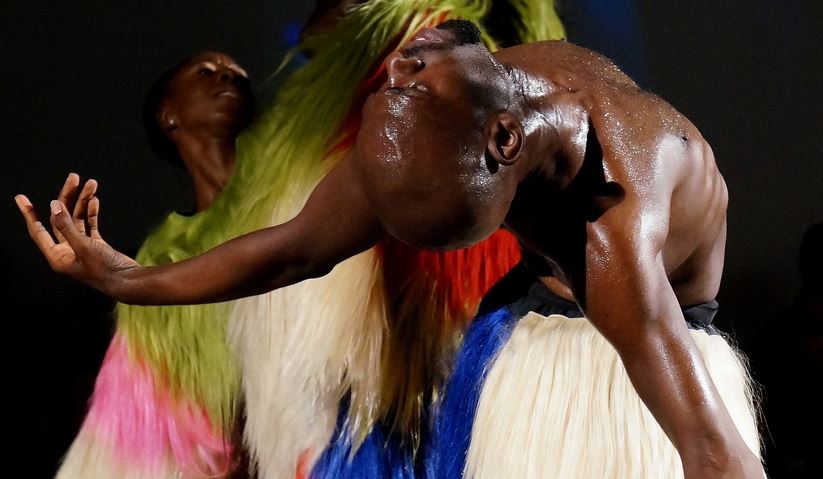 Hampton Stevens
"I've had to come to the realization that what I do creatively no one else does," he said. "I had to accept that as my life. And that's a hard thing, the pressure of that."
He said this without braggadocio. In fact, he sounded like a man who is coming to term with a mild, but chronic, illness.
For the event, Cave chose three local dance companies: 3rd Law, Wonderbound, and Cleo Parker Robinson Dance. He gave them all props and open-ended instructions about the themes he wanted explored, and then let the groups create on their own. The result was a series of conceptual vignettes. One dramatized the gestures around clothing--our endless dressing, undressing, adjustment and fussing. Another had the dancers stretching and straining against a black-and-orange strip of fabric, invoking Christo and Mummenschanz. Each was performed to an abstracted space-jazz created by a Denver-based band, Double-Ply Translucent Caterpillar. All of it was ferociously improvisational, explicitly designed to bring the community into the creative process.
William Morrow is a curator of contemporary art at DAM. He said artists including John Cage, Robert Rauschenberg, Nam June Paik, and Yoko Ono helped legitimize performance art in the 1960s and '70s. But Cave, Morrow said, is unique: "He's been a pioneer among his generation of artists. Cave is bridging the gap between audience and artist in a way that is largely unprecedented in the history of performance art."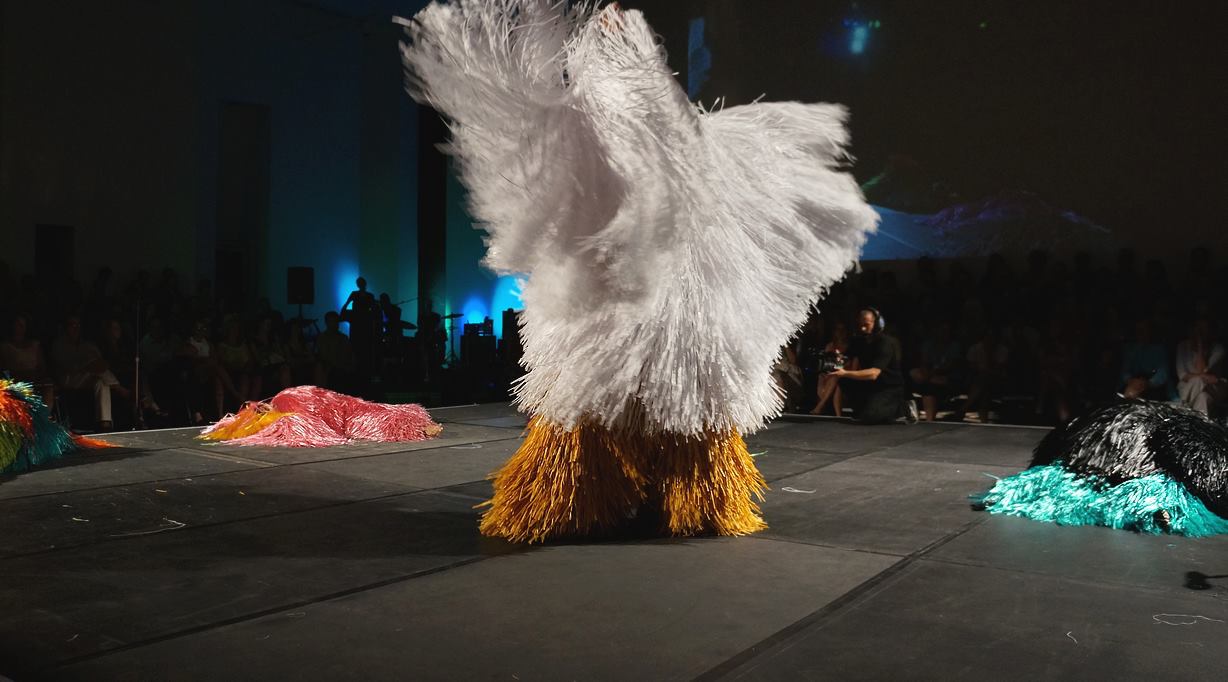 Hampton Stevens
Cave himself said that the art that interests him most is the art that he inspires others to create.
"I'm interested in coming to cities and looking at the community that I'm encountering and asking myself who's here," he said. "It's the outreach that leads individuals into this sort of an immersive connection, and that allows them to be facilitators in their world."
Come to think of it, maybe Cave's work isn't so tough to define, and there's no reason to call him a "performance artist-sculptor-costume designer-puppeteer-messenger-facilitator." Maybe the most accurate title for Cave is one he already has at the Art Institute of Chicago. He's a teacher.