Maurice Sendak, Mao Zedong, and the Man Who Collects Them
Justin Schiller's extraordinary career as an art collector has his New York gallery divided down the middle: half illustrations from kids' books, half Chinese propaganda.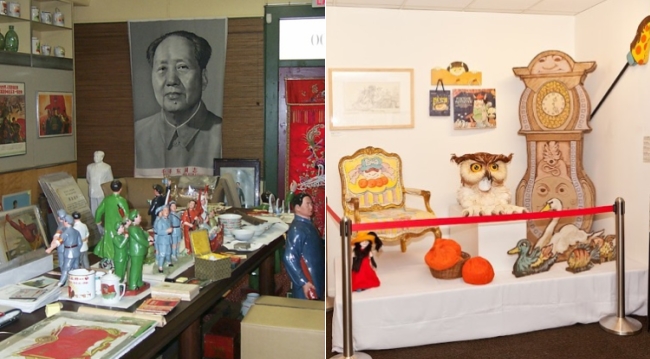 What do children's book pioneer Maurice Sendak and Communist party chairman Mao Zedong have in common? The likely answer is "very little other than Justin Schiller." For those who do not know the name: Schiller almost single-handedly raised kid's book illustration from ephemeral to collectible art and, at the same time, has had a big hand in documenting Chinese revolutionary propaganda. Why? Some people are just born to collect.
Schiller's personal collection of children's books and illustrations is beyond expansive--it is one of the largest private holdings of first editions, original drawings, and paintings. A small but important part of his treasure is on view in Maurice Sendak: A Celebration of the Artist and His Work, an exhibition at the Society of Illustrators (through August 17) in New York, for which he was co-curator. It contains more than 250 original gems, just a small sampling of Schiller's huge passion that began when he was a child and still growing.
At age eight Schiller began collecting rare books, including L. Frank Baum's Wizard of Oz series. By 12, he says, he was "the youngest lender of rare books to Columbia University Libraries in its 200-year history." The year was 1956. Columbia was celebrating the centenary of Baum's birth with a major exhibition, but lacked a few necessary pieces that, as it happened, Schiller had acquired from the used bookstores on lower Fourth Avenue, once the epicenter of second-hand volumes. That same year MGM's Wizard of Oz starring Judy Garland premiered nationwide on CBS television with some fanfare. CBS wanted to borrow a copy of the first edition of the The Wonderful Wizard of Oz (Chicago 1900) and Schiller supplied the copy. As a reward, he was anonymously included on the telecast, along with 10-year-old Liza Minnelli, as the show's guest introducer, Bert Lahr (the Cowardly Lion) read to them from the book.
Schiller worked his way through college buying and selling old books. After leaving graduate school in 1966, he was accepted for membership in the Antiquarian Booksellers Association of America (ABAA), founded in 1949 to encourage appreciation of old and rare books. Although Schiller issued catalogs from his dorm, his big splash as a broker of significant rarities came in 1967 when  he created a catalog of rare children's books from the 18th century onwards: American, British, and Continental. From then on he specialized in children's books, manuscripts, and artwork.
His association with Sendak developed after he helped him find vintage German "mechanical books" by Lothar Meggendorfer, known for intricate pop-ups that required precise paper engineering. Years later, after they acquired the original watercolor manuscripts by Meggendorfer for these same books, Sendak wrote a "splendid introduction" to their 1975 Meggendorfer catalog, Schiller told me. After opening a children's-centric bookshop in a New York City brownstone in February 1970 (on East 61st Street between Park and Madison Avenues), Schiller began mounting book-signing parties for Sendak, beginning with In The Night Kitchen (1970). "We also handled the sale of original drawings that Maurice wanted to sell, along with artwork by Beatrix Potter, Kate Greenaway, Randolph Caldecott, and Walter Crane," Schiller said. "In those days there was no venue for selling contemporary illustration art, and other artist clients also sold drawings through our gallery: Arnold Lobel, Tomi Ungerer, Uri Shulevitz, and others. It was a period when nothing was especially expensive and artists were glad that there were collectors who wanted to own their originals."
During the 1970s and 1980s, Sendak sold pictures that Schiller now wished he had kept. "It was not until the late 1980s that I really fell in love with his artistry, and our friendship also became closer," he said, recalling the time he and his partner Dennis M.V. David began seriously collecting Sendak originals. "Over the years we purchased back many drawings that we had earlier sold, often from five to 10 times what had previously been paid for them. As I helped Maurice build his personal collections of Herman Melville and William Blake, he likewise encouraged my interest in collecting his own pictures and he also taught me a lot about appreciating art that I would have never known otherwise. Both Dennis and I have come to understand and appreciate his genius in ways I never saw before."
Schiller intends to keep the original drawings together and "possibly find a museum of American art or at least a philanthropist who can appreciate the unique talent that Sendak represents and might be interested in purchasing from us the entire collection to establish a permanent home."
But Sendak is not Schiller's sole passion. He is also the arbiter of art for children's narrative books, including those by Chris Van Allsburg, who had four solo exhibitions at the former Schiller-Wapner Gallery (on Fifth Avenue), including all the finished artwork for The Polar Express. Schiller also handles original pictures from the estates of Arnold Lobel, Leonard Weisgard, and Beni Montresor. His major current project is to inventory and sell an important collection of drawings and first editions by Randolph Caldecott (the namesake for the prestigious Caldecott Medal given annually by the American Library Association).
But not everything in his collection is for or about children. Since 1996, Schiller and David have had a deep interest in Chinese propaganda produced under Mao Zedong (mid-1930s through 1970s); they've been buying examples from leading dealers as well as private collectors in China.  "We were the first dealers to be able to identify and introduce the first editions of the Little Red Book by Mao to western collectors and have now developed a remarkable inventory of vintage textiles, prints, posters, fine art, sculptures, and handicraft," Schiller said. Their current gallery in Kingston, New York, is divided literally down the middle with Mao Zedong on one side and Maurice Sendak on the other. "Maurice was quite amused by this juxtaposition," Schiller said, "and referred to it as "the Mao and Mo show."