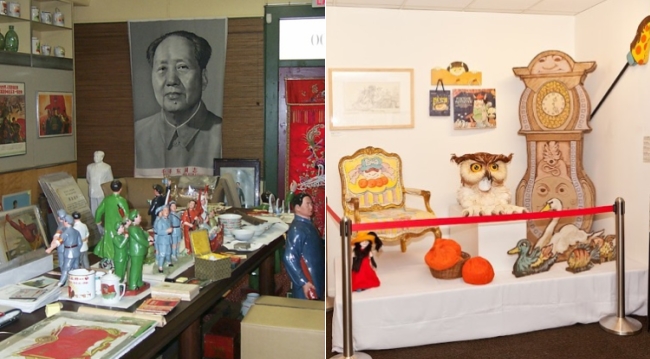 What do children's book pioneer Maurice Sendak and Communist party chairman Mao Zedong have in common? The likely answer is "very little other than Justin Schiller." For those who do not know the name: Schiller almost single-handedly raised kid's book illustration from ephemeral to collectible art and, at the same time, has had a big hand in documenting Chinese revolutionary propaganda. Why? Some people are just born to collect.  
Schiller's personal collection of children's books and illustrations is beyond expansive--it is one of the largest private holdings of first editions, original drawings, and paintings. A small but important part of his treasure is on view in Maurice Sendak: A Celebration of the Artist and His Work, an exhibition at the Society of Illustrators (through August 17) in New York, for which he was co-curator. It contains more than 250 original gems, just a small sampling of Schiller's huge passion that began when he was a child and still growing.
At age eight Schiller began collecting rare books, including L. Frank Baum's Wizard of Oz series. By 12, he says, he was "the youngest lender of rare books to Columbia University Libraries in its 200-year history." The year was 1956. Columbia was celebrating the centenary of Baum's birth with a major exhibition, but lacked a few necessary pieces that, as it happened, Schiller had acquired from the used bookstores on lower Fourth Avenue, once the epicenter of second-hand volumes. That same year MGM's Wizard of Oz starring Judy Garland premiered nationwide on CBS television with some fanfare. CBS wanted to borrow a copy of the first edition of the The Wonderful Wizard of Oz (Chicago 1900) and Schiller supplied the copy. As a reward, he was anonymously included on the telecast, along with 10-year-old Liza Minnelli, as the show's guest introducer, Bert Lahr (the Cowardly Lion) read to them from the book.