Is This the Dawn of the New Golden Age of World Soccer?
The game has seen great players come and go—but usually one or two at a time. Rarely have so many top talents, including Brazil's hottest newcomer, achieved so much at once.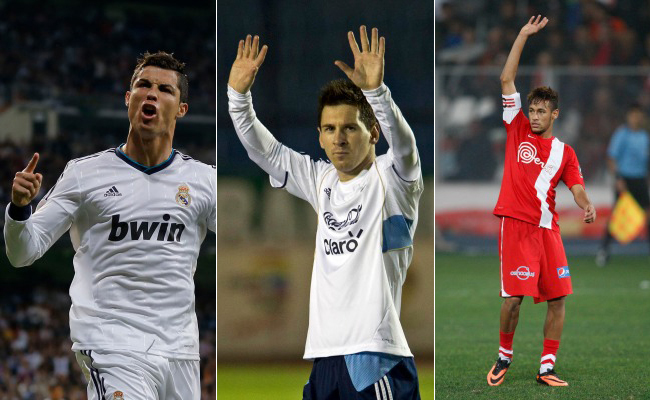 AP / Daniel Ochoa de Olza, Moises-Castillo, Karel-Navarro.
Until recently, the list of association football's greatest players has been lengthy but linear. In other words, the world's most popular game has witnessed its share of greatness at all points throughout its history, with the geographically and stylistically disparate dots forming a straight line in time -- from Alfredo Di Stefano to Pele, from Pele to Johan Cruyff and from Cruyff to Diego Maradona.

MORE FROM BLEACHER REPORT:
Size Still Matters in the NBA
Top NFL Rookies to Watch
Toughest Training Regimens
---
In the current day, however, a number of transcendent talents have emerged simultaneously, suggesting a new golden era is dawning. Two players -- Lionel Messi of Barcelona and Argentina, and Cristiano Ronaldo of Real Madrid and Portugal -- have already risen to greatness. A third, Barcelona's new Brazilian import Neymar, appears to be on track after leading the Seleçao to a stirring triumph over Spain in this year's FIFA Confederations Cup.
Over the next year, all three will challenge for glory at the highest levels of both the club and international game. With their combination of skills, talents and enormous potential, and with historically strong opponents awaiting them, the coming year could become a classic period of the modern game.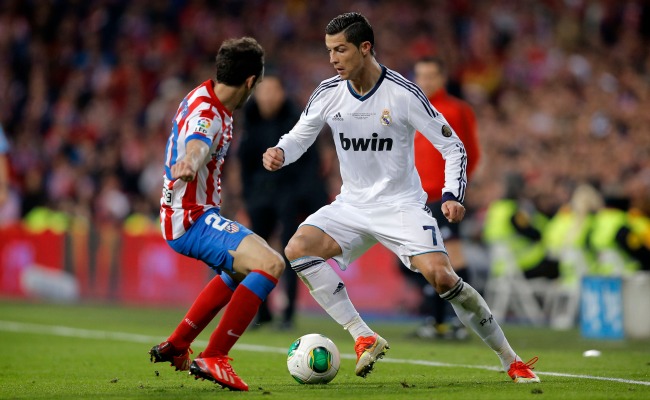 AP / Daniel Ochoa de Olza
The Established Rivals
The 2012 FIFA Ballon d'Or Gala, held in January 2013 in Zurich, served as the latest setting for the unfolding and ever-escalating rivalry between Messi and Ronaldo. Messi claimed more than 41 percent of the vote. Ronaldo, who was the last player not named Messi to win the award (in 2008) received less than 24 percent.
And so Messi, still only 25 at the time, won the award for the fourth straight time, a record that cemented his position as the world's best player and a legend in his own time. BBC Sport Phil McNulty wondered aloud whether Messi was already the best player ever. Meanwhile, the The Telegraph's Paul Hayward left no doubt that Messi had no equal:
Xavi is the world's best metronomic passer. There are other good ones but Xavi is the best. Iniesta is the best roving midfielder. Starting on the left, he floats and drifts with lethal cunning. At gliding pace he lacerates defences and sets up colleagues. Ronaldo, whose talent is more spectacular, more obviously ingenious, is also No. 1 in his class of elusive sprinters.

But Messi has no category in which to be better than all the rest. He is his own genre. No rival can match his array of skills or claim to be a lesser version of him. This is what elevates him to the level of genius.
Perhaps not surprisingly, one of Messi's teammates said that the diminutive Argentinean is already the best of all time. Speaking at a press conference shortly after the gala (h/t Goal.com), Barcelona forward Pedro said: "I have shared many years and seasons with him here; I have won many titles by his side and it is a great joy to havegained a new Ballon d'Or. He is the best player ever."
Messi himself reacted with humility that bordered on sheepishness. "To tell you the truth this is really quite unbelievable," Messi said, per The Guardian. "The fourth award that I have had is just too great for words."
But Messi's unbelievable 2012 -- in which he scored a world-record 91 goals -- was worthy of the acclaim. It also provided ample reason to snub a player of Ronaldo's caliber. The Portuguese was a phenomenon as well, scoring 60 goals in all competitions during 2011-12 as Real Madrid wrestled the La Liga title from Barcelona.
Indeed, Ronaldo, 28, likely would be in the advanced stages of building his own case as one of the best players of all time if not for Messi's contemporary presence. Having won league titles in two of the world's best leagues and the UEFA Champions League title with Manchester United in 2008, Ronaldo already boasts a sterling resume.
Real Madrid president Florentino Perez, whose club bought Ronaldo for a world-record £80 million transfer fee in 2009 (a figure in the $120 millions), believes Ronaldo is the best in the world -- and potentially the best ever.
"He is the face of the team and the best player in the world," Perez told Gol Caracol recently, as per ESPN. "... We are yet to see the best of him. He can be the best of all time."
The rivalry will continue into the new club season, where Barca and Real figure to dominate domestically once again. For all their escalating success, though, both Messi and Ronaldo to this point have been unable to win the biggest prize of all, the FIFA World Cup.
Both should have another chance next year in Brazil, which is coincidentally the home country of another rising star, one who is threatening to make the rivalry a three-headed affair.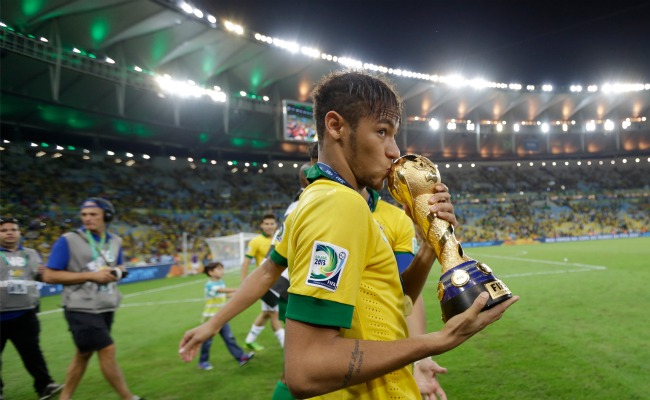 AP / Natacha Pisarenko
The New Kid on the Block
The hype, as it turned out, was entirely warranted.
After years of receiving resounding endorsements from high-profile sources, Neymar lived up to his star billing in this year's FIFA Confederations Cup. Held in his native Brazil, the tournament was an opportunity for both country and player.
Neymar, who had only just made the transition from wearing No. 11 to the national team's iconic No. 10 shirt, dominated all comers.
The 21-year-old started with a flourish, scoring the tournament's opening goal, a stunner against Japan, in the third minute of the opening game. He followed up with a deft volley and jaw-dropping assist against Mexico and added another goal, this one from a free kick, against Italy.
Brazil then dominated Spain in the final as Neymar scored again. After five comprehensive performances, Neymar finished the tournament with four goals and rightfully earned the Golden Ball as its best player.
Coming of age moment for Neymar. Delivered.

-- Will Tidey (@willtidey) June 30, 2013
With the tournament still in progress, Brazil manager Luiz Felipe Scolari nearly burst with praise for Neymar, suggesting that Neymar was already a "genius" andincluding him among the world's top three players. Scolari knows something about world-class talent. In his first stint as Brazil's manager, he led the team to its most recent World Cup triumph in 2002.
Not that Neymar has reached the level of Messi and Ronaldo quite yet.
The Confederations Cup is obviously not the World Cup, and Neymar still has not played a European season. But after signing with Barcelona this summer, the latter will no longer be valid in the coming months. What's more, he had already hinted at greatness with the goal that won him the 2011 FIFA Puskas Award. And with the World Cup less than a year away, he'll have his crack at the former as well, and on home soil.
So while Neymar has some way to go before matching Messi and Ronaldo, he has already entered their realm with a rousing, coming-of-age performance for his country. And over the next year, he'll have the chance to top himself with both club and country.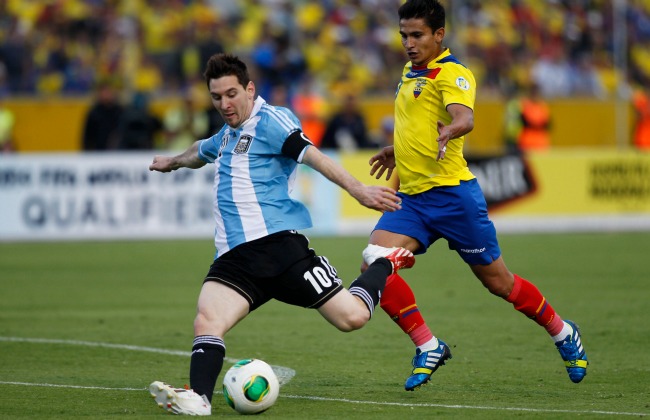 AP / Dolores Ochoa
Worthy Competition
It's worth noting that none of these players feature for the two teams currently atop the club or international levels. Rather than being a negative, however, that can be a positive for all three.
Spain, despite losing the Confederations Cup final to Brazil, won the World Cup in 2010, as well as the last two European titles. German giants Bayern Munich claimed a historic treble last season, winning the UEFA Champions League and German league and cup in a record-breaking season.
That means Messi, Ronaldo and Neymar will face fierce competition over the next year in their continuing quest for greatness. To be the best, it's necessary to beat the best, and all three will certainly have formidable obstacles in their path.
All in all, that makes for a potentially fascinating year ahead, one that could easily come to be seen as a golden era in soccer. The game has rarely had so many transcendent talents grouped together in space and time, and with prestigious competitions and fearsome opponents lying in wait, the stage could hardly be set any better.