Happiness Is a Paul McCartney Concert in Summertime
On the pure joy and infectious empathy of Macca at Fenway Park on Tuesday night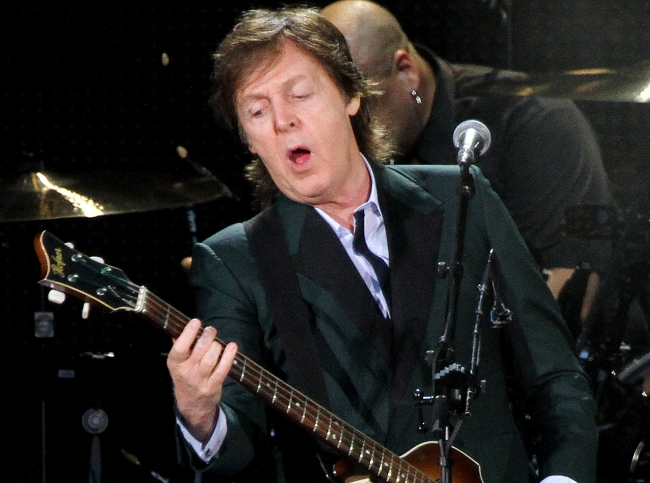 Marc Andrew Deley/Invision/AP
It's a tiny planet, really, and most of the people on it have some love for the songs of Paul McCartney. And so to simmery-summery Boston he comes, to the hysterical green bowl of Fenway Park, this sly, gangsterish old boy with his legend in his back pocket. He looks good, a vision of vegetarian slimness, narrow-trousered, Cuban-heeled, sliding between guitars and pianos on familiar elegant-ungainly Beatle legs. He sold out this show in five minutes, I'm told.
Crowdpleaser, deliverer: "All My Loving" is the first number, and the joy of the audience is instantly complete. He could end it here, really, take one of his impressively low bows and call it a night. But he doesn't--he plays for another nine hours. Or five hours. For several hours, anyway, without ever (as far as we can tell) a sip of water. This is hard, hard rocking. And loud, too: The incredible, beautiful matrimonial bombast of "Maybe I'm Amazed" properly shakes the place. Maybe I'm amazed at the way you love me all the time... Shouldn't he be streaming with tears as he sings this? No--he's Paul McCartney. Huge latitudes of emotion conveyed with boisterous professionalism, with showbiz invincibility. So we get the wink, the head-toss, the comically lengthened upper lip, the full arsenal of insouciance. My companion for the evening is a McCartney nutter, a real Macca-head, rapt in her enjoyment even as she trains her formidable critical mind upon his performance. "Another song of empathy," she shouts in my ear after a thumping, flawless run-through of "Lady Madonna". "Always taking the woman's side. He's very woman-identified."
He plays "Blackbird" alone, with an acoustic guitar. Then, similarly, "Here Today." It's shockingly moving. He plays the first half of George Harrison's "Something" on a ukulele, and the humbleness of the sound seems to reach into the song's mystery--the essential mystery of an erotically sated Beatle. All I have to do is think of her...
I could live without hearing "Yesterday" again, but that's just me. Ob la di, ob la da. The principle of entertainment is indestructible. It is a human truth. "One of my more intellectually challenging songs," he says after the nonsense rave-up of "All Together Now" (A,B,C,D/ Can I bring my friend to tea?) And after "Mrs Vandebilt" he confides to us that the Wings-era number--with its cheery-beery refrain of Ho! Hey ho!--is a great favorite when the band plays the Ukraine. Hordes of delighted Ukrainians, thumping along: Ho! Hey ho! Can't you just see it?
Night-glow rises, city-glow: Fenway Park brims with happiness. "Let's get high on life!" he exhorts before "Hi, Hi, Hi", and it does seem almost possible. "Live And Let Die" includes fireworks. You can't miss with fireworks. "He's seventy-one dude!" insisted a voice in the bag-check line, hours ago. "This is his last tour for sure!" No way, no way. He'll bury us all.