Eye to Eye: Taher Shah, Unlikely Overnight Pop Sensation
Celebrating the overdue arrival of this summer's unrepentantly vapid icon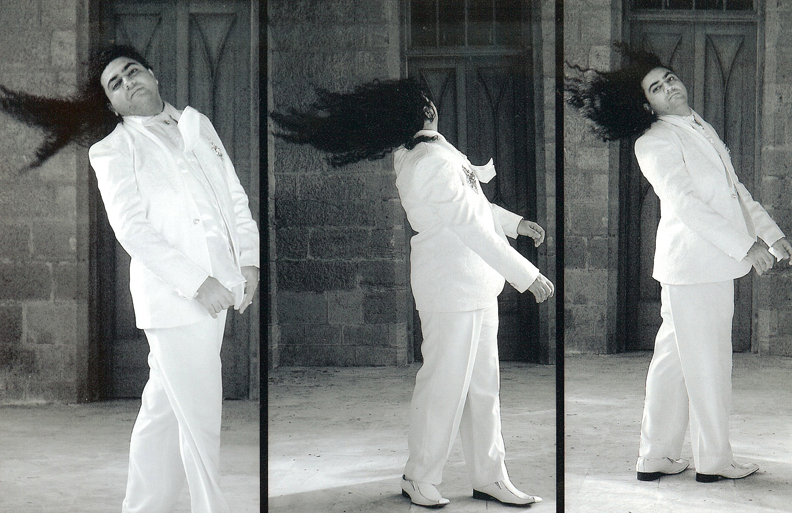 Taher Shah
"If I had to disable you with just one part of my body," Taher Shah announces apropos of nothing, lowering his shades as ice cubes crackle in his lemonade, "I would use my eyes."
I look away, dipping my hand into the pool at Shah's Sindh estate. Rich, fatty sauces drift lazily off of my fingertips, layering in rows across the surface of the artificially cooled water.
He's not really going to disable me, I think.
Still, I've been here too long. I should get out ... of this dream world wherein I traveled to Pakistan to profile Taher Shah.
***
I have actually not yet met this summer's international pop sensation-in-the-making. I requested an interview but am still waiting. Maybe it's all part of the mystique.
Taher Shah's digital tail is short, almost eating itself. The most credible Twitter account in his name (Or is it this one? There are impostors) was just opened at the end of April, and it is little more than an exaltation of the human eye.
The one thing we know for sure about the self-described singer/lyricist/writer/model/actor/producer/director/businessman is that he has a super-hot single. Despite YouTube being banned in his home country, his recently released debut "classic epic song and video" has already been viewed half a million times around the world.
If you haven't seen it, here it is. I don't think there's really anything I can say to prepare you.
The single is entitled "Eye to Eye" ("Ankhon he Ankhon Mei" in Urdu). Yes, a good amount of it is him looking pretty longingly at another incarnation of himself. He also lays claim to your heart without regard for your perspective on the matter. ("Your heart is mine because I love you.") But let's not get on him about syntax; any effort at working multilingually is a noble one.
The Internet adores it. Or adores hating on it, or ironically adoring it. However the Internet feels about things it makes popular; that new emotionless amalgamation of emotions. It's doing that.
A review from Ujala Ali Khan on Monday in The National describes the Taher Shah experience: "In an extremely jarring yet fixating combination of bad English and even worse taste, the singer sways side to side as he sings about the importance of eyes when one is in love. He talks about something called 'spectrum eyes,' which are a sign of true love."
When "Gangnam Style" was popular last summer, my colleague Max Fisher looked into the soul of what seemed at first glance to be a carefree pop song and found subversive meaning. Then this summer, Kanye West abandoned his roots and delivered the shockingly poignant Yeezus. Where are our empty, feel-good July jamz? Smash Mouth? Rebecca Black? LFO? Actually, LFO's frontman died tragically a few summers ago. We do have Robin Thicke. Still maybe for music to speak to a massive international audience in 2013, it has to stand for something.
So that was my first thought on seeing the success of "Eye to Eye" -- what does it mean?
***
This week Shah did appear on Pakistani station Asham TV to talk about his meteoric rise. The opening lines of the segment introducing "Eye to Eye," though, seem to put an abrupt end to my search. "While it carries no particular message, it has been viewed hundreds of thousands of times." 
Then later on, Shah gave an interview, wearing his trademark off-white suit. I unfortunately have a difficult time understanding some of his English, but he does at one point definitely say, "People like it because I talk about the simple things."
That's a tally in the self-awareness column. And he gets another for releasing this behind-the-scenes look at the making of "Eye to Eye," which does offer some degree of the unpolished authenticity that he must know we're screaming for.
So until I hear back from Shah, I guess this one can go straight into your empty summer pop playlist. Or, more likely, your no-playlist-at-all and try to erase it from your memory.
But you can't. He will come to you, as he does for me most nights now ... simply, in your dreams, with his spectrum eyes.