Big Star: 'The Greatest Band You've Never Heard,' Now on Film
Big Star: Nothing Can Hurt Me aims to spread the gospel of an underdog band -- and to memorialize its underdog founder -- while also celebrating its underdog status.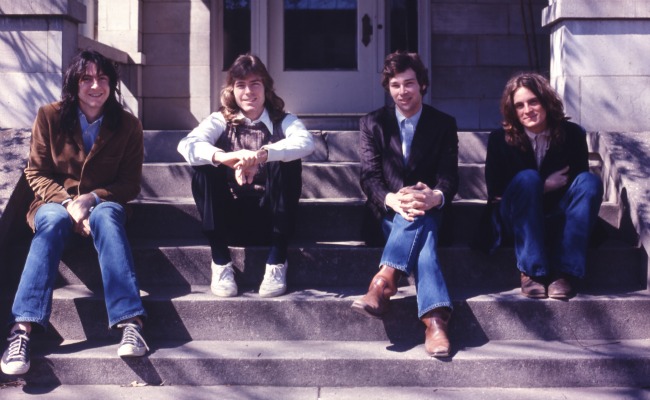 Magnolia Pictures
Writing about Big Star is risky: Readers familiar with the band are probably already on the lookout for evidence that, say, I don't know enough about Rock City to call myself a serious Big Star fan. The other 98 percent of readers are already lost.
But don't click away! As any fan will tell you, Big Star is the greatest thing you've never heard. Here's a capsule biography for the band, which is the subject of the new feature-length documentary, Big Star: Nothing Can Hurt Me. Founded in Memphis in 1971 by singer-guitarist Chris Bell, it included Alex Chilton, the former teenage singer of the Box Tops' 1967 hit "The Letter." Big Star's first two records--immaculately crafted guitar-and-Mellotron power-pop with hooks to spare--won fanatical, breathless praise from the music press but were torpedoed by distribution problems. Bell quit in despair, leaving Chilton to make Third, Big Star's last testament and a surreal, disjointed, genius journal of decay. But just about everyone who did hear the records was entranced. The band's disciples include R.E.M., Yo La Tengo, the Replacements, the dB's, Wilco, Elliott Smith, and basically every power-pop band since. And everyone knows either the Bangles' cover of "September Gurls" or "In the Street" as the Cheap Trick-performed theme to That '70s Show.
You've gathered by now that people who love Big Star really love Big Star. Take the Replacements' Paul Westerberg, who wrote a song called "Alex Chilton" in his band's heyday and wrote an appreciation in The New York Times when Chilton died in 2010 at a heartbreaking 59. Take Peter Holsapple of the dB's, who in the liner notes to a 2009 box set recalled summarily breaking up with a girlfriend when she failed to appreciate Radio City, the band's second release.
Or take Danielle McCarthy, Drew DeNicola, and Olivia Mori, the directors of Nothing Can Hurt Me, which is out in limited theatrical release and on demand. There are three main ways to think about the movie. The first is as gospel: Like every other Big Star fan, its makers approach the band's music with a furious evangelical zeal. The second is as a narrative of a singular surreal event, Big Star's live show at the 1973 Rock Writers Convention in Memphis, which according to witnesses was like the Beatles on Ed Sullivan, but with Big Star subbing for the Fab Four and a group of misfit, drugged out critics playing the part of the ecstatic teenage girls.
The third way of understanding the film seems dearest to the film's makers and those who appear in it. It's also the most daunting. More than anything else, this is a film about Chris Bell, the little-remembered, tragic founder of Big Star. If Chilton is the hero of Big Star, Bell is the hero of Nothing Can Hurt Me. That makes ita film about the forgotten, underdog member of a forgotten, underdog band--an exponentially tough order. To a surprising degree, it pulls it off.
Unlike Chilton, already a jaded star at 20, the Paul Rudd lookalike Bell had never been famous and dreamed of rock stardom. He co-wrote the first two records with Chilton, led his partner toward the power-pop sound, and was the studio whiz who made the debut #1 Record sound immaculate. But when the band didn't hit it big, Bell was deeply disappointed and left. He went to Europe seeking a record deal, drank heavily, returned to Memphis, and became a born-again Christian. He worked in a local fast-food joint as Chilton reached a sort of auteur status. In 1978, Bell's car struck a light pole late at night and he was killed, aged 27.
After Bell left, between the writing and the recording of a second record, Chilton became the band's face. Third, which featured drummer Jody Stephens but came after bassist Andy Hummel's departure, is practically a Chilton solo record. He then went on to an esoteric career, producing punk pioneers the Cramps, steadfastly refusing to make anything that sounded like Big Star or would sell much at all, and remaining a hero to bands like the Replacements. Chilton had a knack for alienating people, though they continued to love him from afar, and he consciously drove off listeners with work like the brilliant, grating dada-rock album Like Flies on Sherbert. Then, in 1993--to the shock of everyone he knew--he reformed Big Star and performed with it occasionally. His later profile never matched his Box Tops zenith, but Chilton seems to have been relieved by that.
Interviews with Stephens, Bell's brother David and sister Sara Stewart, and John Fry, head of Big Star's label, Ardent Records, explain Bell the man. Later footage of Chilton's work--the Cramps and Tav Falco's Panther Burns (where he's credited as Axel Chitlin)--drive home how much of the signature Big Star sound was Bell's. There are some fumbles. You might get the idea that Bell's lone solo release, "I Am the Cosmos," was recorded just before his death, not in 1974, and there's frustratingly no explanation for why Chilton urged his protégé Chris Stamey of the dB's to release it in 1978. The documentary addresses the conflict between Bell's religion and his personal life, but far too obliquely--it's clear, by implication, that Bell was either bisexual or gay, a fact that should have been more directly addressed or left out.
The rest of the film has plenty to amuse, amaze, and entertain the Big Star fan, marred only by sloppily edited captions. The range of interviews is wide--including Stephens, Hummel (who died five months after Chilton), many Big Star associates, and dozens of famous fans--as is the archival footage. Chilton appears only in archival footage and radio interviews; it's not clear if he was still alive when filming began. And there are great details--for example, Ardent had the U.S.'s first Mellotron, without which #1 Record would be unfathomable.
Plus there's the story of the Rock Writers Convention, ostensibly a way for critics to unionize and demand respect. It was organized by Ardent PR man John King, a garrulous fellow who bears a disturbing resemblance to Fred Willard's character in a A Mighty Wind. He offers a po-faced but dubious vow that he did it for the writers and not just to promote the band.
Motivations aside, it worked--sort of. "They had a bunch of rock critics dancing, which is a miracle," one attendee cracks. The sight of a bunch of aging writers--one of the more jaded groups imaginable--un-self-consciously rocking out and playing air-guitar and -drums along with recordings as they reminisce can only be described as tickling.
But as Billy Altman, one of the writers, correctly observes, this is just the problem. You might call it the Paradox of Big Star: As much as the critics (and we obsessive latter-day fans) adored the band, they were just as in love with the idea of an unknown band--"the greatest lost track of all time .... You can't hear it on the radio, you can't hear it anywhere you go," to paraphrase one Big Star fan. "We wanted them to be a tiny band that everbody listened to," Altman says in the film. * It's hipsterism avant la lettre. This catch-22 translates to the movie, too, which is at once trying to evangelize but also intoxicated with its own obscure knowledge. For the Big Star fan, no matter how obsessed, Nothing Can Hurt Me is a must-see.
For everyone else ... hey, have you ever heard #1 Record? Man, you've got to check out this band, you won't believe they never hit it big, it's gonna be the greatest thing you've ever heard ...
---
* Correction: This story originally misquoted Billy Altman. We regret the error.