Arab Rappers Are Landing in Jail for Lyrics—Kind of Like American Rappers
No nation has a richer history of prosecuting hip hop than the genre's birth country does.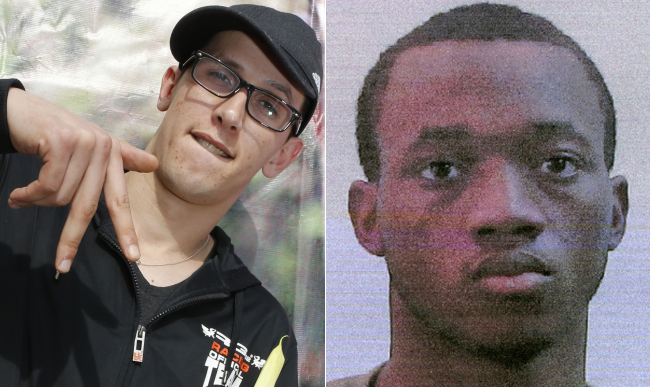 For nearly three months earlier this year, Tunisian rapper Ala Yaacoubi--better known by his stage name, Weld El 15--was on the run. On March 22, just weeks after he released the video for his incendiary protest song "Boulicia Kleb" ("Police are Dogs"), he was charged with insulting and threatening police, tried in absentia, and sentenced to two years in jail. Fearing for his safety in the hands of authorities, Weld El 15 remained hidden, ducking security forces until he finally appeared in court on June 13 to face a retrial and, hopefully, a more lenient sentence for what he argued was merely an exercise of his "freedom of expression." The judge didn't oblige, upholding the two-year jail sentence and sparking a violent clash between protesters and police outside the courtroom. Weld El 15 has appealed the ruling, and a decision is due this month.
Over the last few years, scenes like this one have been playing out across the Arab world, where rappers have been central figures in protests against oppressive and corrupt governments. Indeed, just two years before Weld El 15's trial, another Tunisian rapper, El General, was detained and interrogated for days after one of his songs criticized then-President Zine El-Abidine Ben Ali. His arrest was one of the pivotal events that lent momentum to the Tunisian revolution and the broader "Arab Spring," as it exposed the extent to which regimes across the region were resorting to coercion and violence to remain in power. In Morocco, the arrest and eventual imprisonment of rapper El Haqed, who launched repeated attacks on the state with his lyrics, was equally important to galvanizing protesters during Morocco's February 20 movement. In many other countries across the region, rap has been a soundtrack of revolution and change, too, but also one with potentially steep consequences for performers. Arrests are common, leading many artists to fear that their lyrics could land them in jail, or worse.
From our perch in the U.S., the birthplace of hip hop and home of the First Amendment, the travails of hip-hop artists in the Middle East and North Africa may seem surprising, archaic, and far removed from anything we might experience here. But if the last three and a half decades have shown anything about hip hop, it's that the movement has rarely enjoyed the freedoms afforded to other forms of artistic expression.
This was particularly apparent when rap first began muscling its way into mainstream American culture. During these early days, examples of institutional resistance and brutality here at home abounded: the vicious 1983 murder of graffiti artist Michael Stewart by New York City Transit Police, part of the city's broader "war on graffiti"; the relentless threats and harassment from law enforcement in response to NWA's 1988 track "Fuck tha Police" and the anti-police songs that followed; and the arrests throughout the late 1980s and early 1990s of LL Cool J, Too Short, 2 Live Crew and others for obscenity when they would take the stage in cities across the U.S.
In these early cases and others, American artists, like the Arab world rappers of today, challenged the status quo and pushed the boundaries of art in a society unaccustomed to such brash and unapologetic musical resistance. The response was often to try and tamp down their efforts with law enforcement. More recent revelations that police departments across the country have dedicated hip-hop task forces that monitor and sometimes harass rappers--not to mention the ongoing police-driven venue resistance that often makes finding concert sites difficult--suggest that the American tradition of using police power to suppress hip hop lives on.
Nowhere is this more apparent than in the widespread criminalization of rap lyrics, a topic I've written on in the past and that I routinely consult with defense attorneys about. Just as a number of rappers in the Arab world have been charged and imprisoned for violent, offensive, or threatening lyrics, so too have an alarming number of American artists. These musicians may not be attacking the government, but the government is certainly attacking them. Take, for instance, Olutosin Oduwole, a student and aspiring rapper at Southern Illinois University. In 2007, when police found his car on the side of the road (it had run out of gas) they searched it and found a crumpled note under the console that mentioned a "murderous rampage similar to the VT shooting." Authorities pressed charges, accusing Oduwole of attempting to make a terrorist threat. Although some of the note was written in rhymed verse--and during the 2011 trial an expert witness, Professor Charis Kubrin of UC Irvine, testified that it was clearly a rap lyric--the jury was unmoved. They found Oduwole guilty, and the judge sentenced him to five years in prison--longer than Weld El 15, El General, and El Haqed combined. Oduwole served more than a year of that sentence before an appellate court threw out the verdict, arguing that a note stuffed under a car console, regardless of what it says, hardly amounts to a threat.
There are plenty of similar examples. Most recently, in May, police arrested 18-year-old high-school student and rapper Cameron D'Ambrosio for posting angry rap lyrics to his Facebook page in the wake of the Boston Marathon bombings. The lyrics included the line "fuck a boston bombinb [sic] wait til u see the shit I do, I'ma be famous for rapping, and beat every murder charge that comes across me." Although it was clear to many outside observers, including representatives of the ACLU, that the lyrics were typical rap posturing that didn't amount to a legitimate threat, D'Ambrosio was nevertheless held in jail for over a month without bail. Only after the grand jury decided not to indict him was he released. In response to the case, Minneapolis rapper P.O.S. said if D'Ambrosio's lyrics could get someone locked up, "I'm probably fucked. Lines on my new record are far more explicit than that."
As a matter of fact, if P.O.S. ever runs into legal trouble, he could very well be "fucked," because prosecutors have repeatedly introduced rap lyrics into criminal trials as literal evidence of wrongdoing to persuade juries of a defendant's guilt. A 2004 training manual for prosecutors argues that "through photographs, letters, notes, and even music lyrics, prosecutors can invade and exploit the defendant's true personality." The problem, of course, is that the fictional character projected in a rap song--almost always signaled with a stage name--is often very far from the "true personality" of the artist behind it. The criminal persona found in many lyrics, especially those of the "gangsta" variety, is a genre convention, not a reliable portrait of the performer. Judges and juries don't always understand that, though, an ignorance prosecutors gladly "invade and exploit," giving them an overwhelming advantage in the case--what University of Georgia law professor Andrea Dennis describes as a "stranglehold."
Empirical evidence has shown that rap lyrics, particularly those in the "gangsta" style, are highly prejudicial--that they do indeed create a "stranglehold" for prosecutors. While high-profile artists like Lil Boosie, Snoop Dogg, and Beanie Sigel managed to escape conviction when their lyrics were used against them in court, lesser-known amateurs have been less fortunate. In case after case in which rap lyrics are presented to juries, defendants end up in jail, even when the evidence against them is questionable.
In one case I wrote about last year, Louisiana rapper Clyde Smith (stage name "G-Red") was pulled over by police, who subsequently found prescription drugs in his possession, including hydrocodone and Xanax. Despite the fact that Smith had prescriptions for everything, that no pills were missing from any of the containers, and that he had medical conditions justifying their use, he was charged with intent to distribute. At trial, the case against him was weak, but then the prosecutor showed jurors two of his YouTube performances in which he bragged about selling drugs. The jury convicted him, and because he had a prior criminal record, he was sentenced to a stunning 30 years in prison.
When we consider that rappers like Smith, D'Ambrosio, Oduwole, and many others here in America are being sent to jail for their music, the policing of artists in the Middle East and North Africa doesn't seem so distant or foreign. While it's true that Weld El 15, El General, El Haqed, and their counterparts across the region are often targeted for their distinctly political roles in high-profile revolutions, it's worth remembering that American hip hop performers continue to be engaged in a political struggle, too, over their right to practice their art freely. As rappers in the U.S. have known for some time, this freedom comes with caveats, a reality Ice T captured best in the subtitle of his 1989 album The Iceberg: Freedom of Speech...Just Watch What You Say!