An Emmys Mystery: Why Nominate the Worst Part of Arrested Development?
Jason Bateman did the best he could, but Michael Bluth was a weak link in Netflix's strange, semi-genius season. Better to recognize 'Feral Jesus,' no?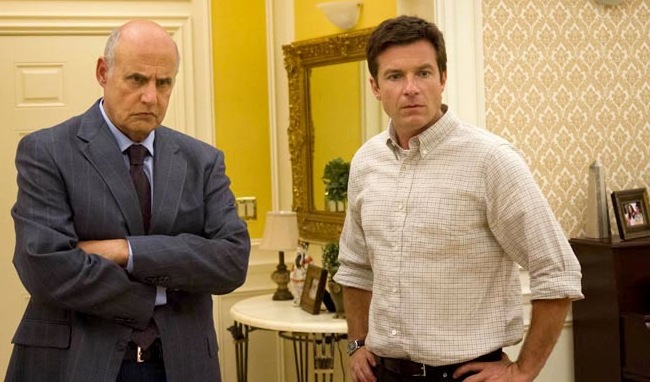 Netflix
This year's Emmys nominations are historic, as a lot of headlines on the matter will tell you, because they signal that Internet TV has "arrived." Two Netflix original series, House of Cards and Arrested Development, received major nods from voters, with Cards getting nine nominations and Arrested getting three.
This is a good thing. You may have your quarrels with these two shows--I do, especially with the ponderous yet somehow captivating Cards--but it's hard to argue that they're not in the same quality bracket as many of the long-feted shows on networks and cable. It's right for the Emmys to recognize this.
But otherwise, the Emmys remain old-school. They fetishize recognizable stars, like Game of Thrones' award-winner Peter Dinklage, who was nominated in a season where he had relatively little to do while Charles Dance owned every scene he was in and Nikolaj Coster-Waldau pulled off an astonishing character transformation. And they latch on to particular shows for years on end: Modern Family, as always, dominates the comedy categories.
This holds for the Netflix nominations. Cards' already-famous leads Kevin Spacey and Robin Wright are up for acting awards; the sensitive, hilarious, heartbreaking work by supporting actor Corey Stoll, who plays Congressman Peter Russo, remains unrecognized.
More frustrating is the case of Arrested Development. Its fourth season, the first for Netflix, was bizarre, sprawling, and inconsistent, yet often uproarious. As The Atlantic's Chris Orr wrote, it's "something that doesn't really have a name, or a meaningful precedent: not a series, or a movie, or even a mini-series, but rather a single, eight-hour work of dada televisual art." So it makes some sense that it's not up for Best Comedy.
But why is its sole nomination in a non-technical category for a role that a lot of people thought was among the weaker points of the new season--Jason Bateman as Michael Bluth?
Bateman is an excellent actor, and his character is the ostensible protagonist of Arrested Development. Since the start of the series, he's played the straight man to his kooky relatives, the guy impressed by how normal he is compared with his hook-having, Magicians' Alliance-betraying family members. One of the show's many ironies, of course, is that Michael really isn't that different, that he shares his kin's congenital self-centeredness. But in the original Fox seasons, a sense decency and love of family--especially love of son--kept him relatable.
In Season Four, he's even more central to the show. Famously, showrunner Mitchell Hurwitz struggled to reassemble the old cast for this new run of episodes, and schedules conflicted so much that he ended up having to use green screens and write-around techniques to bring the old ensemble together. Each installment therefore revolves around one particular character in the Bluth family. But Michael always makes an appearance, usually as part of his quest for signatures to obtain the rights to make a movie based on his family's life.
The most jarring aspect of this season, though, was how show creator Mitchell Hurwitz and his writers seemed to flip a switch on Bateman's character, turning him into a full-fledged sociopathic weirdo with no explanation of why. Well, there's a "why" in the sense that you can sort of understand why they did it: to enable the season-long exploration of how he screws up his relationship with his son George Michael, ensuring that the Bluth clans' dysfunction lives on for another generation. But the show never offers a motivation for his transformation. He's separated from the rest of his family, yes, but that doesn't mean he'd be blind to the fact that he's cramping George Michael's life by taking up residence in his room. It doesn't really explain his OCD-like obsession with parliamentary procedures over dorm evictions. Most crucially, it doesn't mean he'd feel OK about sleeping with the woman he believes to be his boss's mistress and he knows to be his son's girlfriend.
Old Michael might have initially traveled down these paths and then realized his mistake and turned back. New Michael, though, isn't just self-righteous and oblivious--he's recklessly, cruelly obstinate.
Bateman's charms work well enough in individual scenes. He's mastered the art of the comically thoughtful pause and can affect a tone of knowing bullshit like few others. But he never switches up his performance to reflect what's changed in Michael 2.0. To be fair, I'm not really sure what that change might have looked like; the writers really should take most of the blame here. But one way or another, his character ended up being the least memorable, most frustrating ensemble member this season.
There were more deserving cast members, even if they weren't leads. Will Arnett as GOB was never funnier or sadder than as "Feral Jesus" or when bromancing Tony Wonder. Michael Cera convincingly pulled off George Michael's descent into Bluth-style duplicity. Tony Hale's minute-long turn as Lucille Bluth's smoke receptacle alone deserves a prize.
Of course, it's not worth getting all that worked up about: At their best, industry awards merely offer an excuse to chatter about the works of entertainment we love. And there's some poetry to this particular year's slate of nods. One of the central, recurring scenes of the new Arrested season is set at a hotel that's simultaneously hosting three galas in one night, including two awards ceremonies. Explosions, expletive-laden tirades, and prostitution solicitations ensue. Arrested Development, it's pretty clear, recognizes the ridiculousness of events like the Emmys; misplaced nomination aside, it's nice to see the Emmys, in turn, recognize it.