A (Small) Sign of Progress for Female TV Directors at the Emmys
For the third time ever (and the third time in four years), a main-draw Outstanding Directing category includes more female nominees than male.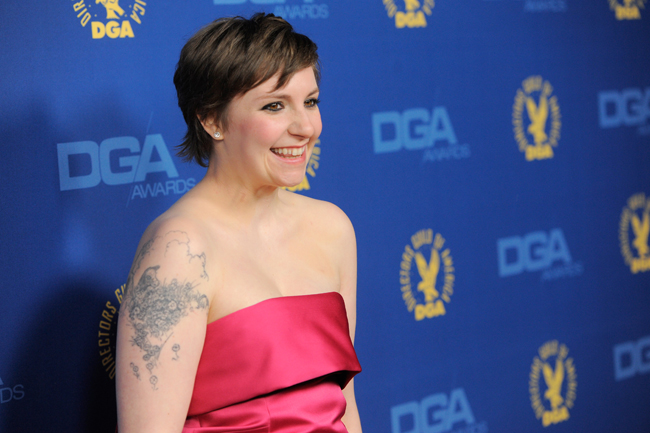 Chris Pizzello/Invision/AP
Something pretty cool is happening at the Emmys: For the third time in Primetime Emmy history (and for the third time in the last four years), a main-draw* directing award has a female-majority nominee field.
In this year's Outstanding Direction For a Comedy Series category, Lena Dunham received a directing nod for Girls' "On All Fours," Gail Mancuso was nominated for Modern Family's "Arrested," and Beth McCarthy-Miller was nominated for 30 Rock's "Hogcock! / Last Lunch." It's the second Emmy directing nomination for Dunham and Mancuso, and it's the eighth (!) for McCarthy-Miller (who's also been nominated in the Variety, Music or Comedy Program category for her work on Saturday Night Live and other programs). None of these women have won a directing Emmy before, and only one woman has ever taken home the Outstanding Directing for a Comedy Series award: Betty Thomas, in 1993, for Dream On.
The last time an Outstanding Directing category featured more female nominees than male was in 2011, when the Comedy Series nominees included two male directors plus Mancuso (also for Modern Family), McCarthy-Miller (also for 30 Rock), and Pamela Fryman for How I Met Your Mother. The first time a direction field featured a majority of female nominees was just a year earlier: In 2010's five-nominee Drama Series directing category, Michelle MacLaren was nominated for Breaking Bad, Lesli Linka Glatter was nominated for Mad Men, and Agnieszka Holland was nominated for Treme.
If you've followed the last few years' worth of (rightful) "Where are all the female filmmakers" agony in the movie world, this development on the TV end of the entertainment spectrum is a refreshing one. Women working behind the camera are still a rarity in film and in television; the fact still remains that only four women have ever been nominated for a Best Director Oscar, and only one has ever taken home the award (Kathryn Bigelow, in 2010).
The Oscars, with only one directing award compared to the Emmys' six (two of which are in the Creative Arts division), obviously present a much narrower field of competition. And it's worth mentioning that on a TV series, a director's job isn't perfectly comparable to a film director's, either—a TV director generally takes charge of constructing particular episodes, but doesn't usually oversee the making of the entire series. (That's the showrunner. Since there's no single award for a showrunner, it's tougher to nail down how many female showrunners have been nominated for Emmys—but The Hollywood Reporter's 2012 list of the top 50 power showrunners spotlights 14 programs with either a female showrunner or a showrunning team that features at least one woman.)
It's still refreshing to note, though, that in this year alone, eight women are up for Primetime Emmys for their behind-the-camera work—many of them for the second or third (or, you know, eighth) time. On the Drama Series side, two women were nominated in the field of five nominees: MacLaren received her third directing nomination for Breaking Bad, and Glatter received her second, this time for Homeland. Two more women were nominated in the Outstanding Directing for a Miniseries, Movie, or a Dramatic Special category—Allison Anders, for Lifetime's Ring of Fire, and Jane Campion, who was co-nominated along with Garth Davis for Top of the Lake—and Rory Kennedy was nominated for a second time in the Director for Nonfiction Programming category for her HBO documentary Ethel.
So what does this flurry of recognition for women TV directors mean? It certainly doesn't mean women are equally represented behind the camera in the world of TV—far from it, in fact. But it does mean that in the past few years, women have become more visible at the helm of more of the best programming on television than ever before.
*Updated at 2:01 on July 19. In 2004, another female-majority nominee field occurred when four women and one man were nominated for the Outstanding Directing for Nonfiction Programming award in the Primetime Emmys' Creative Arts division.