Sukkah City: Revisiting the Crazy, High-Concept, Temporary Jewish Huts of NYC
A documentary shows how a 2010 design contest became "probably the largest non-Orthodox, non-Israel centered public expression of Jewish life in the history of New York."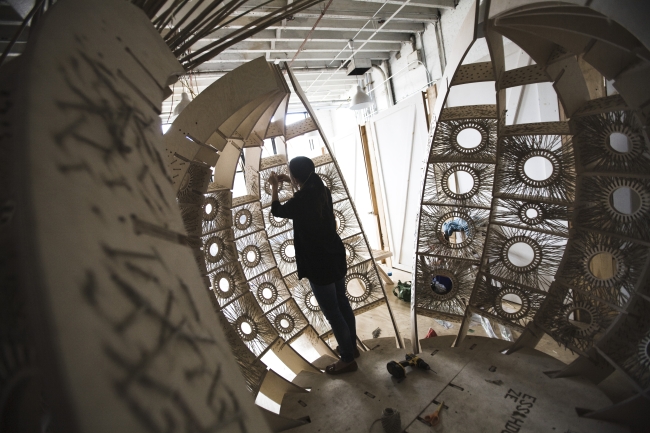 Christopher Farber
On September 19, 2010, 12 otherworldly structures appeared mysteriously overnight in Union Square, New York, comprising a mirage-like installation called Sukkah City. Each newly designed dwelling was a sukkah, described in the Old Testament Book of Leviticus when God commands Moses to tell the Israelites to live in "booths" for seven days. But these 12 were not the common variety of the small, modestly constructed shacks where Jews symbolically celebrate their release from bondage in Egypt. Rather, they were architectural re-interpretations of the sukkah. One was made entirely out of discarded cardboard. Another had a huge log as its roof, resting on glass walls. Another looked like a huge tumbleweed. All were winners all of an unusual design competition, the genesis of which is recorded in a new documentary, Sukkah City, directed by Jason Hutt, which premiered yesterday at the Jerusalem International Film Festival.
During the weeklong holiday of Sukkot in late September or early October, observant Jews live, or simply eat their meals, in temporary enclosures ordained by God and constructed according biblical guidelines. The idea to radically transform the sukkah while following religious proscriptions was the brainchild of Joshua Foer, a writer and journalist, and Roger Bennet, a co-founder of Reboot, a non-profit group that encourages Jews disconnected from their heritage to engage in cultural and spiritual inquiry--and perhaps even reconnect with Judaism.
Hutt learned about plans for Sukkah City in the Brooklyn Arts Council newsletter requesting proposals from designers to create high-concept sukkahs. "Sukkah City sounded like the perfect application of the competition tradition--to breathe new life into an ancient archetype that, over time, has become a generic pop-up box," he told me in an email. "The design brief was basically the original biblical rules for the sukkah, and having architects and designers re-imagine it with their 21st century tools and creativity promised to be an exciting experience, and an interesting film."
Sukkah City was not billed as a purely religious event. "Building and dwelling in a sukkah is definitely considered a religious act or mitzvah," Hutt explained. "But it's not like reading from the Torah. Anyone can build and dwell in a sukkah." In fact, only one of the 12 winning teams had a Jewish member. "I think what's great about Judaism is that it's more than a religion--it's a culture, a people, a history," Hutt said. "Many non-Jewish New Yorkers probably know more about certain aspects of Jewish life than disconnected Jews living outside of New York."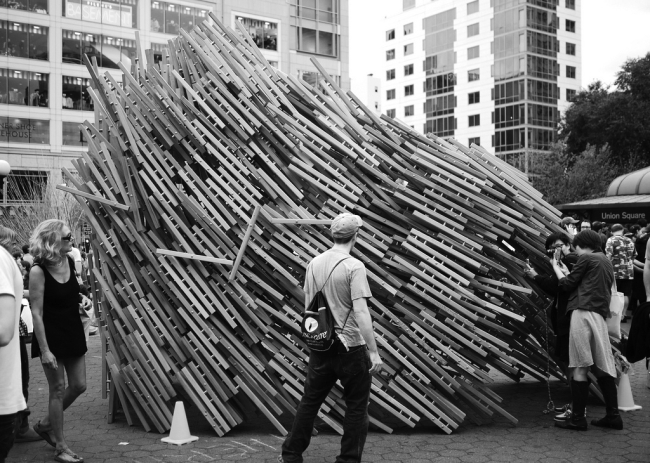 Michael Surtees
For many years a traditional sukkah has stood in Union Square. But Sukkah City beckoned New Yorkers of all stripes to wander through, learn about the holiday and appreciate the artistry of the structures. "The sukkah is one of the only times where the Jewish liturgy has an architectural expression," architecture critic Paul Goldberger says in the film, "so it's amazing no one thought of this sooner."
Documentary filmmaking is a process of discovery for Hutt, whose last film was about Dmitriy Salita, a Russian immigrant, professional boxer, and devout Jew--and about the diverse characters (boxing trainers, promoters, Rabbis) supporting Salita's devotion to both pugilism and religion. "I choose topics that provide me entrée into a world where I've never been before and subjects that I'm curious to observe and learn about," he said.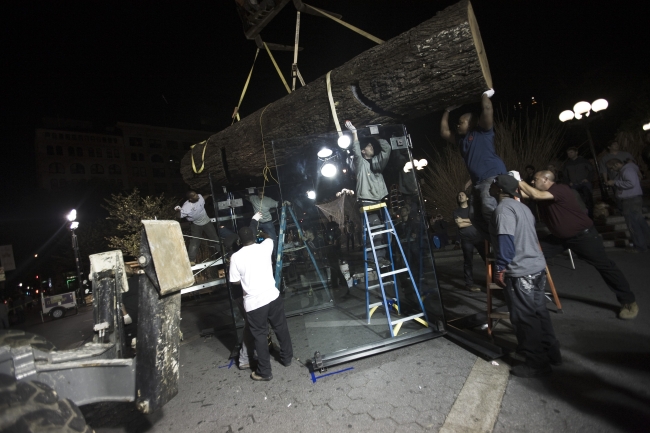 Christopher Farber
The jury for the competition included a variety of practitioners, academics or critics, among them Michael Arad, Ron Arad, Rick Bell, Allan Chochinov, Paul Goldberger, Natalie Jeremijenko, Maira Kalman, Geoff Manaugh, Thom Mayne, Thomas de Monchaux, Ada Tolla, Adam Yarinsky, and, well, me. Hutt said he was fascinated by the way the judges made their decisions.
"I was incredibly impressed by the level of passion and expertise, but also commitment," Hutt said. "It was a lazy summer day but everyone took the process very, very seriously, and the dialogue and ideas were quite extraordinary." The jury looked at 600 designs and chose 12 diverse interpretations, each representing the symbolic reasons the sukkah exists--the exodus, homelessness, fragility, humility, and a connection to nature. "Each structure told its own story, and so I think they were all worthy in their own way," said Hutt. "Foer says in the film, the charge of the jurors was 'not to choose the 12 best sukkahs, but the one best Sukkah City.'"
The film offers a "rare and an intimate glimpse inside a juried architecture competition," Hutt said, "explores the artistic process to both create and build innovative structures, and reveals why and how competitions are important to architects and the architecture community." Rather than religious, the film is ultimately about the artistic process of designers and architects, and more broadly, ideas and the execution of ideas. "I think Josh Foer and Roger Bennett demonstrate as much creativity and resourcefulness as the winning architects in translating Sukkah City from an innovative and ambitious idea to a wildly successful reality that was attended by over 200,000 people." It also captures the excitement around an art installation in one of New York City's great public spaces, and the effect it had on New Yorkers.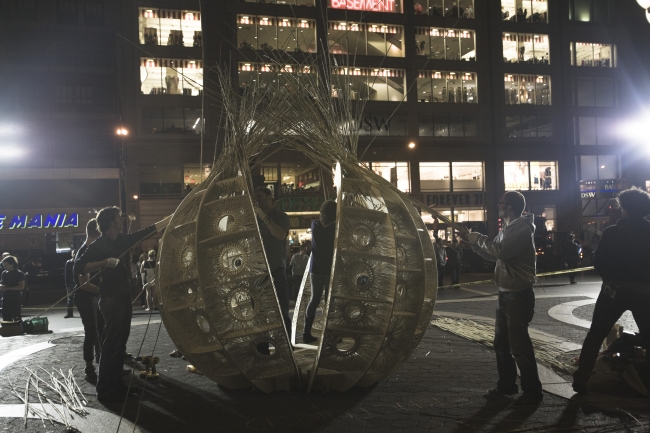 Christopher Farber
The core audience may be the Jewish community (and it will play the San Francisco Jewish Film Festival July 30, and August 4 and 5), but Hutt has received invitations and inquiries from other festivals both Jewish and non-Jewish.
It's not a particularly dramatic documentary, but its value is in how it documents a one-of-a-kind happening. "Certain films are exciting and hold up over time because they capture a particular moment in time, whether that's Bob Dylan's 1964 tour of England in Don't Look Back or Albert Maysles's film The Gates [about Christo's Central Park installation]," Hutt said. He went into the filming process thinking this would be a unique moment in the city: "I'd guess that Sukkah City was probably the largest non-Orthodox, non-Israel centered public expression of Jewish life in the history of New York."