Will There Ever Be Another Book Cover as Iconic as The Great Gatsby's?
F. Scott Fitzgerald worked with an artist to create the perfect image for his novel. But jacket design seems less important now, in the era of e-readers.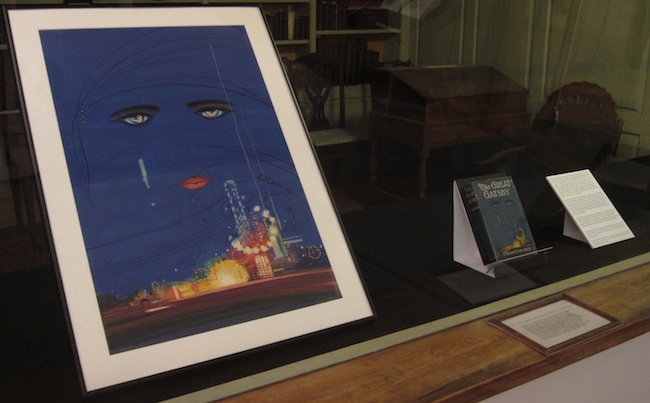 Princeton
For all the visual spectacle of Baz Luhrmann's
Great Gatsby
, the most enduring image associated with F. Scott Fitzgerald's great American novel remains its cover. The original art, by Cuban-born Francis Cugat (1896-1981), was recently on display at the Department of Rare Books and Special Collections of the
Princeton University Library
, offering a reminder in this digital age of just how essential cover design can be.
Cugat, the brother of the famous bandleader Xavier Cugat, gave the title "Celestial Eyes" to his haunting image of a female face hovering over a gaudy landscape. The Smithsonian Magazine's Design Decoded blog tells the story of the still-enigmatic design here, and there's a gallery of at least 14 alternate covers here.
One intriguing fact about the original design, as Smithsonian explains, is that it was not simply an insightful interpretation of a finished manuscript but the product of a collaboration between novelist and artist:
In a letter to editor Max Perkins, Fitzgerald, whose manuscript was late, requested that the art be held for him. "For Christ's sake don't give anyone that jacket you're saving for me," Fitzgerald wrote, "I've written it into the book." It's not clear exactly what Fitzgerald meant by this, but it is generally believed that that Cugat's haunting image was realized in the form of the recurring billboard for oculist Dr. T.J. Eckleburg that watches over one of the climactic moments of Fitzgerald's work:

"The eyes of Doctor T. J. Eckleburg are blue and gigantic—their irises are one yard high. They look out of no face, but, instead, from a pair of enormous yellow spectacles which pass over a nonexistent nose. Evidently some wild wag of an oculist set them there to fatten his practice in the borough of Queens, and then sank down himself into eternal blindness, or forgot them and moved away. But his eyes, dimmed a little by many paintless days, under sun and rain, brood on over the solemn dumping ground."
As the Princeton library site notes, despite Fitzgerald's apparent request for the original art, the gouache ended in a discard pile, and only an observant Scribner family member saved it from its own Valley of Ashes. (If such a close call could happen to an iconic illustration for a bestseller of a traditionalist literary house, it's little surprise that the fate of now-prized pulp cover art was generally oblivion.)
Nowadays, cover illustration has a diminished role for e-books, but packaging design still appears at least as a thumbnail online and often in buyers' own computer programs. One of today's most celebrated designers, Chip Kidd, is philosophical about the change:
"People don't buy a book on the Web because of the cover," Kidd says. "They'll buy a book on the Web because they've read a review or it's word of mouth or some combination of the two."

But he's not worried about sticking to old-fashioned ways.

"Hardcover books are, frankly, luxury items, and they sort of always have been," he says. "And I think there will be a market for them."