Why Liberace's Costumes Mattered
Fashion allowed the musician portrayed in Behind the Candelabra to remain closeted but embrace his identity—and help soften public aversion to homosexuality.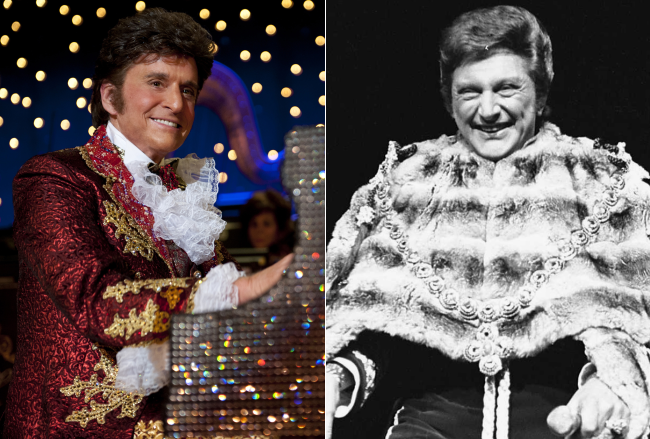 HBO / Las Vegas News Bureau
Deconstructing Liberace's costumes is like glaring into the sun; the sheer power of the light blinds you from ever seeing the tumult below. Who could look past a virgin fox fur coat with 16-foot train, a tuxedo with sequined piano keys around the collar and lapels, and the rings, the rings, the rings?
To say that clothes had a profound meaning to Liberace on a professional and personal level would be an understatement—and Liberace didn't do understatement. He never publicly acknowledged he was gay but he "lived in a closet that was fitted with glass walls," as chairman of the Liberace Foundation, Brian Paco Alvarez (our colleague), likes to say. Pass it off as showmanship or Vegas frippery, but Liberace's wardrobe told us who he was and what he was—if you wanted to see it.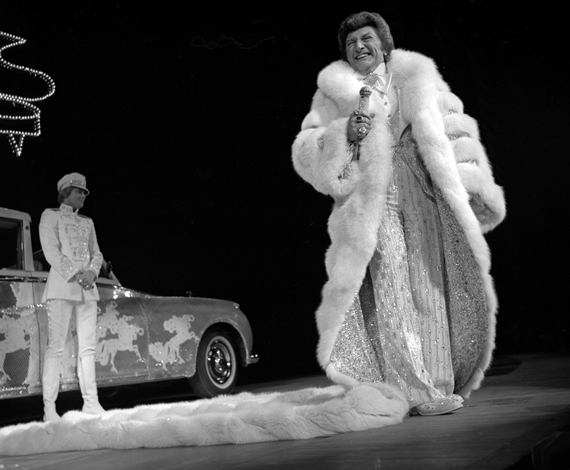 Las Vegas News Bureau
The costumes of Behind the Candelabra serve up Liberace's wardrobe at its most extravagant: rhinestone-encrusted jumpsuits, silk lounging attire, bespoke suits with scarlet linings. The HBO biopic starring Michael Douglas and Matt Damon is based on a tell-all book by the star's ex, Scott Thorson, and covers their life in Las Vegas and Palm Springs in late 1970s and early 1980s—a period of men's fashion just ripe for parody. But, you can't really over-stylize Liberace, can you?
So costume designer Ellen Mirojnick consulted the Liberace Foundation's collection of 35 stage costumes: dickies, vests, bowties, button-in cuffs, boots, jewelry, capes, and all. Jumpsuits, the signature piece by his late-career costume designer Michael Travis, fit the need for quick changes, and capes clipped on and off the costumes—functional details seen clearly in the film. Lee loved to spend, and we get a glimpse of his shopping prowess when he redresses Thorson, down to the gold medallion. Perhaps more telling in Candelabra are Liberace's costumes off stage. The public Liberace clearly has a separate wardrobe than the cooking-at-home, cuddling-on-the-couch Liberace, but it doesn't include sweatpants and a t-shirt from his old band. He wears monogrammed silk pajamas and gold slippers. Caftans abound.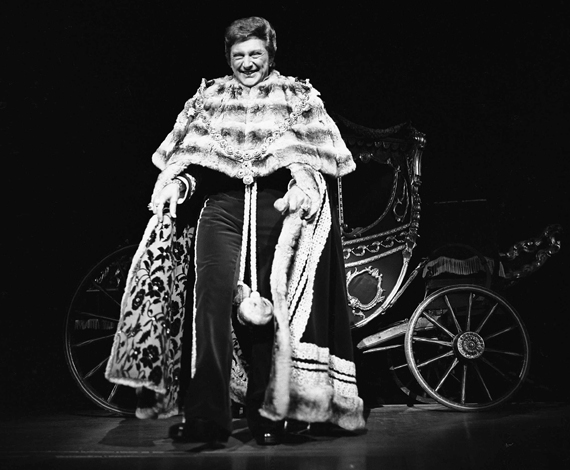 Las Vegas News Bureau
But it's the furs that floor you in the film and real life. For centuries, fur has remained a symbol of power and wealth. Fur instantly conveyed what Liberace wanted to say: "Look at me." Fur is decadent, luxurious—a natural fit for a man who had a spiritual connection with a Bavarian monarch, the gay and crazy King Ludwig II. In the sequence where the couple works to settle their palimony suit, Thorson names the fur coats that Liberace bought him: a raccoon, a black mink trench, a black mink trimmed with leather. Ellen Mirojnick puts the men in matching chinchilla coats for a pivotal scene in a porn shop, but uses faux fur to recreate the white fox with 16-foot train. Even Hollywood couldn't be that decadent.
In real life, Liberace put the "cost" in costume. "The designers that he selected were known to only use the best materials; he was not interested in cheap substitutes," says Connie Furr Soloman, co-author of Liberace Extravaganza!, a well-researched and beautifully presented look at his stagewear. Ensembles took a full year to go from idea to discussion to creation to delivery, and in the late 1970s, could cost in the hundreds of thousands. As the highest grossing performer for nearly five decades, though, affording them was no problem.
The craftsmanship of the costumes was astounding. Las Vegas-based furrier Anna Nateece, the woman behind that chinchilla coat Sharon Stone wears in Casino, made Liberace's personal and stage furs. Her handiwork is as intricate as Lee's keystrokes. Unfortunately, Matt Damon mispronounces her name in the film.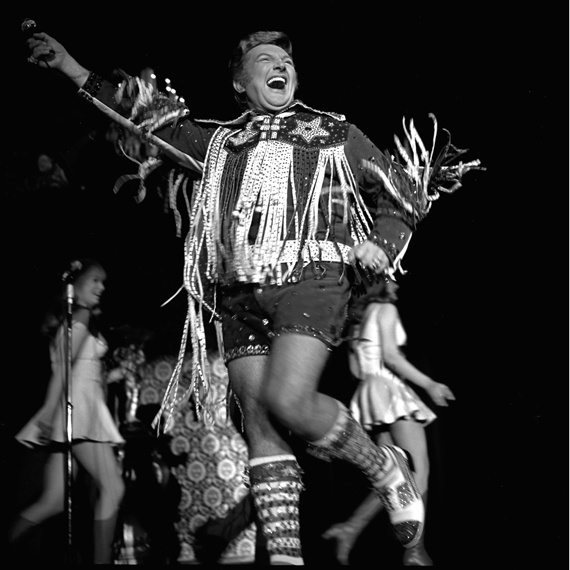 Las Vegas News Bureau
There was a meaning to all this opulence. Costume allowed Lee to live a gay life under the public's nose. His appearance was so over-the-top that anyone with a foot in modern culture would know what it signaled, but those who didn't want to acknowledge that a man in sequined lederhosen was gay could interpret his costume simply as showmanship—which, of course, it was. Indeed, his amazing talent and stage shticks entertained the hordes of fans that came to see Liberace as much as to hear him. Whether he was truly dating Betty White (one of his many beards) didn't really matter. He gave a good show.
Today, singing gay teens kiss on Fox, and Gaga arrives to the Grammy Awards in an egg—inspired by Liberace's entrance onto the Radio City Music Hall stage in a Faberge egg. But before everyone was "free to be you and me," Liberace charmed his way into popular culture, and the costumes were a big part of that. They helped to ease the tension around his homosexuality with a generation of fans who either didn't care or didn't want to know. So the influence of Liberace is not measured by the number of pop stars who copy his antics or by the sequined masterpieces he left behind. It's by the amount Americans accept and even celebrate individual differences—a legacy that our society still strives to fulfill.