When the U.S. Open Was Truly Open—to Amateur Golfers
The last time a non-pro made a deep run at the Open was in 1971, when college golfer Jim Simons almost earned a spot in a playoff alongside Jack Nicklaus and Lee Trevino.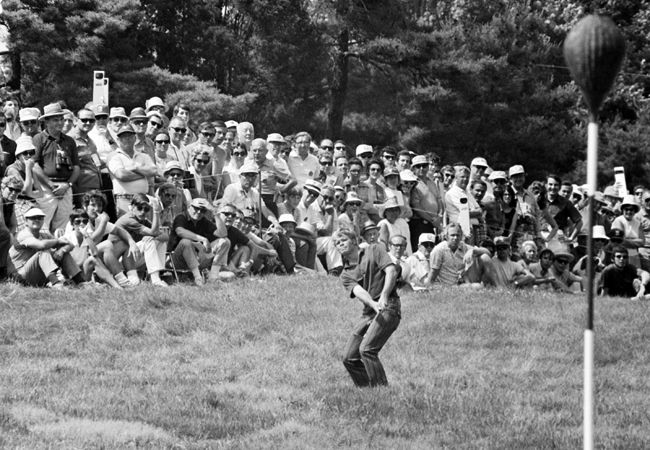 AP
These days, it seems amateurism is in the ascendant. We are told to ignore the experts and instead put our trust in the "wisdom of crowds"—by definition, an agglomeration of amateurs. We read amateur writers' blog posts; we watch the theatrics of reality television's amateur stars .
It's the age of the amateur, but not when it comes to golf.
The U.S. Open Championship, which begins today in Ardmore, Pennsylvania, is called such because it is "open" to both professionals and amateurs (as it has been since its inception in 1895). But today, a victory by a non-professional would be beyond unexpected—even beyond imaginable.
Sure, the most historic Open win ever was scored by teenage amateur Francis Ouimet over British professionals Harry Vardon and Ted Ray at The Country Club in Brookline, but that was in 1913. And, of course, all-time great Bobby Jones, an amateur who never turned pro, was a four-time U.S. Open champion (and finished second, including two playoff losses, four times), but his final victory was 83 years ago. The last amateur to take home the U.S. Open trophy was Johnny Goodman in 1933, and recent years have not been kind to amateur aspirants to the Open title. Not even Tiger Woods (who is seeking a record-tying fourth U.S. Open title this week) was a competitive force in his amateur days, finishing tied for 82nd in 1996 and withdrawing due to injury after shooting an opening-round 74 the year before. Last year, 17-year-old Beau Hossler excited the gallery by grabbing the lead in the tournament midway through the second round, but he started the last day in eighth place en route to finishing tied for 29th.
But the return of the Open to the venerable Merion Golf Club on Philadelphia's Main Line this year stirs up memories of the last time an amateur made a serious run at the championship. At Merion in 1971, Jim Simons, a 21-year-old Wake Forest University golfer, shot a 65 in the third round to finish the day leading a formidable field that included Jack Nicklaus and Lee Trevino. "Simons, An Amateur, Leads U.S. Open by 2 Strokes," the newspaper headline read on the Sunday morning of the last round.
As Robert Sommers wrote in his compelling, readable history The U.S. Open: Golf's Ultimate Challenge, "Unless a player is exposed day after day to the grinding competitiveness of professional golf at its highest levels, he can't win; the nerves will surely fail." But Simons's run was far from over. Although he confessed that he was too nervous to get a good night's sleep before the final round, Simons survived a bogey on the second hole and remained the leader after the first nine holes that last day, ahead of Nicklaus by one stroke and Trevino by two. Then he ran into trouble on the back nine—although when he reached the final hole, he was just one shot behind Trevino, who held the lead. A birdie would have tied him for first place (and earned him a ticket into the next day's playoff, which ultimately became a showdown between Trevino and Nicklaus), but a drive into the rough resulted in a double bogey and a tie for fifth place.
It was a remarkable effort by an amateur golfer, but it wasn't as exceptional at the time as it appears in retrospect. Just four years before, former NCAA champion Marty Fleckman had held the lead after the third round in the 1967 Open at Baltusrol in New Jersey, before collapsing with a final-round score of 80. And in 1960, 20-year-old Jack Nicklaus, then still an amateur, had held a one-stroke lead after 12 holes in the final round before three putts on both the 13th and 14th holes cost him his chance at the title, which was ultimately won by Arnold Palmer. Nicklaus did hold on to finish second only two shots behind Palmer. His playing partner, golf legend Ben Hogan, famously said afterwards, "I played 36 holes today with a kid who should have won this thing by 10 strokes."
Nicklaus, of course, would more than live up to Hogan's observation once he turned professional in 1962 (and won the first of his four U.S. Open titles that year). Simons and Fleckman never enjoyed great success as professionals. Yet all three amateurs proved able to stay in contention for the Open championship into the final round (and for Simons and Nicklaus up until the last few holes).
As the Open returns to Merion, it is now 42 years and counting since any amateur has been able to equal Simons's run at the title. And if none of the amateurs in this year's U.S. Open field can pull it off (and the odds against them are overwhelming), all the more reason to remember—and honor—what Jim Simons accomplished.