Well, That Was Weird: The Baffling, Logic-Defying 2013 NBA Draft
A surprise set of top picks plus some questionable matchmaking between players and teams made this year's draft one of the more puzzling in recent memory.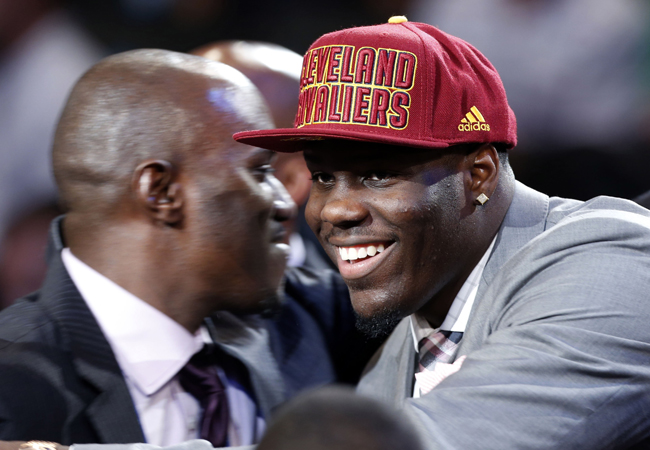 AP / Jason DeCrow
Every week, our panel of sports fans discusses a topic of the moment. For today's conversation, Patrick Hruby (writer, Sports on Earth and The Atlantic) and Jake Simpson (writer, The Atlantic) discuss the many shocks and head-scratchers of this year's NBA draft.
---
Hruby: Guys, are you still here? Have you been traded to The Atlantic Wire for the rights to Richard Lawson, a 2015 first-round pick and cash considerations? No? Phew.
Forgive me. I'm still a bit disoriented. In a word, the 2013 NBA Draft was ...head-spinning. Top overall pick Anthony Bennett had no idea he would go No. 1 until the moment his name was called. Expected high selections Ben McLemore and Nerlens Noel fell out of the top five, and the latter was promptly swapped. So were national college player of the year Trey Burke and a number of other players--a fit of wheeling and dealing overshadowed by a draft-night trade that sent future Hall of Famers Kevin Garnett and Paul Pierce to Brooklyn while putting the Boston Celtics into full teardown mode.
How to make sense of it all? A few observations:
Whiskey Tango Foxtrot Award: A power forward from UNLV, Bennett is athletic, man-strong, and a surprisingly adept outside shooter. He's also, like, 6-foot-6--the same height as a prototypical NBA shooting guard--and a somewhat indifferent defender. Is he the next coming of Charles Barkley or Larry Johnson? Or just another positionless 'tweener who created mismatches for all the wrong reasons? (Think Minnesota's Derrick Williams.) I'm leaning toward the latter, and even if Bennett turns out to be an offensive force, I'm not sure why Cleveland selected him with the top pick. After all, the Cavaliers (a) already have a young power forward of the future in Tristan Thompson; (b) have an old/new coach in Mike Brown who emphasizes defense.
Luckiest Team: The Sacramento Kings nabbed sweet-shooting, tall-building-leaping Kansas guard Ben McLemore with the No. 7 pick, never mind that McLemore was probably the most talented player in the draft. Better still, McLemore fills a position of need for the franchise.
Unluckiest Player: Cody Zeller. The Indiana center likely will have to reinvent himself as a stretch power forward to succeed as a pro. The Charlotte Bobcats are the league's reigning Island of Misfit Toys, a place where ill-advised draft picks go to wither and die. What could possibly go wrong?
Biggest Reach: Solomon Hill. It's not that I think the do-everything Arizona forward can't help Indiana--it's that Hill was projected as a mid-second round selection, and the Pacers grabbed him at No. 23. Why pay retail when you can buy wholesale?
Second-Round Steal: Jamaal Franklin. The San Diego State swingman is the anti-Hill--a first-round talent who slipped to Memphis at No. 41, basically because he can't shoot. So what? The thing about shooting is that players always can get better with practice--see Derrick Rose, Rajon Rondo, and Jason Kidd. Besides, even if Franklin never becomes Ray Allen, he can help the Grizzlies with his aggressive defense and all-around offensive game.
Bustosaurus Rex: Philadelphia shipped off All-Star point guard Jrue Holiday to acquire Noel and Syracuse guard Michael Carter-Williams. The Sixers are gambling that they've picked up a franchise center and point guard; I think they've landed a poor man's Theo Ratliff and a slightly-younger Shaun Livingston.
MVP: In keeping with draft-night tradition, outgoing league commissioner David Stern was booed for the last time--loudly and affectionately--and soaked up every second of it, repeatedly pausing to savor the noise with his signature smirk.
Jake, what's your take on the draft?
---
Simpson: Patrick, my awards start with a shout-out to our traveling colleague Hampton...
Most Glaring Draft Absence: Magic Johnson. Seriously, ESPN has a four-person draft team that somehow includes Bill Simmons and NOT Magic? I'm sure the NBA legend wanted some time off after a long season, but I personally missed having Magic's analysis and hyperbolic rhetoric for each pick.
Biggest Winners: The Pelicans. Stuck with the No. 6 pick in a crappy draft, New Orleans ended up drafting a guy who was the consensus first pick a week ago in Noel, then flipped him for a young All-Star point guard in Holliday. Talk about turning lemons into lemonade.
Biggest Losers: The Cavaliers. I know it's too early to write off Bennett, but using the first pick on a guy who would have still been around at No. 6 (at least) is a waste of resources. Cleveland should have either traded down or picked a guy like Noel and flipped him, just like the Pelicans did. The Cavs did neither, and they are now pinning their hopes on a relative long shot, probably the most unlikely top overall pick in the history of the NBA Draft.
Best Look: 16th pick Lucas Nogueira. In a landslide. Oscar Gamble, eat your heart out.
Biggest Win-Win Trade: The Timberwolves flipping No. 9 pick Trey Burke to the Jazz for No. 14 pick Shabazz Muhammad and No. 21 pick Gorgui Dieng. Each of these players is intriguing and could be big in the NBA. Burke will get to develop his skills in Utah, which had nurtured elite point guards John Stockton and Deron Williams. Minnesota, meanwhile, gets a super-athlete and NCAA-hater cause celebre in Shabazz, along with a Dikembe Mutombo-esque talent in Dieng. Good times all around.
Most likely lottery franchise player: No. 2 pick Victor Oladipo. Is he Dwyane Wade 2.0? Maybe, maybe not. But the Indiana shooting guard is a superb athlete who will only get better as he becomes less raw. If he can develop a go-to perimeter jump shot, Oladipo will give the Orlando Magic a mainstay in the backcourt.
Most likely lottery bust: Zeller. You said it well, Patrick, but you forgot to mention one thing: Zeller is a big white stiff, at least in the NBA scheme of things. Tyler Hansbrough he ain't.
Draft MVP: Hakeem Olajuwon. It's remarkable that Dream fits into the same dinner tuxedo he wore on Draft Day 1984. That alone makes him the MVP.
RIP Award: The Celtics. Ubuntu, we hardly knew ye.