Vote for 1book140's July Book: North Korea vs. Nigeria vs. Little Syria
Choose among three novels that spotlight an underrepresented culture.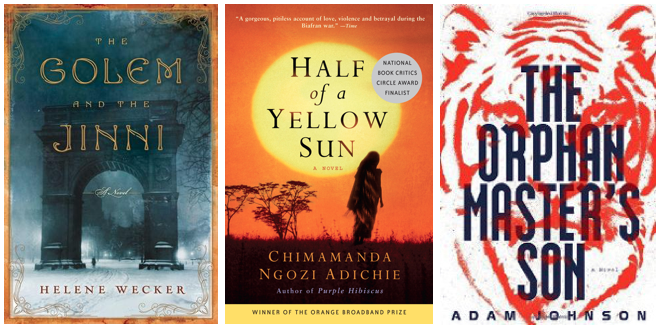 Harper Collins, Random House, Knopf
What cultures should we encounter this July? Southern Nigeria, North Korea, or Little Syria in New York? Choose by voting for our July book.
Our Twitter book club, 1book140, has nominated more than a dozen books that feature people less often represented in popular literature. Nominations were posted to our Twitter hashtag, in comments on the nominations post, and on experimental voting software. I have supplied the human error in the process by choosing three finalists.
Scroll down to vote; the poll ends Sunday at midnight. In the meantime, if you haven't finished our June read, The Big Sleep, you still have the rest of the weekend to lie and shoot your way through this iconic mystery story.
Here are our finalists for July:
Can the secret of immortality, or at least companionship, be discovered in the strange human world of early 20th century lower Manhattan? In The Golem and the Jinni, Helene Wecker's magical realist novel, a Jewish golem and a Syrian jinni try to establish life among the humans of New York. "Despite a handful of unusual powers, these two mythic creatures are still... caught between the folk traditions from which they spring and the modern world," writes Patricia Cohen in the New York Times review.
In the energetically plotted novel The Orphan Master's Son by Adam Johnson, the character Jun Do starts out serving the North Korean state as a soldier, kidnapper, and eavesdropper before becoming its victim and then.... that would be telling. Johnson has "managed to capture the atmosphere of this hermit kingdom [North Korea] better than any writer I've read," Barbara Demick raves in The Guardian. Johnson's novel won the Pulitzer Prize for fiction this year.
After overwhelming support on Twitter for a second chance, I'm bringing this novel back from last month's vote. The story of two sisters who "struggle with an on-again-off-again mutual loyalty crosshatched with mistrust and betrayal" during the Biafran War, Half of a Yellow Sun by Chimamanda Ngozi Adichie "thrums with life" according to New York Times reviewer Rob Nixon. The novel won the Orange Prize for Fiction in 2007, and a film adaptation arrives later this year. Adichie's latest novel, Americanah, was published this year.