The Shocking Poignance of Kanye West's Yeezus
Could his most abrasive release yet actually be a sweet fable about true love?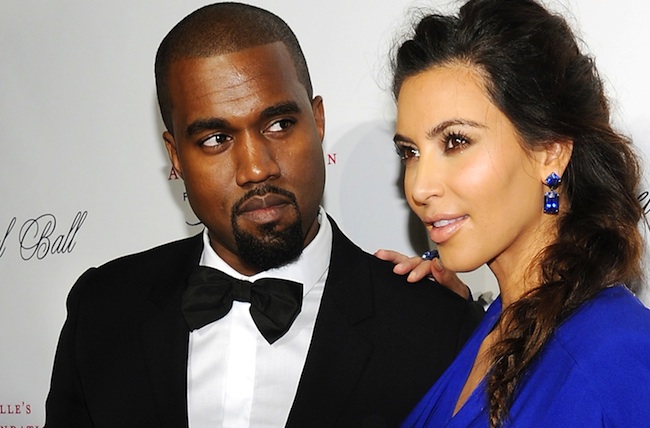 Evan Agostini/Invision/AP
Kanye West's new album Yeezus leaked just a day before his girlfriend Kim Kardashian gave birth to their daughter, making for a seeming coincidence that gives credibility to West's claims of divinity. But there's speculation that Kanye himself unleashed the song set online, speculation that's kind of fun to believe. For a man on record as giving "no fucks" about the commercial viability of his latest release, with a history of fastidious control over every part of his artistic output, it's conceivable he wanted these 10 tracks to be in the world before his child was. That's if, like me, you buy the idea that Yeezus is an exorcism of sorts before a new, possibly more peaceful phase of life.
West's extraordinary rap career has seen the Chicagoan go from subversive but smiling upstart to ever-more-impressive, ever-more-discontented musical powerhouse. Earlier this year, Global Grind published "13 Photos of Kanye West Actually Smiling"--most of which were of his earlier years in the business. "You look at Jay or Diddy, and I'd say like, 90 percent of the time, you think they're having a good time," The New York Times' Jon Caraminca said to West during the rapper's only prerelease interview for his sixth solo record, out today. "With you, I would say, I don't know, 50-50 maybe? Or 30-70?"
West's reply: "Maybe 90 percent of the time it looks like I'm not having a good time."
Yeezus, a terse scowl of an album, at first seems like a straightforward, albeit musically insane, new manifestation of West's famous surliness. Swapping out the lushness of his earlier songs for abrasive minimalism, the first few listens dazzle for sounding new, stark, and pissed off. But the important things haven't changed: As with past albums, West ditches the overdone tropes of recent hip hop (some of which he helped helped popularize) while raiding both the past (in this case, '90s industrial, Chicago house) and underground present (trap, drill) to suggest a way forward for the genre.
But after a few days of listening, the most surprising thing to me about Yeezus is no longer how it sounds, but what it actually might be: a twistedly touching kiss-off to a vast, seemingly unhappy part of West's life. As he faces fatherhood and the prospect of a longterm relationship, he appears to be looking at his hedonistic past in a darker light than ever, resulting in an album of super-sexual angst vindicated by a single, sweet verse at the end.
The record opens with its four best songs, turning the dial up on West's strengths so they sound distorted, scary, and pretty damn catchy. There's a dance-floor electronic blast that short-circuits during the requisite call-and-response bridge ("On Site"), a militant statement of purpose punched up as a Wizard of Oz witches' guard march ("Black Skinheads"), an ego trip turned horror-film incantation ("I Am a God"), and an incendiary political sermon framed by frigid beats ("New Slaves"). All the lyrics build convincingly on West's big, important theme: that he's a living, breathing god, and yet America's so screwed-up and racist that even he can't get his due.
The emphasis here is on West as too huge for this world--commanding a harem of "300 bitches," demanding breakfast pastries at a rate the garçon can't keep up with, etc. "New Slaves" immolates itself 75 percent of the way through with a swelling, celebratory sample from Hungarian rock band Omega as West and Frank Ocean cry, "let's get too high, get too high again." Then, a fade out--which, one Kanye-obsessed friend of mine claimed to me, is his first fade-out since 2004's "Through the Wire." (Any fact-checking fans care to verify?)
Next comes reality, in the form of a hangover. "Hold My Liquor" drifts in, with Chief Keef's and Bon Iver's Justin Vernon's drowsily autotuned voices riffing on sloppy substance use. There's a screech, and West returns to detail (hilariously) the damage he's caused: "Bitch I'm back out my coma / Waking up on your sofa / When I park my Range Rover / Slightly scratch your Corolla / Okay, I smashed your Corolla." Turns out, he's addressing an ex-lover he'd been trying to get with, after her aunt badmouthed him as "a loner."
For the rest of the album, West fixates almost exclusively on women. The sex talk he delivers ranks among the dirtiest and most extreme of his career, but no one would mistake the surrounding music and words for sexy. West wants to retell a nightmare, not spin a fantasy. "I'm In It," the most explicit track, is like a slowed down, somehow more frightening version of Nine Inch Nails' infamous S&M anthem "Happiness in Slavery," featuring Angent Sasco's reggae wailing about street violence and Vernon ethereally repeating "star... fucker..." The title references both to carnal acts and ensuing ensnarement, with West rapping about being so scared of the "kids and the wife life" that he goes "to sleep with a night light."
That theme of seemingly carefree, partner-swapping sex taking a soul-grinding toll dominates the rest of the album. It's classic bachelor commitment-phobia elevated to distinctly Kanye levels. "Blood on the Leaves" preposterously dices up the hallowed lynching lament "Strange Fruit" for a bass-heavy opus about a guy gone broke from paternity suits. Over laser-gun noises and spacey synths, "Guilt Trip" documents the feelings of regret and resentment that linger after a long-dead tryst. And on the menacing, club-ready clang of "Send It Up," West leaves the downsides of lust to guests King Louie and Beenie Man, the latter of whom closes the song with an existential view on one-night stands: "Memories don't live like people do / They always 'member you."
But there's a payoff for sitting through this (fascinating, well-made, occasionally danceable) house of horrors. "Bound 2," one of his most blissful songs ever, finishes the album with the oldies-sampling style that West has perfected over the course of his career. The Ponderosa Twins Plus One croon "bouuund / to fall in lovvvve" while, in the first verse, West gets up to his played-out, promiscuous ways: showing up to the club on a week night, hitting on girls from a 30th birthday party. Self-awareness starts to creep in: "I know I got a bad reputation / Walking 'round, always mad reputation / Leave a pretty girl sad reputation."
Then, Charlie Wilson's voice cuts in--soulful enough to sound like classic Motown, though it's from 2013--for a booming revelation: "I know you're tired of loving, loving / with nobody to love, nobody."
In another context, a moment like that could seem like throwaway, throwback schmaltz. But after everything that's come before, it's an important admission of the difference between sex and love. And suddenly, West's changes his tune: "Close your eyes and let the word paint a thousand pictures / One good girl is worth a thousand bitches."
Uh, kinda changes his tune. He still takes time to describe having sex on a sink with his new squeeze. But then he describes being surprised at having their relationship make it to the holidays. But then he describes asking this girl he loves if she'll have group sex with him. But... then he asks her to forget he asked that, to forget "all these long-ass verses" that came before, so that the two of them can "make it to the church steps." (While dating Kardashian, West reportedly did once ask for a threesome and was politely declined.) Yes, Kanye wants someone to forget something he did, so that he can settle down. The final thought on the album: What would Jeromey Rome, lothario of '90s sitcom Martin, think?
Of course, one closing song does not a reversal of philosophy make. West has always struggled to reconcile a desire for stability and love with his hound-dog instincts, and with 2008's 808s and Heartbreaks devoted an entire album to the fallout from the end of a longterm relationship. Plus, the pure crudeness of much of Yeezus shows he's nowhere near leaving behind the misogynistic attitudes that have pervaded popular music for decades.
But still, it's heartening to be reminded that West's excesses often have a purpose. It's interesting to see him become increasingly conflicted about sexual conquest. And it's nothing less than startling to realize that his most dark, twisted album yet may all be in service of a fairytale ending.