The Lesson of This Year's Incredible NBA Finals: It's Basketball That Matters
Forget the hype, the legacies, the rivalries. The games themselves dwarfed all of that.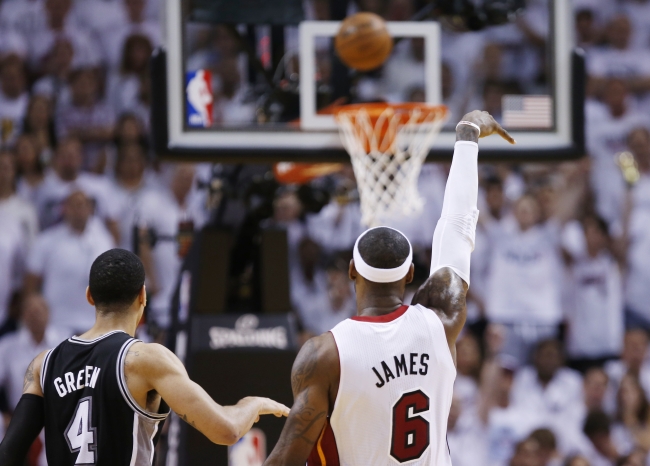 Reuters/Mike Segar
Every week, our panel of sports fans discusses a topic of the moment. For today's conversation, Hampton Stevens (writer, ESPN and The Atlantic) Patrick Hruby (writer, Sports on Earth and The Atlantic), and Jake Simpson (writer, The Atlantic) discuss this year's NBA finals, which ended last night with the Miami Heat beating the San Antonio Spurs 95-88 in Game Seven.
---
Stevens: Now that's a show.
There were blowouts and comebacks, and anonymous heroes that outshone superstars.
There was the bone-dry deadpan wit of Greg Popovioch growing more monosyllabic as the series progressed. There was Ray Allen's shot in Game Six. No, really. It happened. There was Ginobili and Parker held together with duct tape and prayer, and the legendarily unemotional Tim Duncan furiously slapping the floor after missing a fourth-quarter layup. Oh, yeah. There was some guy from Akron, Ohio, who is very, very good at basketball. In the end, there was the Miami defense; swarming, pounding, banging, contesting every Spurs pass.
There is an authentic, if seemingly perverse joy in being a fan who doesn't care. Rather than dining on cuticles and anxiety while living and dying with every dribble, the uninterested fan gets to float loftily above the action, dispassionately observing the athletic prowess. That's me in this series.
Kansas City hasn't had an NBA franchise since Sacramento stole the Kings. We do have a professional basketball team, though. They are called the Jayhawks, and some in the bar where I saw last night's game were pro-Miami for the fairly tenuous reason that Mario Chalmers went to KU. The rest of the crowd, like most of the country, were pro-Spurs. Or, really, anti-Heat. As my friend Tim Finn wrote, San Antonio is a band. Miami is a supergroup.
Maybe. There something innately unlovable about any team with so much going for them. That's why the rest of the world resents the USA. We're the Heat of global politics. But that "high-priced collection of stars" narrative for Miami didn't feel true for the last seven games. They played like a team, smart and hard, and they played it clean, too. I'm won over. At least until next season starts.
Other than Jesus Shuttlesworth hitting a three-pointer, the most memorable moment of this year's Finals was the last one. After the buzzer when both teams and all the coaches met and congratulated each other--including midcourt hugs--it didn't look like a phony display of sportsmanship for the camera. That felt like the real thing. We saw genuine expressions of the respect, affection, and shared gratitude that can only come between athletes who have given each other the great and rare gift of a truly worthy opponent.
I'll bitch about the NBA from now until the Kings come home. The extra steps, the endless season, the infuriating inconsistency of officials. Don't get me started on flopping. But these last two weeks are enough to make you forgive it all. Basketball is over for a while--unless you care about the guys in suits who play with ping-pong balls. But before we let the 2013 season go, give me your thoughts on this dynamite finals.
---
Hruby: After it was over--after American Airlines arena had mostly emptied out and LeBron James and company were gearing up for celebratory early morning pizza--ESPN talking head Bill Simmons announced that he had something to say. About "The Decision," James' infamous live TV breakup with the Cleveland Cavaliers, a sports-celebrity-snake-eating-its-tail hypefest that launched a thousand furious columns and radio segments. That was three years ago. Even Cavs owner Dan Gilbert has moved on. But whatever. This was LeBron, and with LeBron it's always something, and airtime abhors a vacuum, and so here was Simmons to tell us what it all means, because that's the conversation--and then, gloriously, the screen went dark. Silent, too. Like the end of The Sopranos.
I can't think of a better coda.
Here's what I'll remember most about these Finals: The games themselves were the thing. The signal drowned out the noise. The basketball--you know, the athletic exhibition taking place between the Tweeting and scribbling and kvetching about James's psyche and his place in history and who would win an arm-wrestling contest on the moon, James or Michael Jordan or Mini-Ditka?--was terrific. It was glorious. The series was exciting, unpredictable, intense, expertly played, a delight for hardcore and casual fans alike. Even the blowout games were intriguing.
Like you, Hampton, I didn't have a rooting interest. And like you, I found so much to relish and appreciate regardless: Dwyane Wade's sore knee-defying eruption; Manu Ginobili's swashbuckling throwback game; Danny Green's metamorphosis into Ray Allen 2.0; Allen 1.0's clutch shot-making; Chris Bosh's defense and hustle plays; Tony Parker's one-legged cleverness and perseverance; James's vastly improved jumper and overall two-way excellence; the tactical back-and-forth between Gregg Popovich and Erik Spoelstra; the quiet ferocity of Kahwi Leonard; Tim Duncan's inexplicable Game Seven steal-and-breakaway-slam.
None of this needed larding. It didn't need umpteen hours of pre-and-post game analysis, of breathlessly desperate tonight ... destiny is on the line! salesmanship, of all the big and little things we do to reassure ourselves that sports are, you know, important and stuff. All the things that can sometimes make watching the actual competition seem like a letdown. An afterthought. Maybe just a chore. The things that seem to cling to James in particular like barnacles. Legacy and "The Decision" and blah blah blah. I say the hell with all that. Life is what happens when you're busy figuring out whose head to carve into the side of some imaginary basketball Great Pyramid of Giza. The 2013 Finals gave us seven joyful games, full of moments that were enjoyable in and of themselves - and for me, at least, that was more than enough.
Jake, what will you remember about this series?
---
Simpson: Seriously, guys? All those eloquent words on the beauty of a truly legendary Finals and a couple pithy sentence about LeBron James? Sorry, I can't let the King's coronation pass without acknowledgement.
See, Michael Jordan took the NBA's Iron Throne not during his first Finals victory, but in the first half of Game One of his title defense the following year, when he torched Clyde Drexler for 35 points, six three-pointers and one unforgettable shrug. This was LeBron's first chance to defend a championship, which everyone from Bill Russell to Magic Johnson says is far more difficult than winning just one. And after three quarters of Game Six, his Heat were 10 points down and in danger of becoming basketball's version of Peyton Manning's Colts.
Then LeBron simply elevated his game, literally and figuratively. He became an assassin on defense, with unimaginably athletic and aggressive ball pressure. He sprung--that is the only word for it--up to block a Duncan dunk attempt at the rim. He scored 18 of Miami's 38 points in the fourth quarter and overtime, including a desperation three-pointer to keep the Heat alive and the game-winning jumper in OT. And after Tim Duncan quietly pulled off an illegal substitution with five seconds left in regulation and the score knotted at 95, LeBron blanketed Parker and forced him into a desperation heave that fell well short.
That effort merely set the stage for LeBron's Game Seven, a 37-12 masterpiece that was probably worth closer to 60 points. As LeBron said after the game, "When my shot's falling, I'm unstoppable." His shot was falling. And he was unstoppable. He made the game his own (with much-needed assists from Wade and Shane Battier), and for good measure, he shut down Parker at the other end. Oh, and he drilled a dagger 20-footer to put Miami up four with 30 seconds left and seal the Spurs' fate.
So let's recap: To defend his first title, LeBron averaged a 25-11-7 on 45 percent shooting over seven games against the smartest, best-coached, and most complete team in the NBA, and finished the series with a 32-10-11 in Game 6 and the 37-12 in Game 7. And as you guys pointed out, the numbers don't begin to tell the story of this Finals, one of those double-rainbow-like occasions in sports where two great teams take each other to a higher level in a championship series and push the limits of what is possible.
There are so many amazing things to remember from this seven-game basketball dream that it will take a book to fill them all. Even the Game Seven postgame, after almost everyone had gone to bed drunk on a great series, had memorable moments. Wade saying he still doesn't know what Kawhi Leonard sounds like and adding: "He's a baaaad boy." Magic calling Wade "the most unselfish person on the face of the Earth" and shattering the Hyperbole Scale. LeBron, cradling the Larry O'Brien Trophy under one arm and the Finals MVP trophy under the other, secure in his place atop the basketball world, revving his engines to chase Jordan and Russell and make his claim for the Greatest of All Time. "I want to be the greatest, or one of the greatest, to ever play the game," the King said. Who are we to doubt him now?