The Mad Men Treadmill
This is the show's worst season yet because it's so concerned with an era, not characters.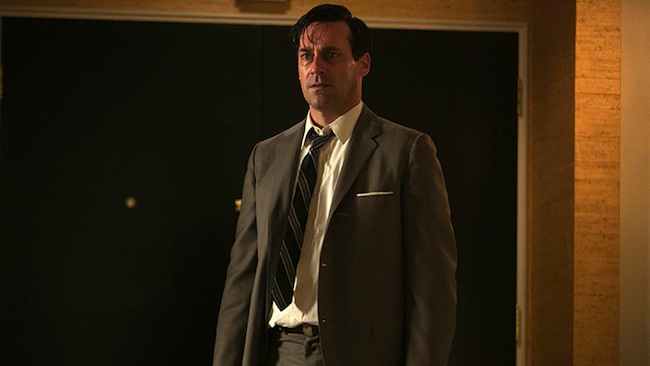 AMC
It's become pretty clear to me that Mad Men's sixth season is its worst season. It cannot be saved by the notion that Matt Weiner is "building up to something." "Building up to something" only works when you actually care about the characters. Despite some great acting, I don't really care what happens to Don Draper. I don't much care whether he's pathetic. I don't much care whether he's a badass. I know who he is, and who he is will never change. So his story is pretty much over. There are other, more interesting, characters. But because Don is the show's centerpiece, they'll never get the time that he gets.
I think this has become more of a problem. One reason the (temporary) reunion between Betty and Don worked so well was because Betty's character was so well explored in the first three seasons. The series developed her (even if they've since abandoned that project) and so Betty and Don are two fully fleshed-out characters in conversation. You can't really say that about any other woman in Don's life. Sylvia is barely an actual person compared to Betty. (I also think that January Jones and Jon Hamm, for whatever reason, have a kind of chemistry on set that hasn't been since duplicated.)
It's sort of sad to see the show just drifting listlessly from shocking event to shocking event. It points to a lack of actual things to say about actual human beings. Ostensibly, Mad Men is a show about "the '60s." But stories "about" particular times almost never work. Stories about people work. At any rate, it's pretty clear that Season Six has almost nothing to say about the times beyond, "This guy called this guy a fascist, and some hippies were doing drugs, and that guy called that guy a racist." As uninteresting as this season has been, it is at its least interesting when it is trying to "say" something—about the year, about the city, whatever.
Increasingly the magical '60s and a crumbling New York have become a crutch for Mad Men. I hope this changes in the seventh season. But I see no reason why it would. I suspect this series ended a while ago. (I'd argue either the second or fifth season.) It feels like we're on a tour-bus, and one of the tourists is driving.