The Design School That Sold Me on Detroit's Future
The College for Creative Studies has been intrinsically linked with Motor City for more than a century. Today, it helps contribute to the town's status as an underrated innovation hub.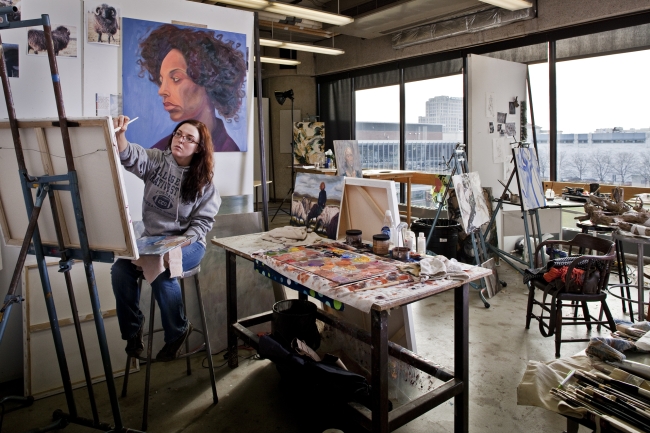 Last month I received my first-ever academic degree, an honorary Doctorate of Fine Arts from the College for Creative Studies in Detroit. I had never heard of the school before it got in touch with me, and my sole knowledge of Detroit was the popular perception of it as a metropolis of modern ruins. But when I visited, I was blown away by this surprisingly little known but inspiring incubator of art and design - the rare collegiate creative enclave that engages with, reflects, and embodies the city it's in.
That city is, of course, a poster child for urban blight and urban flight. But it's also the storied home of American manufacturing and industrial innovation, and with the help of CCS, it could well become the design capital of the United States again.
The college began in 1906 as the Detroit Society of Arts and Crafts "to encourage good and beautiful work as applied to useful service." That notion of "useful service" soon expanded to include fine arts and what was called the "industrial arts" - the craft that would help power Detroit's auto industry, which in turn over the years has helped power the college's endowment and board of directors.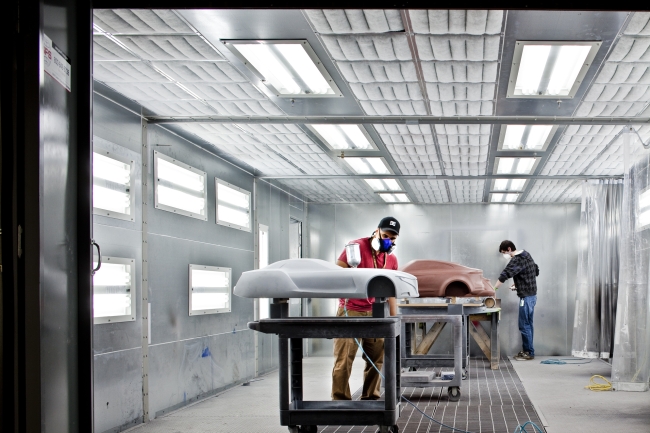 By the 1980s, though, enrollment had been dropping, the college was running substantial annual deficits, and the faculty was factionalized. In 1994, Richard Rogers, a vice president at the New School in New York City, was appointed CCS's president with the mandate of fixing the problems, he told me in an interview.
"I arrived here at a hopeful moment," he said. "A new mayor, Dennis Archer, had just been elected and got the business community more engaged in the city. A wave of downtown development began that led to the building of two new sports stadiums and expansion of many cultural and educational institutions, including the first expansion we did at CCS after I got here."
CCS operates two campuses, both closely tied with the city's history. The older includes the 1958 Yamasaki Building designed by Minoru Yamasaki (designer of the World Trade Center in New York) and the Josephine F. Ford Sculpture Garden (named after the school's primary benefactor). The latest addition, the old Argonaut Building, was GM's original engineering and design facility. It also once held the studio of Harley Earl, who introduced America to modern auto design and developed the concept of the "model year," which used design changes to create demand for new vehicles.
GM donated the 760,000 square foot building to CCS in 2008, when it was renamed the A. Alfred Taubman Center for Design Education. It currently houses undergraduate and graduate design programs, as well as a unique art and design charter school for students from sixth to 12th grade (many of whom are inner-city), run by CCS and the Henry Ford Learning Institute. In the building, you'll also find the showroom and factory of Shinola, producers of "Made in Detroit" bicycles, watches, and stationary.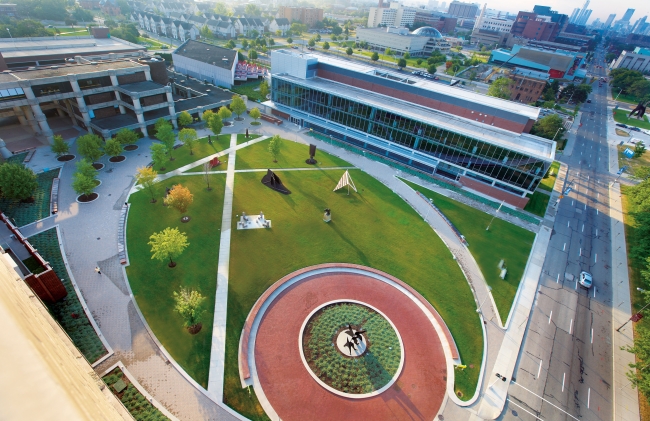 Most of CCS's students hail from Michigan, and many stay in Detroit, working in or around the auto industry. Fifteen percent of CCS graduates come from its transportation design department, the balance are in graphic, product, ceramic design, illustration, animation, video games, painting, sculpture, glass blowing, interiors, and more. While they're in school, students work on research projects sponsored by a wide range of corporations and institutions. Shinola is one of the most involved of those partner companies, having facilitated class projects on branding, bicycle design, watch design, and fashion accessory design. "Their physical proximity in our building makes these collaborations very easy, and the students have a lot of exposure to Shinola's creative thinkers," Rogers says.
The partnerships with local corporations and the charter school are two of the ways that CCS is contributing to Detroit's status as a growing designer's colony . CCS has played a role in that dynamic in other ways as well—managing the Kresge Arts in Detroit program, which awards fellowships and grants to artists, for example.
But Rogers is quick to point out that Detroit has long been a creativity hub, as shown in part by the fact that it's home to two design schools, CCS in the city and Cranbrook just to the north. The city already has a robust arts community in part made possible by inexpensive real estate and the palpable sense that artists can be engaged in helping the city move forward. "I think [Detroit is] already a big 'D' design city but not adequately recognized as such," he said, acknowledging that Detroit's economic struggles more often define it in the public's mind. "We have to do a better job of telling our story. We're realists here. We know the problems. But we also know that there's a lot of positive action in the city now, and designers are playing an important role."