Serena and Rafa's Actually-Kinda-Surprising French Open Wins
Yes, they were the prohibitive favorites, but both overcame serious obstacles—like history, health issues, and Novak Djokovic—to claim their victories.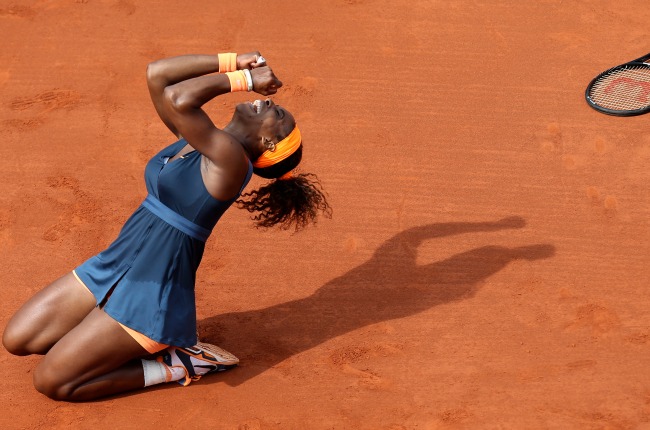 AP / David Vincent
Yesterday morning, Serena Williams dismantled Maria Sharapova in straight sets at the French Open to claim her 16th Grand Slam championship—just like every single tennis analyst at ESPN and Sports Illustrated predicted she would.
And today, Rafael Nadal took down his compatriot David Ferrer, also in straights, to win the French Open—for the eighth time in nine years.
In other words, Williams and Nadal are your 2013 French Open champions, because of course they are.
We'll likely look back at this year's tournament at Roland Garros as a remarkably predictable Grand Slam. And on the one hand, it was. It's unsurprising that the guy who came into the tournament with a 52-1 win-loss record in Paris and who'd won seven of the last eight French Opens would win another one. It's equally unsurprising that the woman ranked No. 1 in the world—arguably the best ever in the women's game, who came into the tournament on a 24-match winning streak—nonchalantly brushed aside seven opponents on her way to the trophy podium and only dropped one set.
But: Just because the prohibitive favorites won doesn't mean either one had a boring or routine path to the championship. The outcomes of the French Open men's and women's singles tournaments are a little more surprising than the score reports might suggest. Williams finally tamed a surface that's frustrated her for a decade, and Rafael Nadal completed one of the more startlingly comprehensive comeback campaigns in recent memory.
Williams, for her part, cruised to victory about as casually as one can, handing out "6-0," "6-1" and "6-2" sets to her opponents like the worst kind of thanks-for-coming-to-Roland-Garros! souvenirs. But though her opponents didn't pose much of a threat, history was not on her side. Even the 31-year-old American's impeccable recent record wasn't a surefire predictor of success. She came in riding a wave of clay-court momentum, winning all three tune-up tournaments she played. But after arriving at the French Open last year with similar momentum, she crashed out of the tournament in the first round. So the fact that she was in peak form didn't promise anything.
The French Open has notoriously been Williams's worst Grand Slam, too; coming into this year's tournament, the French Open was the only major she'd only conquered once. (Maybe that's better proof of her high level of play over the last decade than of her relatively underwhelming clay-court skills.) And even that victory happened in a bygone era—her last French Open title had come in 2002. She hadn't made it past the quarterfinals in the six French Opens she'd played since 2004. But yesterday, Williams won her second French Open 11 years to the day after winning her first, setting a new Open Era women's record for the longest gap between championship wins at a single tournament.
Meanwhile, Rafael Nadal's even being in contention for the title this year was something of a surprise. As Kevin Craft pointed out before the tournament started, even though 27-year-old Nadal had won the tournament seven times before, it was a little surreal to see the Spaniard so heavily favored to win an eighth. As Craft explained:
[J]ust a few months ago, in the immediate aftermath of the Australian Open, questions abounded regarding Nadal's ability to return to form after an extended absence. After losing to the unheralded Lukas Rosol in the second round of Wimbledon, Nadal left the ATP Tour for seven months to rest an ailing left knee. His ranking fell from No. 2 to No. 5 in the world, and in his first tournament this season, Nadal lost to Horacio Zeballos in the finals of the VTR Open. Observers began to wonder if the Spaniard's best days were behind him.
Even with a steadily excellent clay-court season behind him, Nadal's first two matches were uneasy four-set victories, and the threat of Novak Djokovic, the world's No. 1 player, also loomed. The French Open remained—and, now, still remains—the one Grand Slam Djokovic has never won, and when his much-loved childhood coach Jelena Gencic died during the first week of the tournament, some writers speculated that Djokovic would put his grief to good use and win the Open in her memory. "It's not difficult to guess what it would mean to Djokovic to capture his first career French Open title in the wake of Gencic's death," wrote Bleacher Report's Ryan Rudansky, and even Djokovic's current coach, Marian Vajda, told The New York Times, "All the knowledge he got from her, it will be another boost to him during the tournament to honor her, because she told him to bring the trophy to her."
And Djokovic certainly tried to, exhausting Nadal in a blockbuster semifinal that Nadal finally won at 9-7 in the fifth set.
The final itself was more challenging than its 6-3, 6-2, 6-3 score report implies, too. Both players' concentrations were rattled twice during the match, first when a protest group high in the stands noisily interrupted play, and again (much more significantly) when a spectator ran onto Nadal's end of the court with a blazing flare. The prankster, labeled an "idiot" and a "clown," by commentators Mary Carillo and John McEnroe, pulled off one of the bigger security breaches in recent memory at a Grand Slam tennis tournament, and as tennis analyst Jon Wertheim remarked on Twitter, "Play resumes, but how can Nadal not be freaked out?"
After all Nadal had been through, in the past year and on the day of, his eighth French Open victory was perhaps even more meaningful than some of the others that came before it.
The match that was arguably this tournament's biggest surprise—Jo-Wilfried Tsonga's upset of Roger Federer in the quarterfinals—was an odd blend of anticipated and unforeseen, as well. Federer, as John McEnroe pointed out last week in on-air commentary, has reached that point in his career where an earlier loss than usual should be expected: You turn 30, you start losing in the quarterfinals, McEnroe said. And it's true. Some tennis greats with long streaks of frequent finals have made a habit of losing earlier in Grand Slams around that mysterious 30-year mark. McEnroe himself did; so did Lendl and Nastase. Federer, 31, has reached exactly one final in the last six tournaments he's played. As strange as it is to watch a streaky, not-always-on player like Tsonga take down the arguable Greatest of All Time, losses like these are becoming more common for Federer—and they're right on schedule.
This is the third time Serena Williams and Rafael Nadal have claimed the two halves of a Grand Slam tennis tournament together, and their widely forecasted wins will likely seem like foregone conclusions in retrospect. But like some of the other storylines that came out of the last two weeks, both the men's and women's singles championships at this year's French Open featured subtly surprising storylines that remind us just how very little, at this level of the game, is routine.