Pixar's Sad Decline—in 1 Chart
Monsters University ranks as one of the influential animation firm's worst-reviewed films—as did the two Pixar films that preceded it.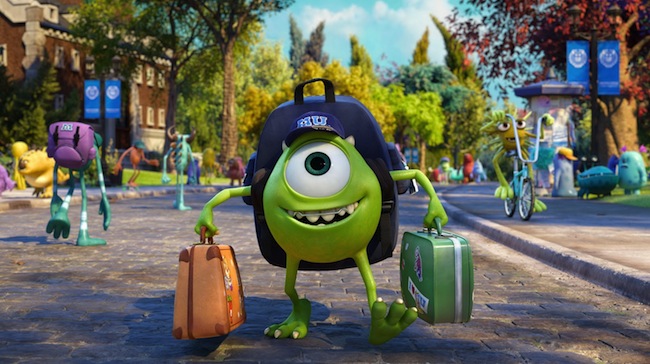 I've written on a few occasions about the ongoing decline of Pixar, which, however inevitable it may have been following the studio's extraordinary run--in particular the stretch from Wall-E to Up to Toy Story 3--is nonetheless just this side of heartbreaking. A Pixar film used to be the surest bet in American cinema. Now it's a cross-your-fingers-and-hope-for-the-best proposition.
Monsters University continues the dispiriting trend: It's not flat-out bad, like Cars 2, but, commercial success notwithstanding, it's a clear contender for Pixar's second-worst offering to date. Elsewhere on the site, Ashley Fetters captures why: There are no genuine emotional stakes, no deeper resonance, no underlying moral architecture. Pixar used to make films that utterly transcended any kids-movie/grownup-movie distinction. Monsters University is an entirely capable--though hardly exceptional--kids movie. Which would be fine if it were an outlier for the studio, but it's not anymore.
A movie's rating from the review-aggregation site RottenTomatoes.com is hardly a dispositive indicator of quality, but it can serve as a useful proxy. To date, only four of Pixar's 14 feature films have failed to score better than 90 percent on Rotten Tomatoes. And three of those four were... the last three in a row. Below, Pixar's decline in one handy graph: