LeBron Who? 'Casey at the Bat' Was Hating Arrogant Athletes 125 Years Ago
Ernest Thayer's poem, first published in June of 1888, became a sportswriting classic by combining 19th-century baseball details with a timeless fable about hubris.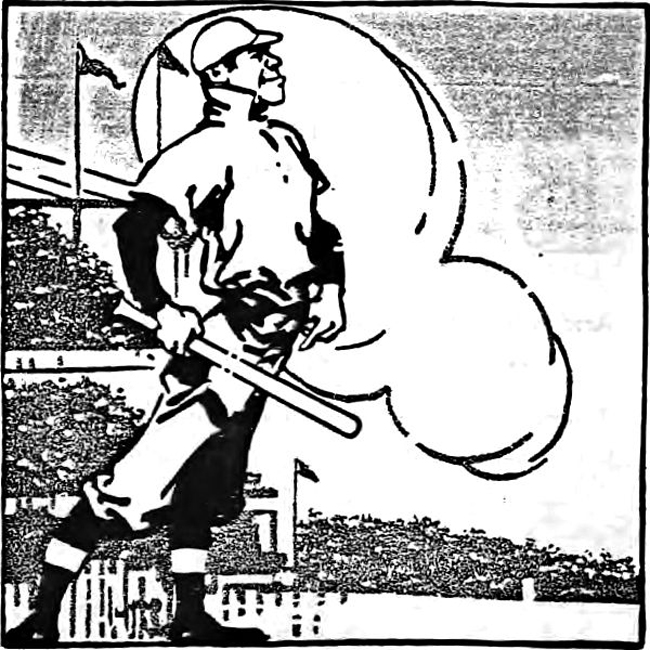 Wikimedia
One hundred twenty-five years ago this week, a 56-line poem of light verse was inauspiciously published in the San Francisco Examiner. It told the story of a haughty slugger for the fictional Mudville baseball team who, with two outs in the ninth inning and the game on the line, strikes out in spectacular fashion, plunging the expectant fans into despair.
At first, it faded into oblivion, a mere place-filler among the Sunday editorials. But "Casey at the Bat" was rediscovered months later and would go on to become one of the most lasting and celebrated pieces of American sportswriting, and the strongest link many contemporary fans have to 19th-century baseball. What's more, the poem was built around a sports maxim that's still popular among contemporary fans: Vainglorious athletes deserve to fail epically.
The history of "Casey at the Bat" is just as fascinating as its long afterlife. The poem was penned by Ernest Thayer, a former editor of the Harvard Lampoon whose friendship with fellow classmate William Randolph Hearst led to a columnist position for Hearst's San Francisco Examiner. For two years, Thayer scripted a string of forgettable ballads and light verse under the pseudonym "Phin," a nickname he'd acquired at Harvard. His last contribution, "Casey at the Bat," ran on July 3, 1888, after which the 24-year-old Thayer gave up his writing career to oversee his father's woolen mills in Massachusetts.
According to John Evangelist Walsh's book The Night Casey Was Born, a popular novelist named Archibald Clavering Gunter, who was trying to adapt one of his works into a Broadway play, was visiting his ailing parents in San Francisco the week Thayer's poem was published. Admiring the ballad, he snipped it from the paper and stuffed it into his wallet.
Months later, back in New York, Gunter learned that the McCaull Comic Opera Company on Broadway planned to host the New York Giants and Chicago White Stockings at their evening performance following the teams' afternoon game on August 14th. Sensing an opportunity, Gunther retrieved the overlooked ballad and suggested that his friend William DeWolf Hopper, a budding comic performer at the Company, recite it for the ballplayers that night.
The boisterous response that Hopper's performance received, with players from both teams reportedly standing on their seats to applaud afterward, convinced him to make the poem part of his traveling act. For more than 40 years, Hopper recited "Casey" in theaters across the country, reaping greater success with it than Thayer, who wouldn't be unequivocally acknowledged as the poem's author until decades later. Hopper's performance survives in the form of a 1906 recording (below) and, most notably, as a rare talkie short film from 1922.
Hopper's oratorical style may be a little melodramatic for modern audiences, with his mouth quivering theatrically as he sobs through the clinching line: "But there is no joy in Mudville—mighty Casey has struck out." But it would have fit in seamlessly on the vaudeville stage at the time.
Few American poems have survived as long in the popular imagination as "Casey at the Bat." Prominent sportswriters from Grantland Rice to Frank Deford have fleshed out Casey's life before and after his fateful strikeout, while authors like T.S. Eliot ("Growltiger's Last Stand") and Ray Bradbury ("Ahab at the Helm") used Thayer's ballad as inspiration in their own work. Walt Disney Productions issued two cartoon shorts based on "Casey": one a humorous rendering of the poem, and the other a strange sequel in which Casey assembles his nine daughters into an all-women's team, and then reenacts his infamous at-bat as a cross-dressing pinch hitter.
The film adaptations are no less bizarre. As Martin Gardiner notes in The Annotated Casey at the Bat, the 1927 silent-movie version is best known for a scene in which Casey, played by the rotund comic actor Wallace Beery, swats a one-handed homerun while clutching a full beer mug in the other; the ball travels so far that the outfielder has to fetch it on a horse. In a 1985 TV version, a 47-year-old Elliott Gould improbably portrays Casey, leaving little doubt as to why the aging, muscle-deficient slugger failed to deliver in the clutch.
Much of the longstanding appeal of "Casey at the Bat" lies in the poem's combination of period-specific details and universal sporting themes. In Thayer's depiction, baseball in the 19th century was an intimate experience between fans and players. The 5,000 Mudville spectators are so close to the field that Casey repeatedly has to signal for them to settle down so that the game can continue. The crowd comes across as more unruly than those in today's stadiums: After the umpire calls the first pitch to Casey a strike, shouts of "Kill the umpire!" arise, quelled only when Casey raises his hand for order. Even though such threats were largely theatrical, umpires suffered graver abuse in the 19th century than today, with some requiring police escorts following close games. This sentiment gets expressed unambiguously in a popular ditty from 1886 titled "Mother, May I Slug an Umpire?":
Let me climb his frame, dear mother,
While the happy people shout,
I'll not kill him dearest mother,
I will only knock him out.
Thayer's language, too, might seem florid to contemporary readers, but it was a pitch-perfect parody of 19th-century sportswriting. Consider the third stanza of "Casey at the Bat":
But Flynn preceded Casey, as did also Jimmy Blake,
And the former was a lulu and the latter was a cake;
So upon that stricken multitude grim melancholy sat,
For there seemed but little chance of Casey's getting to the bat.
The crowd's despair and derogatory slurs toward lesser players may seem overblown, but newspaper recaps of that period often featured such histrionics. Edward Achorn includes snippets of daily sportswriting from the 1887 season in his book Fifty-Nine in '84: Old Hoss Radbourn, Barehanded Baseball, and the Greatest Season a Pitcher Ever Had. Following a painful loss by the Providence Grays to the Boston Beaneaters, the Providence Evening Press lamented: "There are times when we weep. This is one of them. Excuse us while we weep. **** We have wept." After the same game, Achorn writes, the Providence Journal denounced the Grays' batters' "fruitless wind agitation, in which they have of late become so expert... A more disheartening and even disgusting exhibition of professional ball playing has seldom been seen on the home grounds." So in this context, it's not a stretch to conclude that Thayer's exaggerated phrasing was a purposeful caricature of the overheated baseball rhetoric of the period.
Today, only diehards can name more than a few players from the 1800s, and handlebar moustaches and barehanded fielding have gone out of style. But Casey's downfall is a particular kind of failure that generates what's still a perennially popular narrative in pro sports: the failure of the entitled athlete. In Thayer's poem, Casey strides to the plate with irrepressible confidence in his abilities. Smiling, he "lightly doffed his hat" to the cheering crowd and then watches "in haughty grandeur" as the first pitch soars past. "That ain't my style," Casey sneers, and then proceeds to ignore the second pitch as well, purposefully heightening the dramatic tension in order to emerge an even greater hero.
There may be no joy in Mudville when Casey strikes out, but readers feel a tinge of righteous satisfaction.
Casey's downfall illustrates the enduring sports dictum that arrogance, both on and off the playing field, should never go unpunished. That truism is why many NBA fans turned against LeBron James when he took his talents to South Beach, and then felt vindicated when his Miami Heat were trounced in the Finals the next season by the Dallas Mavericks. It's also why it is more gratifying for some to watch Alex Rodriguez go down on strikes than blast another pitch into Yankee Stadium's short right-field porch.
As the poem's foremost orator, Hopper understood this negative, schadenfreude allure. In his memoir, Hopper stated that egotistical baseball legend Babe Ruth could "miss the third strike just as furiously as he can meet it, and the contrast between the terrible threat of his swing and the futility of the result is a banquet for the malicious, which includes us all. There is no more completely satisfactory drama in literature than the fall of Humpty Dumpty." And as the ageless appeal of Thayer's poem demonstrates, it's a compelling—and unifying—sports scenario when a puffed-up icon like Casey falls flat on his face. Today, even casual followers are familiar with Casey's epic whiff. So perhaps the real moral of the 125-year history of "Casey at the Bat" is that the agonizing failure of an overblown ego is timeless.