James Gandolfini Changed TV Forever
The late Sopranos star brought Marlon Brando-style complexity to the small screen.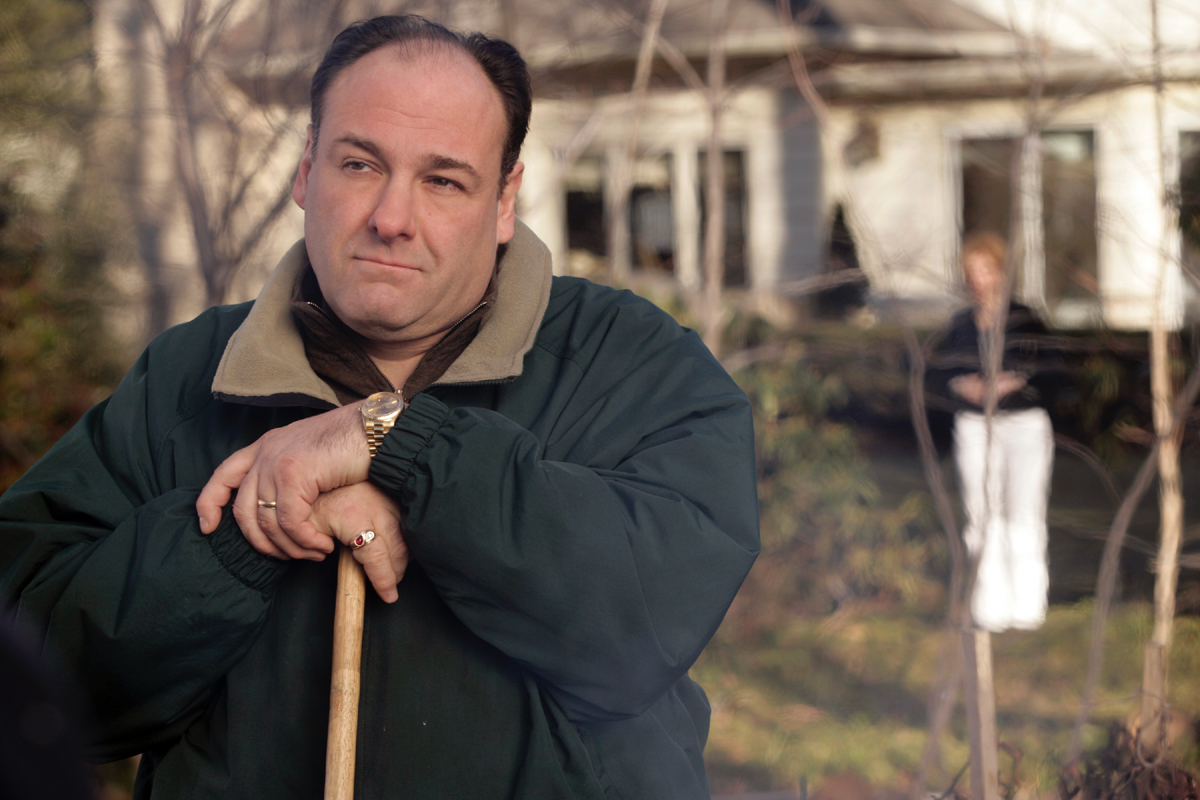 HBO
The summary Rob Lowe offered after James Ganolfini was reported dead at 51 yesterday is no less accurate for being unoriginal: "James Gandolfini gave the greatest performance in the history of television."
Any consideration of America's greatest actors must include the name Gandolfini alongside Brando, De Niro, Newman, and Bogart. "Greatest" is of course subjective, but like the names mentioned above, Gandolfini's legacy is secure because his influence is seismic.
Excellent character actor Terence Stamp has often spoken about how Marlon Brando was the "gamechanger" for film performance. He emerged in an era of overacting and demonstrated that subtlety, introspection, and projection of a contemplative nature could possess power greater than the most flamboyant histrionics.
James Gandolfini, in his signature and epoch-defining role of mafia kingpin Tony Soprano, was the Brando of television. The similarities go far beyond their imposing physicality, brooding darkness, and the fact that they both played iconic mob bosses. Gandolfini, like Brando, changed the game.
The Sopranos struck American television and pop culture with the shock and aggression of a mafia hit when it first aired on HBO in 1999. Its presentation of a charismatic, depressed, and violent anti-hero was simultaneously deeper, funnier, and tougher than anything previously on the small screen. And its ambition was epic. Throughout the course of its 86-episode run it insightfully investigated conflicting notions of psychology, philosophy, theology, politics, and the law.
The program's writing and direction was superb, but none of its success or greatness would have been possible without the genius of Gandolfini, who executed on the show's ambition more convincingly than anyone else. His sad eyes signaled a swirl of emotions, his laugh told of the primal joys available in life, and his capacity for rage was terrifying even to those watching on the couch. He became Tony Soprano and Tony Soprano became James Gandolfini.
And who was Tony Soprano, exactly? The show's power rested on the reality that no single adjective could accurately describe him. Not tough, smart, evil, good, soft, hard, selfish, or paternal. He was many things at once: a sentimental bully who genuinely loved his children and used a "pay the bills and put food on the table" philosophy to justify building a criminal empire with murder, theft, and extortion. These contradictions spoke to the contradictions of the American spirit, and that was as much an achievement for Gandolfini as it was for series creator David Chase and his staff of writers.
All of this made a real difference. Citing The Sopranos, The Wire, Breaking Bad, Sons of Anarchy, Boardwalk Empire, and Mad Men, novelist Richard Russo called the contemporary era the "golden age of American television." Anyone who believes that Russo is correct must thank The Sopranos for not only preceeding but also parenting the other programs that he enumerates.
Its dark subject matter, rejection of formulaic precedent, and willingness to blur the line between good and evil inspired many imitators--many of them great, but none of them as strong. Gandolfini's performance is the obvious model that Jon Hamm in Mad Men and Bryan Cranston in Breaking Bad are attempting to follow. While their performances are compelling, they cannot touch Gandolfini's metamorphosis into the original anti-hero of American television.
There was more to him, of course. James Gandolfini was a talented actor with a wide range of roles within him. His scene-stealing performance in the neo noir Killing Them Softly, his evocative portrayal of an internally lost family man in Welcome to the Rileys, and his hilarious take on a moronic general in the satire In the Loop revealed comedic timing, emotional depth, and quiet expressiveness that would have guaranteed him a long and storied Hollywood career.
Gandolfini's untimely and sad death leaves a gigantic void for the rare actor who can play larger than life, working-class characters with authenticity, complexity, and empathy. In his career choices and powerful delivery of those choices, he was one of the few actors left who could truthfully represent the America of Newman and Brando--the America of factory towns, pool halls, smoke-shrouded whiskey bars, and storefronts on Main Street.
His death also guarantees that fans and critics will remember him for his seminal work in the role of Tony Soprano. Gandolfini wanted to gain notoriety beyond The Sopranos, and his ambition was a credit to his creativity. But it is difficult to imagine a legacy more secure or more important than one that comes from masterfully playing a character who embodied the American story in ways reassuring and frightening, and who changed the medium of his art for the better, forever.