Have You Seen This One Before? The Quest to ID Films With No Names
At the Mostly Lost festival this weekend in Virginia, cinephiles try to identify "lost" movies.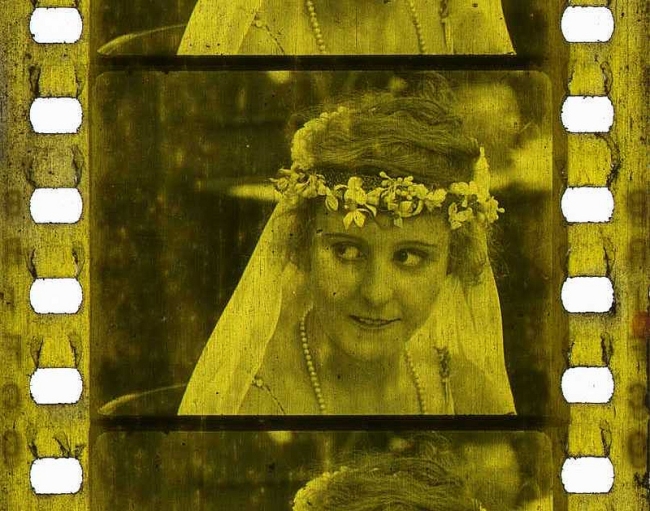 On Friday morning, some 80 film historians and enthusiasts will file into a screening room at the Culpeper, Virginia campus of the Library of Congress. The lights will dim, the projectors will turn, and a film will appear on screen. The catch: No one—literally no one in the world—knows what the film is.
Now that we can stream movies from Netflix to smartphones, it may be hard to believe that "unknown" films can even exist. But archives hold thousands of reels from the past century that are improperly labeled—or not labeled at all.
Mostly Lost, a three-day workshop devoted to identifying movies, aims to help change that. The second annual incarnation of it runs from Thursday, June 6, to Saturday at the Library of Congress Packard Campus for Audio Visual Conservation. There, during screenings, viewers will call out information, argue among themselves, search databases of trade magazines on tablets and smartphones—everything you're not supposed to do during a movie.
"Somebody will recognize an actor, somebody will recognize an automobile," said Ben Model, a historian and pianist who will be playing musical accompaniment to many of the silent films on display. "People are looking things up frantically on iPads, calling out, 'Okay, between 1923 and 1926 so and so was at this studio.'"
How do movies get lost? Surprisingly easily.
"It's hard for people to understand that movies are not a DVD, they're not one reel that you hold in your hand," said Rachel Parker, a curatorial technician with the Library of Congress and an organizer of the festival. "A feature film can be eight reels long. With nitrate deterioration you might lose that first reel, the one that gives you the film's credits and title."
Before digital took over, movies were shipped to theaters in metal cans. A projectionist would splice or assemble the reels together onto a platter and then thread it through the projector mechanism. Many films never made it back to the studio after their theatrical runs. Projectionists might collect favorite scenes from the features sitting around in their booths.
"Sometimes all that survives from those original reels is what the projectionist cut out," Parker said. "So now we'll have 500 feet of a film that used to be 2,800 feet long, but it's from the middle of something, and we just don't know what it is."
Silent-era bootleggers also would sometimes intentionally obscure a film's title on a knock-off reel, so the original owner wouldn't find out. But the most common way footage was lost was from a projector chewing it up, according to Rob Stone, the moving image curator at the Library of Congress and the originator of the workshop.
The beginnings and ends of reels are the most vulnerable part of a movie. Unfortunately, that's usually where you find the title and credits. It's as if a librarian had to identify a book without its cover or title page. Stone compares it to turning on a TV show five minutes after it's started. "What are you watching?" he asks. "How do you tell?"
Some of the problems with unidentified films stem from archivists themselves. Movie reels are separated, cans are mislabeled, and the sheer volume of material can be overwhelming. "Those pictures you see of archivists meticulously winding through every frame of film, well that really doesn't happen," Stone said.
"Our early efforts were purely with unidentified films," he continued. "But now we've moved on to misidentified or under-identified films as well. Say a movie that was retitled, and then entered into archive records under that title. Frankly, sometimes we're just dealing with inadequate cataloguing."
Occasionally, a film has been hiding in plain sight. Stone cites a case in a French archive in which cans labeled "Unknown" were set aside in a corner. They actually contained reels from a 1927 Lon Chaney feature called The Unknown. He recalls a similar story from his time at the UCLA Film and Television Archive: "There was a film called Identity Unknown. Well, the cans said 'Identity Unknown,' so they put them away, in fact in seven different locations."
This September the National Film Preservation Foundation will be releasing a DVD with two recent discoveries: Upstream, a 1927 backstage comedy directed by John Ford, and The White Shadow, the earliest surviving film credit for Alfred Hitchcock. Both films had been presumed lost until they were identified in a New Zealand archive.
The White Shadow shows some of the detective work behind the ID process. Two reels of the film had been labeled "Twin Sisters." The third reel had no name at all, just notes that it was a silent American drama from 1923. The footage was missing its title and credits. Archivist Leslie Lewis used cast lists, a Selznick logo, and edge codes to help determine that the film had to be The White Shadow. Copyright records retrieved by Zoran Sinobad at the Library of Congress confirmed her discovery.
Other recent finds: a 1928 Walt Disney cartoon, Hungry Hoboes, that had been sitting on a shelf in the Huntley Film Archives in Herefordshire; and Hello Pop!, a 1933 Three Stooges color short.
Stone and Parker don't expect to find anything on that level at this year's Mostly Lost. "Some of these films, I'm pretty sure when we watch them it will be the last time they will ever be seen by human eyes," Stone said.
"We're not going to find the lost reels to Napoleon or Greed," Model said. "The films are hit and miss. Some of them are good, some of them are interesting in terms of historical importance. But for what we're doing, part of the entertainment is what happens in the theater."
Indeed, the mood at the screenings can be boisterous, as participants try to solve the puzzle up on screen. Model provides music, as do pianists Philip Carli and Andrew Simpson. Film junkies offer their expertise as to the moviemaking style of the clip; historians can help with the period details and plot references to real-life events.
"You can see by costumes or cars what a film is, but also what it isn't," Stone said. "You're trying to narrow down when the film was made. A big clue can be license plates. Street signs help. Sets help, particularly with dating. Another thing is whether or not the light is natural or artificial."
Part of this work happens year-round on Flickr, via the the Nitrate Film Interest Group page, where The Association of Moving Image Archivists' Nitrate Committee posts frame enlargements. "But there's something about seeing things in motion that helps," Stone said. "Something about synergy, a collective intelligence. You get 80 people in a room, one may be a Clara Bow expert, one may be an expert on Leo White, a supporting actor who seemed to be in about half of the silents. Together they can figure out that Clara Bow and Leo White only made four films together, and go from that."
Stone and Parker showed 95 films at the first Mostly Lost workshop. "While they were being screened, we got about 40 percent of them identified," Parker said. After further research, the team reached a 48 percent success rate.
"Throw on top of that another 25 to 30 percent where we were at least able to add more information," Stone said. "We now know that a can labeled 'Unidentified drama 1925' was actually a comedy filmed in Florida in 1915."
Films at this year's Mostly Lost range from the 1890s to the 1930s. They include Westerns, dramas, comedies, cartoons, actuality footage, and a sound clip of William Frawley (a star of I Love Lucy) from what may have been a vaudeville show. The films come mostly from the Library of Congress collection, but also from UCLA, the George Eastman House, Lobster Film Archive in Paris, Netherlands' Eye Institute, the Royal Belgian Archive, the Museum of Modern Art, and private collectors.
Thursday night, Friday night, and Saturday night are open to the public. For Thursday, archives and collectors have been asked to bring something recently discovered or preserved. Friday is when the identification process begins, and will feature a restoration in progress, a "Baby Peggy" feature from 1924 called The Family Secret. A Saturday screening of Sherlock Jr. with Buster Keaton will be at the State, "a beautiful, refurbished 1938 movie theater in Culpeper," Stone says. "We wanted to get townspeople to see silent film at its best, and to mingle with people who are already charged up about silents."
Parker is especially excited about a reel of miscellaneous footage spliced together, "unrelated things like footage of geckos made up to look like dinosaurs."
She's also fascinated by a film labeled "Unidentified Miscellaneous No. 7: The Stolen Necklace." "It's a reel that has absolutely eluded me," she said. "It's about a maid who steals a pearl necklace. We put up an image on Flickr over a year ago, and nobody's been able to identify it. I'd love to know what it is."