Have You Called Anyone 'Anustart' Today?
We'll know Arrested Development's new season has succeeded when its catchphrases become ubiquitous as the old ones did.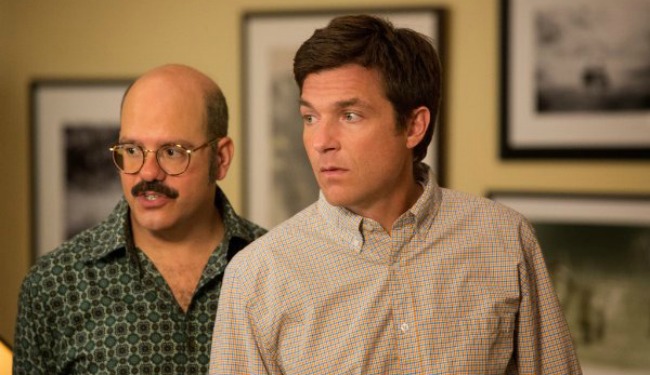 Netflix
This is a post in a series from Atlantic writers on Arrested Development's fourth season.
The other day, I cut short a friend's long explanation of why a woman he knew had decided to ask for a divorce after only a few years of marriage.
"So basically," I summarized, "she made a huge mistake."
That one line was all it took to identify a kindred spirit. We were both outed as chicken dancing, cornballing members of the same cult. While Arrested Development is about many things—social satire, absurdist political critique, and the spiraling consequences of miscommunication, to name a few—being an Arrested Development fan is all about the in-jokes.
As Christopher Orr rightly points out, the new, fourth season of Arrested Development is in many ways a standalone product, not quite a continuation of the self-contained previous three. And from the onset, it takes pains to connect itself to the old show the same way fans connect with one another: by finding new ways to make the same jokes. The first episode, despite not being very funny, pulls from the canon to bring us the sad Peanuts walk, a loose seal, British magazines, and a father-son conversation about "the most important thing" (this season, it's not breakfast nor family, but instead privacy).
Squeezed in more subtly are slew of other callbacks that even a superfan such as myself only recognized after consulting the show's crowd-sourced wiki: a message on George Michael's dorm room door admonishes his father to [always] leave a note; GOB sings his roofied brother to sleep to the strains of his old puppet minstrel tune; a hot door handle causes Michael to cry out the same expletive once elicited by the cornballer.
For the viewer thrown into a new storyline after so many years spent rewatching the same three from the original series, these references are a comfort. They're also easy (some might say lazy)—all have been so ingrained in the minds of every Arrested Development fan that their mere iteration is enough to qualify as funny. Just as a fan can earn laughs by saying "Her?" with the right intonation and in the right company, so too can the show throw out the phrase "I wouldn't put all my Anns in one basket" and call it a punchline.
The best scenes of Season Four occur when these jokes are developed, instead of just repeated. For example, the clever new meaning given to "loose seal" in the first episode. And it was both satisfying and hilarious to see Tobias, in a rare moment of character development, take a lesson from his time spent in prison and introduce himself as a "theralyst"—not an "analrapist."
Still, call me demanding, but what I wanted from the long-awaited return of Arrested Development was new jokes, ones I could keep going back to long after the shiny new episodes had lost their luster. The true test of Season Four's quality won't be its rather lukewarm reception, but whether the new material sticks. In the time between now and the movie (because I'm not giving up on that dream yet), will we start calling people "anustart"? Will fans get together once a year to order war pizza and celebrate Cinco de Quatro? Will it become impossible for us to utter the word "getaway" without repeating it, in song?
Two weeks in, it's too early to tell. And so it's too early to decide whether Season Four has lived up to the hype. After all, I didn't watch the original three seasons when they first aired, and neither did most of the diehard fans I know. We discovered them later, on DVD, or even later, when they rolled out on Netflix. This season needs that same time to ferment, to carve out its own niche in the larger Arrested Development catalog while viewers finish all 15 episodes, rewatch them, and internalize their oddities. If the new material turns out to have staying power, and the jokes make their way into our (nerdy) conversations, then I'd call that a success.
If this doesn't happen for most people, that's okay too. What Arrested Development needs—what it has always needed—is a small but dedicated cult of fans who will insist on keeping it alive, blowback be damned. I think it'll be a while before I'll know if I'm a member. But I'll start trying out what seems destined to become our new slogan: "Love each other."