Bobby Bland Was 'Two Steps From the Blues'—and Ahead of Everyone Else
The extraordinary songs of the singer who died Sunday at age 83 offer reminders of how complex the blues can be, and how shockingly new it once was.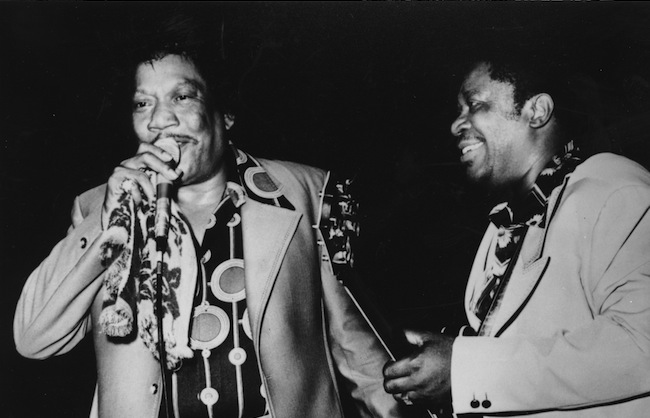 Jimi Hendrix once described the blues as "easy to play, but hard to feel;" Bobby "Blue" Bland made the blues as complex as a modernist novel, and effortlessly easy to feel. Bland may not have been the greatest blues singer of them all (though he's certainly in the conversation), but he was arguably the most complete, melding the urbane smoothness of the pop crooner to the ferocious ecstasy of the gospel tradition.
He was called "the Sinatra of the blues," a nickname that rankles a bit in its equivocating imprecision: Bobby Bland was, first and foremost, the Bobby Bland of the blues. But as comparisons go, one could suffer worse. Like Sinatra, Bland boasted such an extraordinary combination of technique, charisma and musical intelligence that his vocal performances were themselves an act of songcraft. The sides that Bland cut for Duke Records in the 1950s and 1960s unfold like riveting dramas; Bland could cycle through entire complex economies of emotion in a three-minute recording, bending notes, phrases, and whole songs to his will. His best performances make a word like "soul" seem woefully insufficient.
When he passed away in his hometown on Memphis this past Sunday at the age of 83, Bland took with him one of the great voices of the 20th century and left a legacy that surpasses even his considerable name recognition. He was a prolific performer whose career began in 1947 and begat a formidable body of work, but anyone seeking a point of entry might start with his towering 1961 LP, Two Steps From the Blues. Like most full-lengths of its era Two Steps From the Blues was actually a collection of Bland's previously released singles for Houston's Duke Records from the late 1950s and early 1960s, but the LP boasts such perfect sequencing and thematic cohesion that, taken in its entirety, it plays like a multi-tiered musical essay on love, lust and loss. The first side alone boasts three consecutive tracks--"Cry Cry Cry," "I'm Not Ashamed," and "Don't Cry No More"--that wring the act of weeping for every potential meaning you can think of, and more that you can't. "Lead Me On" and "I'll Take Care of You" are ballads whose stark minor-key settings subvert their themes of devotion, Bland's voice dwelling in the anguish of ambivalence. As another great blues singer might remind us, love is a serious business.
Two Steps From the Blues also features "Little Boy Blue," the 1958 recording that's frequently cited as Bland's breakthrough from the belter of "Farther Up the Road" and "I Smell Trouble" into a vocal style uniquely his own. "Little Boy Blue" is a deeply weird piece of music that Bland, with a considerable assist from guitarist Clarence Hollimon, fashions into a masterpiece. The song's narrator might generously be described as a sociopath, prone to such confessions as "it used to make me happy / to see you cry," delivered in a voice so enormous that the record itself strains to contain it. By the time the song reaches its stop-time climax, with Bland relentlessly spelling his own name--"you used to call me B - O - B - B - Y"--it's become clear that this isn't a song about regret but rather about the narcissistic desperation of sexual desire, and for a long while after the record's end we can't help but wonder if that's maybe just what everything is about.
While Bland enjoyed consistent success on the R&B charts through the 1960s and 1970, his biggest pop hit came in 1964, when "Ain't Nothing You Can Do" briefly sniffed the Top 20. Several of his hits also found renewed lives at the hands of other artists: 1961's "Turn On Your Love Light" has long been butchered by bar bands the world over but was once a pretty incredible record; the gorgeous "Share Your Love With Me" (1964) went on to be covered by Aretha Franklin, The Band, and others. More recently, Bland's 1974 hit "Ain't No Love In The Heart of the City" found its way onto Jay-Z's 2001 smash The Blueprint as the source material for "Heart of the City (Ain't No Love)," produced by an up-and-coming Chicagoan named Kanye West.
The fact that Bland never found the sustained pop success that his talents (and bank account) so richly deserved is unfortunate, and largely an accident of circumstance. Among his contemporaries both Ray Charles and Sam Cooke reached commercial heights that eluded Bland, but Charles and Cooke were both preternaturally shrewd businessmen and neither labored under a boss like Duke's Don Robey, a shadowy and notoriously violent man whose business sense was more oriented toward instant financial reward than artist development. And one downside to making music that's ahead of its time is that sometimes it really is just that: Two Steps From the Blues was released only months before the Marvelettes' "Please Mr. Postman" became the first release from Berry Gordy's Motown operation to hit No. 1 on the Billboard Pop chart, and within a few years a "crossover" revolution had engulfed American popular music. By that point Bland was approaching middle age, and it's easy to wonder if, had he been born a decade later, he might have enjoyed the celebrity of someone like Marvin Gaye, a singer whose style bore obvious traces of Bland's influence. Or, alternately, what might have happened if Bland had the chance to record for Stax Records in his hometown of Memphis, a company founded in 1957, the same year Bland released his first hit for Duke.
Counterfactuals aside, Bobby "Blue" Bland leaves an enormous legacy in American music, one that should be savored, cherished, and given renewed energy as living work. Whenever we lose a voice as irreplaceable as Bland's there are those who'll take it as opportunity to rage at the tyranny of autotune and "kinda pitchy, dawg" and generally yell at the 21st century to get off their lawn. But the better and far more honest way to celebrate Bobby Bland is to purchase a copy of Two Steps From the Blues, put it on late some night and, as it washes over you, let yourself be reminded that, good lord, all this was once new too.