After Earth: What Was Will Smith Thinking?
Who subjects their kid to such high-profile panning at such a young age?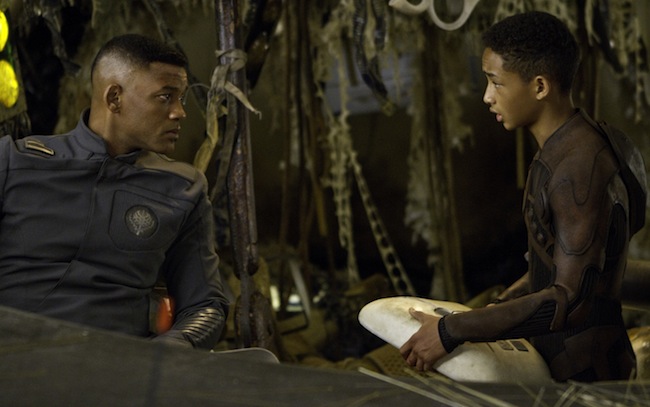 Columbia Pictures
Will Smith's movie After Earth , in which he stars with his son, is really getting beat up in the press. Our own Chris Orr looks into "Will Smith Inc."  and comes out horrified:
These manifold shortcomings might recede in importance if After Earth had a compelling protagonist at its center. But it doesn't. The younger Smith is persuasive enough--at times perhaps a bit too persuasive—in his portrayal of an awkward, tentative adolescent, but he is entirely lacking in the big-screen charisma that made his father one of Hollywood's major stars.

Indeed, I'm not sure I've ever seen a film in which the text and subtext--both concerning an effortlessly gifted father who presses his less-talented son to follow in his footsteps--were so completely in alignment. Alas, only in one of the two does the story end happily.
Reading this, I can't stop wondering what, precisely, Will Smith was thinking. I don't want to parent anybody else's kid, but I am trying to imagine myself at 16, put on a stage before the world, and universally panned. One way to think about this is to consider that Will Smith has basically been on stage since high school.
But this is not hip-hop back in 1988, with only a few outlets covering the music. This is you stretched out in the street, and the full weight of the internet leaping on you with both feet. And it happens with the backdrop of your Dad being a mega-star. I don't know. If I were famous, I think I'd hide my kids away somewhere--or break out the blanket like Michael Jackson.
On the plus side, Chris says that After Earth is "no worse" than M. Night Shyamalan's last two films.