When a Sentence Changes Your Life—Then Changes Its Own Meaning
Author Anthony Marra read new meaning into a line from Denis Johnson's Jesus' Son, years after that line had altered the way Marra thought about writing.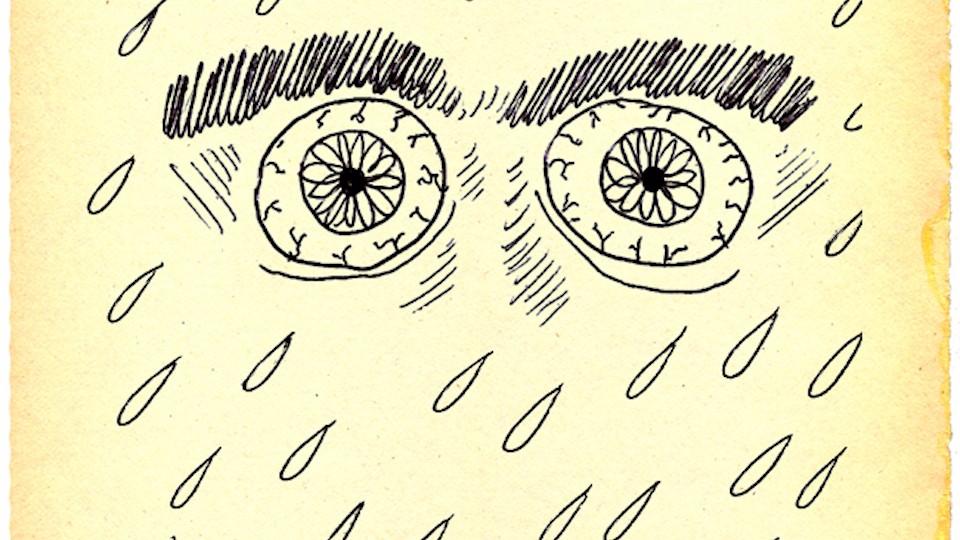 By Heart is a series in which authors share and discuss their all-time favorite passages in literature.
A book's pleasure is strangely contingent upon one's context. A paragraph scanned on the subway and swept aside with a yawn can thrill you on the sofa later that same day. Or a cherished novel, revisited years later, can seem to have grown cold, the fire gone out of its prose. Even meaning can morph and shift: That book you loved in college, the one about youthful passion and the road ahead, seems later about the older, more mature characters you overlooked on the first read.
Then there are the books you live with—that seem to grow in step with you, that take on new layers of complexity as one's own world broadens with time. This is Anthony Marra's relationship to Jesus' Son, Denis Johnson's classic collection of half-dreamed junky epistles. As a younger man, the closing sentence of "Car Crash While Hitchhiking" taught Marra to shun Proustian excess for gut-punching brevity. Today, it seems to him a different sort of revelation.
Anthony Marra is a Wallace Stegner Fellow at Stanford University. His debut novel, A Constellation of Vital Phenomena, released today, revolves around a hospital in Chechnya as the remote nation is torn by brutal war twice in 10 years. In 2012, Marra was awarded a Whiting Writers' Award for emerging writers.
---
Anthony Marra: "Car Crash While Hitchhiking," the first piece in Denis Johnson's legendary Jesus' Son, contains so many quotable lines the entire story could find its way into Bartlett's. It's a brief story—eight and a half wide-margined, 14-point font pages in my edition—but it contains more stunning images, more high and low notes, than any eight and a half pages I've read before or since.
It begins with a series of ellipses: "A salesman who shared his liquor and steered while sleeping...A Cherokee filled with bourbon...A VW no more than a bubble of hashish fumes, captained by a college student...And a family from Marshalltown who head-onned and killed forever a man driving west out of Bethany, Missouri..." At the end of the trail of periods is our narrator, Fuckhead, an itinerant clairvoyant busy turning his liver into a Superfund site as he searches for some upward path from spiritual destitution. The story he tells is straightfoward. He is waiting by the side of the road in the rain when the family from Marshalltown picks him up. "You are the ones," he thinks as he climbs into the backseat of their car, knowing through drug and alcohol-enhanced powers of prophecy that they will get in a car crash. Sure enough, they quickly get into an accident that leaves Fuckhead to wander through the wreckage with an unscathed baby.
Of the many lines I love in this story, it is the last line—"And you, you ridiculous people, you expect me to help you"—that I think back to most often. There are more poignant moments in the story (such as when the wife of the driver realizes he is dead: "She shrieked as I imagined an eagle would shriek. It felt wonderful to be alive to hear it! I've gone looking for that feeling everywhere"). But it is the last line, when Fuckhead addresses the reader directly, that has stayed with me because more than any other line I can think of, its meaning has repeatedly changed as I have changed over the years.
I first read this line when I was 18 or 19 years old. I wanted to be a writer but at the time I spent my days working a retail job, my nights sleeping in my childhood bedroom, and while I had written short stories here and there, I didn't know how to write good fiction anymore than I knew how to perform good brain surgery. So I joined a writing class at a nearby community center, where I was the youngest participant by about 40 years. Once a week I'd funnel down a staircase and join the dozen retirees crowded in folding chairs around a table to discuss one another's stories. When my turn came to bring in a story, I wrote an overwrought piece that took three pages to describe a single kiss. "I believe that if one can't say anything nice, one shouldn't say anything at all," commented one elderly gentleman, who kept shtum for the rest of the workshop.
However, someone in that workshop suggested I read Jesus' Son and when I did, my understanding of what fiction could do big-banged, becoming a vaster and more complex universe. When I came to the last line of "Car Crash While Hitchhiking," I read it as a pitiless statement of indifference: a refusal to warn the family of their impending collision, a refusal to help when miraculously spared, a refusal to act on the empathy hiding behind the story's language.
"And you, you ridiculous people, you expect me to help you."
The line seemed more suited to a comic book super-villain than to a story that first appeared in The Paris Review. I loved it.
But as I've reread the story over the years, that final line has softened. The disdain I had read into the line became pity. The "ridiculous people" are only ridiculous for believing someone as far gone as Fuckhead could possibly help them. What had been a statement of refusal now seems to me a startling confession of Fuckhead's own powerlessness. In a story clouded with hallucinations, it is a moment of clarity. Fuckhead cannot save anyone, least of all himself.
This line is my reminder that art has not only the power to change us, but the power to change with us.