The Time Mickey Mantle and Willie Mays Did a Dual Interview for Esquire
In 1968, in the twilights of both greats' careers, the magazine asked the pair to evaluate each other's achievements—and the resulting story was affectionate, funny, and poignant.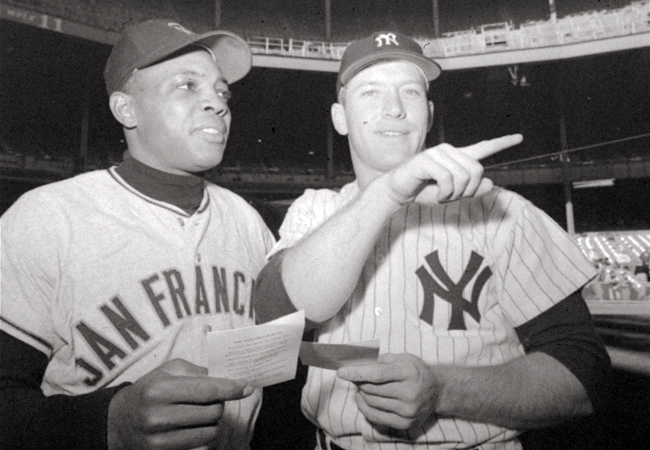 AP / RH
On January 7, 1968, Mickey Mantle and Willie Mays put in an appearance at a sporting goods fair at the New Yorker Hotel. By that time, they had become relaxed enough with each other to exchange a few good-natured barbs. "You sure you know how to use one of these things?" Willie quipped as Mickey held up a glove. "Man," Mickey said in reply, as he tried on Willie's mitt, "some people said I couldn't carry your glove. Now I see why. It's so damn big."
The fair was also an opportunity for Esquire magazine to put together a photo shoot and dual interview, which appeared in the August issue: "Mantle Fans Mays/Mays Fans Mantle—Willie and Mickey Appraise Each Other in Relation." Mickey's text (written, as he revealed to me at a 1985 party for The Mick, by Dick Schaap, who had written Mantle's paperback biography in the Sport magazine biography series) contained some genuine appreciation and insight: "Outside of Joe DiMaggio, Willie Mays is the greatest all-around baseball player of my time. Certainly he's been the most daring. Mays would steal home, a tough play and one in which you've got a great chance to look bad. Willie didn't even think of that, he'd just go. Nine times out of ten, he'd make it." (Mickey was almost right—Mays stole home eight times in ten tries in his career.)
"He was always a better glove man than I was because he had that same confidence. I'd run up to a single to center, say, squat down and block it in case I missed it. I always had that little doubt in the back of my mind that I might not catch it. But Willie would come charging in, scoop up the ball on the dead run, and fire. The basket catch is easy for him, so he has fun with it. He makes it so easy that sometime people think he's showboating. I think some of his style is for the fans, but I don't see anything wrong with that.
Related Story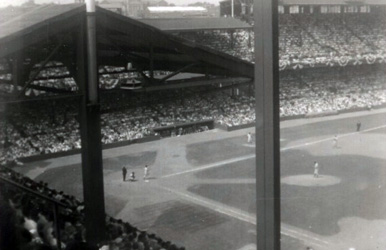 "I used to feel I was as good as he was, but now Willie has finally gotten out a little ahead of me. He's kept his health better than I have. He seems to run as well as he used to, although not quite so much. He's a leader, too, and I'm not. He'll go to the young players and try to help them. [Note: As Sport magazine revealed several times, so did Mantle.] He talks it up on the bench. He wants to be a leader. I just want to be one of the players."
Mantle was surprisingly candid about another matter that was increasingly close to Willie: "People keep asking him if he thinks he can break Babe Ruth's lifetime home-run record. What do they expect him to say? I'll tell you that I don't think he can do it. He came into this season 150 home runs behind Ruth. He's 37 now. Say he plays three or more years. Even if he plays four more, he must average more than 35 home runs a year, and that's a lot. But I hope he does it."
Toward the end of the piece Mantle grew reflective. "I suppose the toughest thing for both of us is the thought of quitting. Baseball's our business, our life. But if we have a couple of days in a row where we strike out three times and don't get a hit, people say, 'Maybe he's had it.' You don't want to reach a point where people just think you're hanging on."
Clearly the subject was very much on Mickey's mind.
Mays's essay—actually written by Charles Einstein—started with the Mantle performance that had most impressed him: his two home runs in the 1960 World Series. "I would rather be compared to Mantle than pitch to him. He didn't just beat pitchers, he broke their hearts."
"It's difficult to imagine a successor to Mantle; no one is likely to combine the speed and power and be able to hit so well both right-handed and left.
"Mickey used to get booed a lot at Yankee Stadium. I didn't have any problems like that until later when the Giants moved to San Francisco. Then I got booed. It wasn't so much what we were, it was more what we weren't. Neither of us was Joe DiMaggio.
"I've seen ballplayers do the job on just guts, but I've never known a guy do it over so long a time. Mantle can still swing, but when he does, his legs almost seem to collapse. The man is in pain and hitting is tough enough when you're feeling good. They tell me he bandages his legs from top to bottom before every game and that he's been doing it for a long time. Everybody's got an idea on how to help him. Even I've made a suggestion; I've got a machine that I think helped me, and I sent one to Mickey." (According to Charlie Einstein, this was a kind of small whirlpool for the feet and knees. Mantle was hugely appreciative and sent Mays a case of wine in return—when Roger Kahn reminded Mickey that Willie didn't drink, Mickey sent him a note of apology and a basket with some fine Russian caviar.)
"Two years ago, the Yankees decided to play him at first-base. Some guys wouldn't have moved after all those years, but Mickey went to spring training and made himself learn the job. I watched him on television the other day. He's never going to be a Gil Hodges, but he won't embarrass himself, either. I don't know when he's going to quit, and I don't think he does." (Willie did not know it, but Mickey had already made his decision.)
" . . . Nothing's worse than being the big man on a losing ballclub. They lose, and I know he's thinking to himself, 'They were expecting me to do something.' "
In perhaps his most perceptive insight, Willie said, "I'd have to guess that he was always the biggest guy in his crowd." And who would have known better than the biggest guy in his crowd?
"More was always expected of him. A lot of the men in Mickey's family, it seems, died at an early age. A man can't help feeling some pressure from a thing like that."
According to Einstein, Mickey and Willie had a good time cutting up at the photo shoot. Willie made rabbit ears behind Mantle's head; Mickey reciprocated with his middle finger. "Hey, man," Mays said when they arrived at the studio, "I want to see what you wrote about me. What did you write about me?"
Mickey replied, "I bet it's better than what you wrote about me."
[...]
The 1968 All-Star Game marked the last time Mantle and Mays would shake hands in uniform. Forty-two years later, Hall of Famer Harmon Killebrew recalled that looking at Mickey and Willie that day was "heartbreaking. It seemed that just a few years before these guys were, for me, a symbol of eternal youth—always smiling. Now they looked as if it took a big effort of energy just to crack a smile." Mantle, a reserve on the AL roster, struck out in his only at-bat; Willie singled in the first inning off Luis Tiant, went to second on an errant pickoff throw, scooted to third on a wild pitch, and came home on a ground-ball double play by McCovey. It wasn't much, but in a 1—0 victory it was enough to earn Mays his second All-Star MVP Award. (But that total is deceiving: the award wasn't presented until 1962, by which time Mays by rights should have already had three All-Star MVP plaques.)
By July 27, Mickey had dipped below his career batting average, .300, never to rise above it again. On July 29, he struck out four times in one game; on the way back to the dugout, teammates heard him mutter, "This is my last year."
---
This post is adapted from Mickey and Willie: Mantle and Mays, the Parallel Lives of Baseball's Golden Age by Allen Barra.