The Incomparable Herblock, Up Close
A former colleague reflects on working alongside the cartoonist Herb Block, as well as some of the surprising aspects of Block's private life revealed in the new documentary Herblock.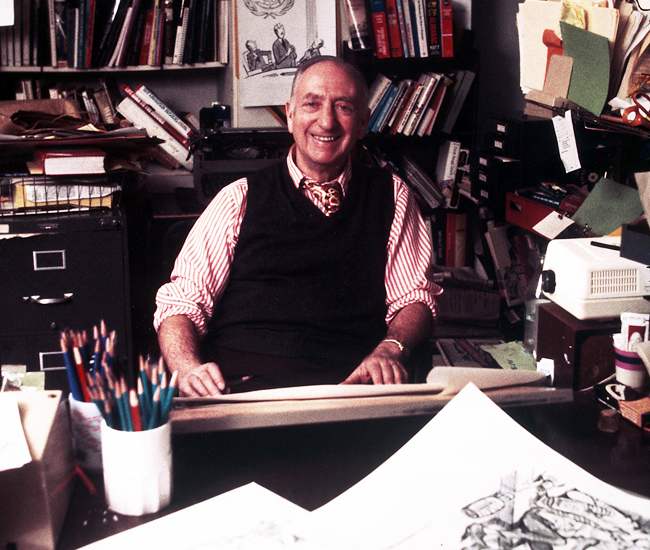 Library of Congress
For decades, a ritual took place at the Washington Post almost every afternoon around 4:00 p.m.: Herbert Block, whose signature was Herblock but who was known to all in the newsroom as Herb, would emerge from his spectacularly untidy office among the row of editorial writers and make his way across the floor clutching a half-dozen pencil sketches. In those years—ending in 2001, when Herblock died at age 91, only weeks after the publication of his last cartoon—the pace at that point in the day on the sprawling news floor was beginning to reach a noisy culmination of typing clatter and chatter, as reporters and editors created and refined the copy that would fill the daily from the front page to the crime shorts and obituaries. There was a rhythm to the activity that, in retrospect, had an irresistible energy—one that has largely been replaced in the digital age by technology and the deepening belief that the era of newspapers, at least as practiced in Herblock's years, is a relic of bygone times.
Herb's preference was to stop at the desks of copy editors and the night news editors who were just arriving for work. In a tentative manner, apologizing for the interruption, he would ask their opinions about draft cartoons and their possible captions. He was invariably deferential, and rarely did he directly disagree with the comments. How Herb decided whose judgment to solicit was a mystery, but to be included among the chosen was an honor that provided a measure of pride regardless of where else you fit into the newsroom's hierarchy. Herb then went to his office where, as I recall, he often took a short nap and then made up his mind. By deadline, there was a black-and-white crayon drawing that, by their thousands over the years, captured with a devastating edge the essence of whatever or whoever was the political focus of the moment. In my time at the Washington Post, which included five years as an editor, I was an occasional stop on Herblock's forays.
Herblock's brilliance is captured in a new documentary, Herblock: The Black & The White, which premiered at the Tribeca Film Festival. TheAtlantic.com has already featured "The Lessons of a Cartoonist's Crusade Against McCarthyism," an astute assessment of Herblock and the film by Steven Heller, co-chair of the MFA Design Program at the School of Visual Arts. Herblock's work also gets significant and deserved attention in Victor S. Navasky's new book, The Art of Controversy: Political Cartoons and Their Enduring Power (my friend Navasky is former editor and publisher of The Nation). Lacking the expertise of Heller and Navasky's historical overviews, my particular pleasure from the film is as a reminder of Herblock's amazing prescience on one great issue after another, particularly from the 1950s onwards. He skewered the public figures he abhorred (his Richard Nixon collection alone would have secured his place forever as a definer of the "Tricky Dicky" persona). Within days of the 1972 Watergate break-in, before it began to make the barest dent on public awareness, Herblock's drawings brought the case right to the White House doors.
The film's biggest surprises have to do with Herb's private life. He officially listed his address as the Washington Post, and while he was invariably cordial, there was no hint that he spent much time in social settings. It turns out that Herb had a long-term relationship—the film says it went on for 35 years—with Doree Lovell, a photographer. The pair spent every available moment together, especially on weekends at a cottage in Rehoboth Beach, Delaware. There are wonderful home movies in color of a beaming Herb cruising through the streets of the town on a large tricycle (he never learned to drive) and watching local parades comfortably ensconced in an aluminum chair. Doree, his friends say, was truly his life's partner, although they never married.
Herblock published about a dozen books, which usually included extensive political observations with insights on par with his drawings. In acknowledgments to a book about the Reagan years, published in 1984, he mentions that Doree helped edit four of his works. Herb's circle of friends clearly respected his insistence on privacy in personal matters, which, in a newspaper culture, was exceedingly unusual. Herb's long tenure at the Washington Post—he worked there for 55 years—also had another dimension which was little known: The Graham family, owners of the newspaper, apparently regarded Herblock so highly that they awarded him stock in what was a highly profitable enterprise. When his will was probated, his fortune, according to the film, was about $90 million, large enough for a foundation that he left in the hands of a few friends, including his longtime assistant Jean Rickard. The Herb Block Foundation (its website puts its original endowment at $50 million) awards grants in three categories: "Defending Basic Freedoms, Pathways Out of Poverty, and Encouraging Citizen Involvement."
Now that it has been shown at Tribeca, Herblock: The Black & The White will, I hope, find a national distributor for theatrical, on-demand, or cable release. It is a film that shows why journalism in all its forms matters so much to our country, and it is a worthy tribute to an exceptionally gifted man.