Steven Soderbergh's 'Too-Gay' Liberace Movie Has Arrived at Cannes
Michael Douglas plays Liberace and Matt Damon plays his longtime lover in Behind the Candelabra, which lives up to its buzz.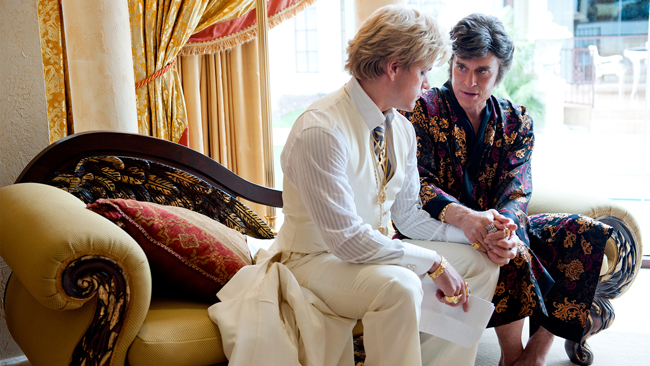 HBO
Sometimes at Cannes, certain films in competition go almost unnoticed, overshadowed by a festival scandal or lost in the hype surrounding another movie in the line-up.
Such was the fate of Valéria Bruni Tedeschi's Un chateau en Italie (A Castle in Italy), the third French film in the main slate (after Ozon's Jeune et jolie and Desplechin's Jimmy P.) and the only one made by a woman. The movie is fine: an ambitious, capably directed autobiographical chronicle of a wealthy French-Italian family facing financial decline. It's by turns enlivened and bogged down by the kind of furious narcissism that is a trademark of French ensemble/relationship/family dramas.
Wispy-voiced writer-director Bruni Tedeschi, the sister of former French First Lady Carla Bruni-Sarkozy, stars in the film alongside her former real-life love, the dashingly spaced-out Louis Garrel, and mother Marisa Bruni Tedeschi. But not even the promise of juicy tidbits from the private life of one of France's most famous families could compete with the prospect of Matt Damon and Michael Douglas locking lips—and horns—in fact-based gay romance Behind the Candelabra, U.S. director Steven Soderbergh's final film (if he sticks to his word about retiring, which I hope he doesn't).
The movie, which screened early Tuesday morning before an enthusiastic press, traces the tumultuous relationship between flamboyant Vegas pianist Liberace (Douglas) and one of his much younger boyfriends, Scott Thorson (Damon). Soderbergh, with his typically seamless camerawork, punchy editing, and pleasure in recreating kitschy 1970s and '80s clothes and décor without ever veering into kitsch himself, frames the material as a sort of same-sex Sunset Boulevard: Douglas plays the vampiric Norma Desmond role to Damon's more vulnerable version of William Holden's Joe Gillis.
The love story evolves in a rather standard way, with the aging Liberace scooping up parentless beefcake Thorson to be his new trophy boy and showering him with sexual, emotional and material attention before they slip into the usual cycle of distance, drugs, jealousy, and deception.
What gives their bond a real shudder of dysfunction is the perverse extent to which Liberace's own narcissistic impulses and implicit fear of death drive and shape the relationship. In an effort to mold Thorson into a more accurate reflection of himself, Liberace sends him to a plastic surgeon (played by a hilarious Rob Lowe), who redoes the younger man's face to resemble his mentor's. Liberace also talks of legally adopting Thorson, citing his long-simmering desire to be a father.
I wish Soderbergh had occasionally slowed down to linger on the hints of horror in the romance. Behind the Candelabra, like much of the director's work, is witty, briskly paced and consistently entertaining, but it never truly delves into the darker implications of the bond it explores. Ever the prodigiously skilled craftsman, Soderbergh does a bang-up job without necessarily pushing himself.
What he does do, fascinatingly, is cover a key decade in gay male history and identity: The love story between Liberace and Thorson unfolds from the late '70s to the late '80s, from the confines of the closet to the excess and freedom of pre-AIDS-era sex and drugs, to the obsession with muscled torsos and youthful-looking faces, to the AIDS crisis, and even looking ahead to the same-sex marriage debate (there are several references to Liberace and Thorson being like a married couple, but with no legal standing).
That said, there is nothing in Behind the Candelabra that explains why Soderbergh was unable to secure funding from the studios, which, according to the director, deemed the project "too gay." Consequently, the movie will air on HBO May 26, but not on American movie screens.
The Hollywood executives who turned down the film should be ashamed of themselves (didn't Brokeback Mountain already break this barrier?), and will soon feel foolish for missing out on two performances that would surely have been remembered come awards season—and are now frontrunners for a potential joint Best Actor prize at Cannes.
Douglas, who shot the film right after undergoing treatment for throat cancer, plays the role with relish, giving us a Liberace who is almost as much of a performer in his most intimate moments as he is onstage.
Damon, meanwhile, has the less flashy job, but the character cuts deeper. Playing a sweet-natured young stud who is initially self-conscious about starting a relationship with an older man ("I'm bisexual," he warns), the actor gradually reveals layers of tenderness, need, and panic. You sense the agonizing pull of dependence in his portrayal of Thorson, and when Liberace's eyes start wandering toward newer flesh, Damon makes you feel the sting of betrayal.
One of the least fussy, most versatile, and effortlessly convincing American actors working today, Damon has never won a major acting prize. Could Steven Spielberg (who directed the actor in Saving Private Ryan) and his jury remedy that?
Furthermore, after the Coen brothers' glorious Inside Llewyn Davis and Soderbergh's Behind the Candelabra, will Alexander Payne's Nebraska—to screen for the press Thursday morning—confirm what looks to be an unusually strong American showing at Cannes this year?
A version of this post appears on France 24, an Atlantic partner site.