Spielberg's Jury Names a Powerful Same-Sex Love Story Cannes' Top Film
Blue Is the Warmest Color takes the Palme d'Or, deservedly.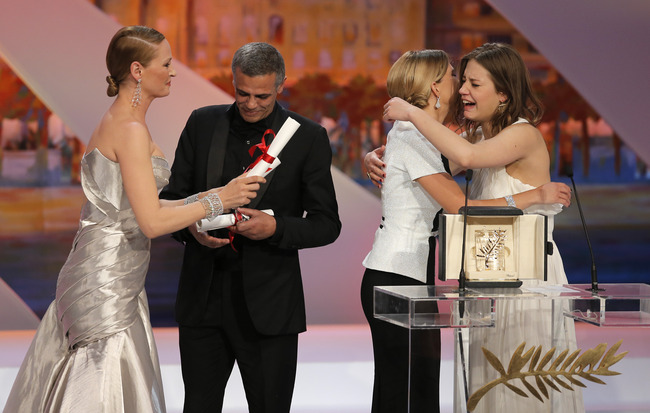 AP Photo/Francois Mori
Critics and the Cannes jury don't always see eye-to-eye.
But on Sunday night, when jury president Steven Spielberg announced that this year's Palme d'Or was going to "three artists," French-Tunisian director Abdellatif Kechiche, as well as his leading ladies Adèle Exarchopoulos and Léa Seydoux, for Blue Is the Warmest Color (La vie d'Adèle), the press erupted in cheers.
The searing three-hour masterpiece about a teenager (Exarchopoulos) falling in love and getting her heart broken by a slightly older woman (Léa Seydoux), with its naturalistic camerawork, graphic lesbian sex scenes, and deeply compassionate vision of human behaviour and French socioeconomic dynamics, was the clear critical favorite in a strong, varied competition.
Spielberg's decision to officially name rising star Seydoux and relative unknown Exarchopoulos, in addition to Kechiche, as winners of the Palme d'Or was an inspired one; indeed, it is impossible to imagine Blue Is the Warmest Color being as powerful as it is without the fearless, emotionally rich performances by its leads.
Taking to the stage flanked by the two tearful actresses, Kechiche dedicated his prize to "the beautiful youth of France, who taught [him] about the spirit of liberty, living together, and loving freely", as well as to the "Tunisian revolution" that led to the ousting of long-time President Zine el Abidine Ben Ali. The filmmaker (who previously directed Games of Love & Chance and The Secret of the Grain, dense, humanistic examinations of today's multi-ethnic France) moved to France from Tunisia at age 6.
The jury also delighted critics by giving the second-place Grand Prize to another widely adored work, the Coen brothers' gorgeous, melancholic deadpan comedy Inside Llewyn Davis", about a struggling folk singer in 1960s New York. Accepting the prize on behalf of the absent Coens was the film's star, Oscar Isaac.
Isaac had been seen as a possibility for the Best Actor prize, which ended up going to Bruce Dern for his poignant portrayal of a stubborn old man who takes a road trip with his son in Alexander Payne's lovely Nebraska". Most had predicted Michael Douglas would take home that award for his witty, moving performance as gay Vegas pianist Liberace in Steven Soderbergh's Behind the Candelabra. Soderbergh's very entertaining film, which the director has said was considered "too gay" to get financing from Hollywood (and will therefore air only on HBO in the US), left Cannes empty-handed.
The Best Actress award went to Bérénice Bejo (most famous in the Anglophone world for her role in silent, black-and-white Oscar winner The Artist), for her bravura turn as a harried, self-absorbed Frenchwoman finalising her divorce from an Iranian man in Asghar Farhadi's The Past.
"The Past", a beautifully directed, though not always convincing, melodrama had been tipped as a strong contender for the Palme d'Or. But Bejo's prize was the only one the film took home, with the third-place Jury Prize going to Japanese filmmaker Kore-eda Hirokazu's Like Father, Like Son, a gentle, slightly syrupy drama about two couples who learn their young sons were switched at birth. Juror Nicole Kidman was said to have cried during the screening of the movie, and many speculated that its story of children being separated from their parents struck a nerve with Spielberg (whose work has often touched on that very theme).
Meanwhile, the Best Director award provided perhaps the biggest surprise of the night, going to Amat Escalante for his austere, artfully crafted Heli, which explores the impact of the Mexican drug cartels on a rural family in unflinching detail without coming up with anything very insightful to say.
And the Best Screenplay prize was awarded to China's Jia Zhangke for A Touch of Sin, his blistering, visually striking four-part portrait of a Chinese underclass plagued by violence, poverty and corruption.
Overall, it was a fine set of prizes for an impressive competition line-up, which also featured fine new works from France's François Ozon (Jeune et jolie, or Young and Pretty") and Italy's Paolo Sorrentino (La Grande Bellezza, or The Great Beauty), neither of whom was recognised by the jury.
This year's festival also saw its share of mini-controversies, including several articles in the French press that cited crew members from Kechiche's Blue Is the Warmest Color who said they were mistreated during the film's shoot, and never paid for overtime.
But not even those allegations—or unpleasant reactions like that of a middle-aged French journalist who griped after Kechiche's film won: "It's a political choice. You no longer have the right to be heterosexual in France"—seemed able to dampen the director's achievement Sunday night. Posing for photographers as he held the statuette, the famously prickly, press-shy Kechiche looked out at the flashing lights and beamed.
A version of this post appears on France 24, an Atlantic partner site.