Spielberg vs. the Establishment? What to Expect from the 2013 Cannes Jury
With Steven Spielberg presiding over a high-profile melange of actors and filmmakers in the judging committee, there could be some blending and clashing of artistic visions.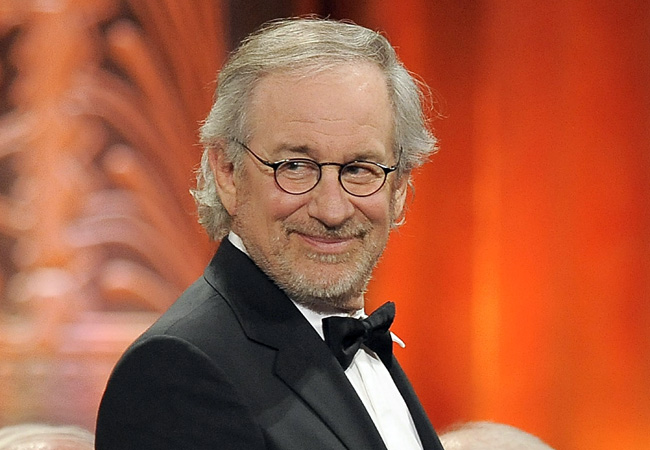 Chris Pizzello / Invision / AP
The Cannes Film Festival jury is always presided over by a big name in world cinema, and rumours and assumptions run rampant over what film—or kind of film—he or she is likely to honor with the top prize.
Last year, Italian filmmaker Nanni Moretti chaired a group that gave the Palme d'Or to a man Moretti reportedly can't stand: Austrian director Michael Haneke, for Amour, his wrenching drama about love, aging, and death.
The year before, US actor Robert De Niro's jury awarded the only American movie in competition, the work that all but towered above the others in terms of formal and thematic ambition: Terrence Malick's Tree of Life.
And in 2010, US director Tim Burton picked one of the last films to screen (and the one that most reflected his own interest in offbeat whimsy and the supernatural) as the top prize winner: Apichatpong Weerasethakul's Uncle Boonmee Who Can Recall His Past Lives.
This year's jury carries a particular charge of excitement and curiosity. No roster of Cannes jurors in recent memory has been as stacked with influential, distinctive, high-profile global film industry figures.
And at the head of the table will sit Steven Spielberg, an indisputable international heavyweight whose mainstream, genre-spanning body of work and entertainer's sensibility make, in many ways, for a stark contrast with Cannes' edgier, more "arthouse" identity as the world's premier film festival.
Indeed, Spielberg acting as Cannes jury head promises to be the meeting of two very different cinema giants—one a man, one an institution.
Hopping from the science fiction of Close Encounters of the Third Kind to the adventure of the Indiana Jones franchise to comic capers like Catch Me if You Can and serious-minded historical dramas like Schindler's List or Lincoln, Spielberg is a prolific crafter of technically spectacular, varyingly sentimental meat-and-potatoes movies distinguished by shudders of dread and streaks of darkness.
The common strand running throughout Spielberg's body of work is the filmmaker's palpable desire to reach directly for the viewer's emotions and senses, to earn his or her tears, shivers, thrills, or wonder.
Among his favorite films, the director cites stirring, visceral entertainments like David Lean's epic Lawrence of Arabia, Walt Disney's animated musical Fantasia, Frank Capra's holiday heart-warmer It's a Wonderful Life, Alfred Hitchcock's psychosexual slasher classic Psycho, and the first Godfather movie.
Cannes fare, on the other hand, is often cooler, less accessible, more prickly, experimental, elusive, or unredemptively downbeat.
In other words, Spielberg and the Cannes Film Festival should be a fascinating confrontation of cinematic and cinephilic tastes and tendencies.
Other fascinating collisions on the Croisette this year may take place around the jury table. After all, Spielberg will find himself leading a gang of judges that includes a particularly high proportion of fellow directors. One of those is Taiwan's Ang Lee, the man who stole Spielberg's Best Director Oscar out from under his nose in February for Life of Pi (and who won the same award, more deservingly, in 2006 for Brokeback Mountain).
There are also three other filmmakers with uncompromising, idiosyncratic visions and impressive track records: Romanian Cristian Mungiu, whose stunning abortion drama 4 Months, 3 Weeks and 2 Days snagged the Palme d'Or in 2007 (and whose more uneven Beyond the Hills was a prize-winner last year); Britain's Lynne Ramsay, who made a splash at Cannes in 2002 with Morvern Callar, her haunting study of grief and emotional numbness (and competed, less convincingly, for the Palme d'Or in 2011 with We Need to Talk About Kevin); and Japan's Naomi Kawase, whose slow-paced, dramatically diffuse dramas blending realism, lyricism, and a close attention to nature are somewhat of an acquired taste (though she brought home the second-place Grand Prize in 2007 for The Mourning Forest).
Meanwhile, the 2013 jury features three movie stars that are also intense, risk-taking actors: Nicole Kidman, whose fearless turn in last year's maligned competition entry The Paperboy ranks with her best work; Frenchman Daniel Auteuil, who has appeared in several competition films (two of the most memorable were André Téchiné's My Favorite Season in 1993 and Michael Haneke's Caché in 2005); and Austrian Christoph Waltz, who snagged Supporting Actor Oscars for Quentin Tarantino's Inglourious Basterds and Django Unchained.
Finally, adding an extra touch of glamour to the proceedings will be 35-year-old Bollywood starlet Vidya Balan. With Indian cinema officially honoured at this year's edition (though no Indian films selected for competition), Balan will likely be one of the more visible jurors during the festival, while the others keep a lower profile.
But will she be able to make her preferences and points of view heard when talking movies with her more seasoned colleagues?
Given the air-tight secrecy of prize deliberations at the festival, that question may remain unanswered—though, as with all things Cannes, it's fair game for speculation.
A version of this post also appears on France 24, an Atlantic partner site.