So, Your Acclaimed Web Series About Gay Life Is Over—Now What?
The Outs started as an alternative to television's treatment of same-sex romance. With its final episode posted, can a show like this find a wider audience offline?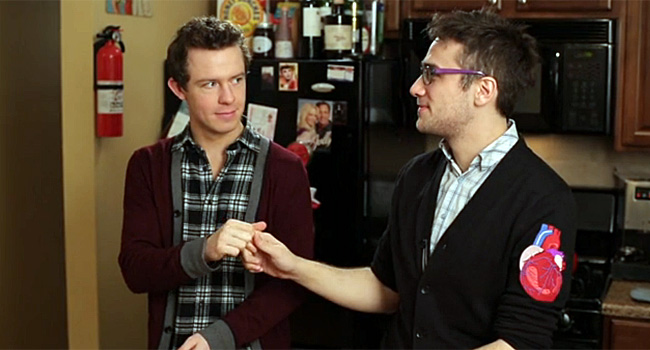 The Outs / Vimeo
Finally, there's a moment of calm. No one is spilling drinks on the set. The worrying out loud about the car that just got towed has abated. And the cameraman's Fisherman's Friend lozenges are keeping his coughing at bay. Even with a crew of about a dozen people in this Brooklyn Navy Yard loft, the room feels intimate. Enrico Wey and Adam Goldman sit close together on a red couch. Wey looks into Goldman's eyes, touches his hand lovingly, and says:
"I dated a guy for a minute who asked me to spit on him during sex. Like, right in his face... Right at the moment of orgasm, he would Kate-Winslet-in-Titanic onto my face."
Goldman calls cut. Seconds earlier, the writer, director, and star of The Outs was in character, awkwardly asking his date if he'd like to be tucked into bed. Now he's giving stage directions.
"I really want you to emphasize during," he says to Wey. "It's that he spit on you during sex that's really surprising."
It's not the kind of conversation that happens often on TV, but The Outs isn't TV, per se. When the resulting scene hit the Internet a month ago, it ended the seven-episode run for the Kickstarter-funded web series that Interview Magazine called "the most accurate and essentially human portrayal of young gay men today." With the DIY filmmaking and distribution scramble done, Goldman now faces the question of what comes after online cult success for a show he started in part out of dissatisfaction with mainstream television.
While gay characters have been proliferating on TV (think Modern Family, The New Normal, or Happy Endings), their stories tended to all look similar to Goldman. He's quick to point out that there is no one definition of being gay, and that every depiction is valid. But, by way of example, he said he had vowed that he would watch the New Normal until it made a Madonna reference. It took less than 15 minutes into the pilot for that to happen.
"I'm not necessarily knocking what's on television," Goldman says. "I just think there is always room for more well-rounded stories."
So, with the help of a couple friends last year, he started telling those kinds of stories, in a Brooklyn-set dramedy (yes, there have been Girls comparisons) about two men moving on after breaking up with each other. Goldman plays Mitchell, battling loneliness with the help of his hard-drinking best friend Oona (Sasha Winters), and Hunter Canning plays his ex Jack, who enters "a slutty phase" after the split. It's a premise that perhaps wouldn't have been funded ($22,000 via Kickstarter) or found an audience (15,600 Facebook fans) without the Internet.
"The democratization of media is really exciting," Goldman says. "Particularly for minorities or underrepresented people. You don't have to wait for a studio to say now we are going to make your show. You can look to everyone and say, don't we need this? And if they say yes we do, then you get to make it."
During its 2012 run, gay sites like Towleroad, Out.com, and Queerty followed The Outs religiously. Time Out Chicago called it "addictive" and the Huffington Post said it was "poignant." Paper Magazine christened it "the best web series ever," not "the best gay web series ever." Tony-winning acting vet Alan Cumming became a fan, signing on for a bit part in the final episode ("At 10 o'clock in the morning I was making out with a 21-year-old boy in a wine shop," he told me over the phone. "It was really lovely."). The premiere episode racked up nearly 180,000 views on Vimeo.
But Goldman wants a bigger audience than that. With the show's closing "Chanukah Special" now posted, he's been talking about The Outs with studios, hoping to get it picked up for a TV pilot. Goldman says he's been taking meetings and is optimistic he will be able to keep telling the story.
Sure, he could probably have another Kickstarter campaign, but it's a model that he says "wasn't really working."
"The Outs was really a labor of love, and nobody got paid what they deserved," Goldman says.
It's seemingly an auspicious time for shows like this to find a home. HBO this year picked up a pilot about young gay men living in San Francisco, based on a script called Lorimer. The Fosters, an hour-long drama produced by Jennifer Lopez about lesbian parents raising an adopted family, will soon premiere on ABC Family. Jane Espenson's Husbands, about two men married to each other, recently became the first web-only series to get a review in the New Yorker.
But Goldman bristles at being lumped in with a wave of "gay shows."
"What's a gay show?" he says, seeming annoyed. "It just doesn't mean anything. There aren't definitions of these things. I don't think of every other show as a straight show. Is it gay because I suck dick? Or is it gay because it's about two gay men? It just doesn't mean anything.
"As soon as people give the label that you are speaking for a whole group, there's just too much pressure. There are black gay people, Asian gay people, trans people...There's no such thing as the voice of a generation for the gay community."
Even so, the question is whether a detailed, true-to-life depiction of gay romance can connect broadly. Syndicated sex columnist and cofounder of the It Gets Better Project Dan Savage says he thinks it can.
"There's a real shift that I think is coming," Savage, an Outs fan, told me over the phone. "It used to be gay people would go watch South Pacific or other movies featuring straight romances and we would have to live vicariously through those experiences. We can experience catharsis through a straight couple's story. But straight people didn't used to be able to do that with gay roles. The gulf was too great. Straight people couldn't relate to gay people and their experience. They couldn't understand the universality. Now I think that is changing."
And yet, even with that supposed change, Goldman knows that getting his show out into the world, beyond just a gay audience, won't be so easy.
"I think the gay thing is a barrier to entry for some people," he said. "In the first 30 seconds we show anonymous sex. It's incredibly tame, even by network standards. It's nothing compared even to what you'd see on Law & Order SVU, but it's still not normalized yet. But we're getting there."
After all, there's plenty else on the show besides its characters' sexuality to get people talking: language, drug use, dialogue about mid-coital spitting.
"Just being gay shouldn't be what makes this show edgy," Goldman says. "That shouldn't be what scares people away."