Rafael Nadal Is Probably Going to Win Another French Open—Oddly Enough
Six months ago, Nadal's star was supposedly fading. But poor play by his rivals, absences throughout the draw, and a recent boost in momentum suggest he'll reclaim his title again.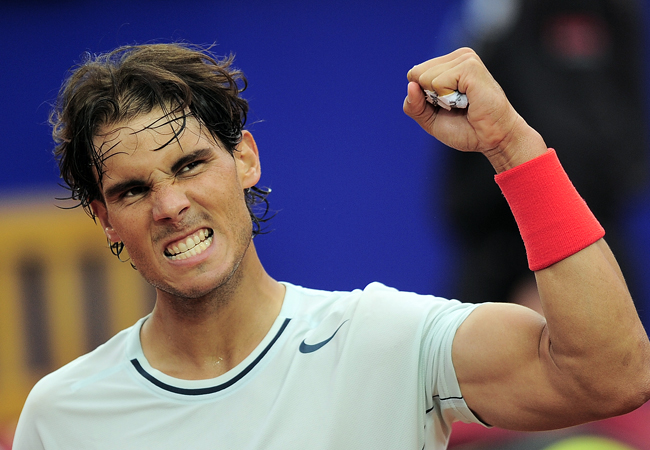 AP / Manu Fernandez
Every time I watch Rafael Nadal play tennis on a clay court, I'm reminded of a quote from former NBA coach Doug Collins, in which Collins describes the nearly impossible task of defeating a Michael Jordan led-Bulls team in the NBA playoffs:
I'd have to see someone beat Michael Jordan four times, because I said, to do that you're going to have to dismember him. You're going to have to take and arm and a leg and you're going to have to drag him off the floor because he's not going to go easily.
Substitute Nadal's name for Jordan's in that quote and you get an idea of what Nadal's French Open opponents are up against this year. Taking three sets from the Spaniard on his favorite surface is a nearly impossible task. Nadal heads into the 2013 French Open having recently defeated his great rival Roger Federer in the final of the Italian Open—and with Federer and world No. 1 Novak Djokovic both looking a bit shaky at the moment, the French Open is once again Nadal's tournament to lose.
Related Story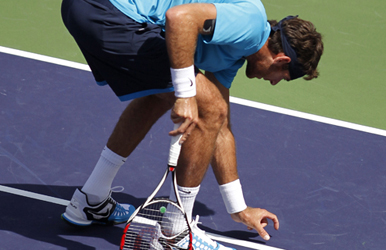 On one hand, this isn't that surprising—he's won seven of the last eight Grand Slam tournaments at Roland Garros and hoisted five trophies on clay courts this season. During his career, Nadal's won 52 French Open matches and only lost one (take a bow, Robin Söderling).
And yet, considering the topsy-turvy year he's had, with the injury woes and long recovery time, it's a bit surreal to see the Spaniard continue to dominate the competition.
This may be hard to fathom now, but just a few months ago, in the immediate aftermath of the Australian Open, questions abounded regarding Nadal's ability to return to form after an extended absence. After losing to the unheralded Lukas Rosol in the second round of Wimbledon, Nadal left the ATP Tour for seven months to rest an ailing left knee. His ranking fell from No. 2 to No. 5 in the world, and in his first tournament this season, Nadal lost to Horacio Zeballos in the finals of the VTR Open. Observers began to wonder if the Spaniard's best days were behind him.
Since that loss, though, Nadal has put all doubts about his current prowess to rest. He won the season's first Masters 1000 event at Indian Wells and followed that surprising victory on the hard courts he constantly criticizes by winning two of the three prestigious European clay-court tournaments that precede the French Open—Madrid and Rome—and a slightly less prestigious clay-court tournament in Barcelona. Though he lost to Djokovic in the final of the Monte-Carlo Masters, a tournament he loves and has long dominated, his consistency on clay remains unparalleled: Both Djokovic and Federer have suffered surprising early-round losses this season, but Nadal has made the finals at each of the eight tournaments he's entered.
So what stands in the way of another Nadal triumph? Not much, actually.
For starters, despite his deceptive No. 3 seeding, this year's field doesn't pose much risk to the Spaniard.
Injuries and illnesses have significantly depleted the draw. World No. 2 Andy Murray is sitting this one out with a back injury; 2009 U.S. Open champ Juan Martin Del Potro is skipping the tournament to recover from a respiratory virus. In the previous seven seasons, Murray and Del Potro are the only two players outside the Federer-Nadal-Djokovic triumvirate to win a Grand Slam title, so their absences are not inconsequential.
One seeming threat could be Federer, who's finished second at Roland Garros four times (more than any other player in the Open era) and, at 31 years of age, has become the benevolent senior citizen of the Big Four. But Nadal has always held the upper hand in their long-running rivalry, and at this stage in his career, Federer appears unable to defeat or even challenge Nadal. The players have already met twice this year, and in both matches Nadal dispatched Federer without much difficulty. Federer hasn't beaten Nadal in a Grand Slam since 2007, and if the two rivals do meet in this year's final, expect another one-sided affair with Nadal emerging as the victor.
And, of course, there's Novak Djokovic, the current world No. 1 and the biggest obstacle in Nadal's way. Djokovic is playing for his own piece of history: A win in Paris would make him just the fourth man in the Open Era to complete the career Grand Slam. And after denying the Spaniard a ninth straight title at the Monte Carlo Masters in April, Djokovic seemed primed for an excellent clay court season. But the reality hasn't met those initial expectations: Djokovic lost in the second round of the Madrid Open and was defeated by Tomas Berdych in the quarterfinals at Rome. He hasn't looked like himself since Monte Carlo, and he could still be feeling the lingering effects of a nasty ankle injury sustained during Davis Cup play in early April.
Given the lackluster recent play of his biggest rivals, Nadal's path to the French Open championship looks fairly easy. His own health may be the only foreseeable outside factor that could derail his quest for an eighth title. If his injury flares up, Nadal will become vulnerable—just don't bet on that happening. Nadal hasn't struggled with any noticeable soreness this season, despite playing a fairly heavy schedule of tennis.
Not only is this year's French Open draw less stacked than those in years past, but Nadal seems as determined as ever to walk away with the trophy. What's always made Nadal such a remarkable competitor is his ability to get stronger as matches progress. Against both old foes and new ones, he's proven that this year is no different: When he fell behind Ernests Gulbis in the third round of this year's Italian Open, he never panicked. He just wore down his opponent with a relentless onset of topspin-heavy forehands and well-angled cross-court backhands—a tactic that also confounded Federer in Rome. Rising star Grigor Dimitrov played Nadal well earlier this season, but Nadal's superior fitness and strength were too much for the young Bulgarian to handle. In Monte Carlo, Djokovic was able to dismember Nadal's game with one well-hit backhand up the line after another, but that performance required the Serb to play at the absolute top of his game. He might be the No. 1 player in the world according to the ATP rankings, but no one is playing better tennis right now than Nadal.
If Nadal can once again win at Roland Garros, the next question to consider will be, How far can he go? At only 26, Nadal already owns 11 Grand Slam championships. Another win at the French Open will give him 12. Federer's record of 17 grand slam titles once seemed unassailable, but with Nadal showing that neither age nor injury can slow him down for long, breaking that record is not beyond the realm of possibility. Should he capture La Coupe de Mousquetaires once again, he'll be the first player in the Open Era to win eight championships at a single Grand Slam event. Not a bad résumé item.
When he's asked about upcoming matches in pre- and post-match interviews, Nadal often responds by humbly telling the interviewer, "I will try my best." Few statements in contemporary sports culture carry more truth. Nadal always leaves everything he has on the court; that much is readily apparent to anyone who watches tennis. And at Roland Garros, Nadal's best is usually more than good enough.