More on Race, Jazz, and the Relaunch of OKeh Records
Wulf Müller and Chuck Mitchell respond to questions raised about black musicians' role at the legendary, recently revamped, "race records" label.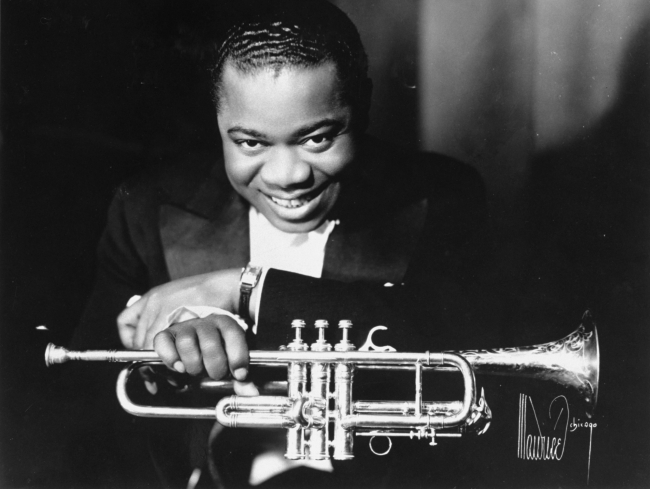 Last month, I wrote an essay for The Atlantic about Sony's relaunch of the historic OKeh Records imprint, noting the absence of black American jazz artists among the label's initially announced batch of releases. The irony, to my eye, was that OKeh built its legacy by recording a lot of African-American jazz, blues, and R&B artists, ranging from Louis Armstrong to Little Richard. The label could end up with a perception problem, I wrote, if it didn't sign more black American artists beyond saxophonist Craig Handy—especially given the grand context of OKeh's history with black American music, not to mention the delicate and sometimes-contentious relationship the American music industry has had with black artists regarding record deals, promotional and touring support, and the exploitation and appropriation of black American sounds, whether in jazz, R&B, or hip-hop.
Last week, I followed up with Wulf Müller, senior A&R consultant, and Chuck Mitchell, senior vice president of Sony Masterworks, via Skype. The two had taken issue with the essay, and during our conversation mentioned a number of African-American artists who OKeh is in the process of signing but who for legal and business reasons can't have their names made public yet. Below is our conversation, edited for concision and clarity.
---
What disturbed you about the essay?
Chuck Mitchell: From my point of view, inferences were being made about an A&R direction for OKeh in its reconstitution and reinvention; those [inferences] were being made on a very limited sample over the course of building a roster. We started out with these three records [John Medeski's A Different Time, Bob James and David Sanborn's Quartette Humaine, and Michel Camilo's What's Up?] in keeping with a certain aspect of the tradition of OKeh. But there's a lot more going on.
The reason why we decided to launch and make an announcement with these three albums had more to do with the fact that these artists were starting to go on tour at the time that we were launching. Traditionally, we set these things up on how these artists are appearing in the [jazz] market. I felt that it was a little unfair to characterize that there was some sort of A&R agenda here after three records. My argument would have been if we had reinvented OKeh, and after 12 months and 15 releases, and we had three African-American artists out of 15, you would have been perfectly within your rights to raise the issue.
My feelings is that after three albums—only one which has come to the market—it's a little too soon to suggest that we are somehow not keeping faith with the DNA of the label, especially since the DNA of the label is a lot more complicated. At one time, the label recorded country artists like Gene Autry, Bob Atcher, and a few others. I would not have expected to hear from those people about not recording country-and-western music.
Wulf Müller: The label historically was perhaps one of the world's first world music labels. Already in the 1920s, it was recording folk music from Poland and Yiddish music from Germany. That's an aspect that hasn't been mentioned in any way. I think OKeh history is much more than what it was called at the time "race records." I think that was missing in the essay as well.
Personally, when I read it, I thought it would have been great to have a comment from us so that you could have gotten our input. I think that your article would have gone a little in a different direction.
Mitchell: Nonetheless, that's all to be considered. Obviously the predominate percentage of historic OKeh records has been made by African-American musicians. And to suggest that we wouldn't follow in that tradition in doing a new version of OKeh that has "global expressions of jazz" after only three releases is a bit misleading to your reader. It's not possible, because of legal affairs, to go on record with all that's in our pipeline.
Müller: I would like to add that we had long discussions with Craig Handy for a while. He was supposed to be one of the early releases. His album 2nd Line Smith, which is fantastic retake on the music of Jimmy Smith in New Orleans style, featuring Wynton Marsalis, wasn't ready in time. We have to build the right environment for Craig in terms of international touring and everything to put the record out. So it comes out later than expected. But I think it's going to be a very successful record. These things happen; that's what the music business is about.
Mitchell: The next wave of OKeh Records is going to be heavily African-American. Another thing that I want to establish is that OKeh Records being a part of in the Sony Masterworks label group, we have an imprint called Sony Masterworks, which is not a jazz imprint. But it recently signed recordings by the Blind Boys of Alabama and Bobby McFerrin. So if we're talking about trying to reestablish a jazz brand, those records fall out of the jazz brand, although at one time, they would have fallen inside of OKeh; that's just not how, at this time, we chosen to organize the label.
Obviously for us, it's a point of sensitivity for both Wulf and myself because we've done so much over our careers to help promote and advance—very aggressively—jazz music and certainly the African-American jazz community. If you ask any of the artists that we've worked with over time, they are going to acknowledge that.
Regarding the three records that you've mentioned: Given the whole idea of marketing, public perception, and potential bad publicity, did you not think that some in jazz community, and particularly the African-American people, would find not having any black American artists in the initial lineup to be problematic?
Mitchell: All that I can tell you is that we are currently negotiating and talking with a number of black musicians in the process of building our roster. Not one of them asked us how many black musicians are going to be one the roster. It might have been different if the issue was raised by a musician or an attorney, saying "Hey, have you thought about this?" But nobody did.
Since we know who we are and we know what our history is as advocates for the music, and specifically for black American music, we didn't feel like it was going to be an issue.
Müller: I agree with what Chuck said. Since the first press release in January up until recently in Bremen, Germany for the Jazzahead Conference, I speak to a number of musicians—and a lot of them are African-American—who are asking me about what we are doing, no one is asking questions regarding that direction. I didn't feel that anyone was bothered by it. It might have something to do with people knowing for me 30 years and knowing what I did on EmArcy Records.
You both mentioned your respective relationships with a lot of African-American musicians. But I'm still surprised that the greater community at large, like journalists, club owners, radio producers, or just jazz fans, and again, particularly black media and industry folks, didn't give you any feedback on this issue.
Mitchell: No! We got [trumpeter] Nicholas Payton's feedback then we saw your piece! We chose not to respond to Nicholas' piece; he's entitled to his opinion. He's a blogger. So the requirements, journalistically speaking, I don't believe, are the same. Nicholas spoke his piece.
When you bring it up to the level of The Atlantic, and you being an experienced and veteran jazz writer, we felt that it was getting a little bit more play. We felt compelled to respond.
But between Nicholas and you in three months, I can tell you that I haven't heard a word about it, because, again, people know who we are. I started booking college concerts in the early-'70s and went on to edit Down Beat magazine; I produced television programs for PBS; and I recorded people like Sonny Rollins and Dizzy Gillespie. After that, I can into New York and was the program director for New York's jazz radio station, and on and on and on. So for me, you're talking about 40 years of working with this music. So with me, it's more of there's not going to be a question about [having black artists on OKeh Records].
Explain Sony's strategy with relaunching OKeh Records—what you wanted to do with its "global expression of jazz" tagline.
Müller: I stole that [tagline] from Ornette Coleman. What we want to do is sign artists from around the world along with great American artists. I can tell you that next year, we have Jo-Yu Chen, who is a piano player from Taiwan; she's a very talented young lady who's going to record with her trio next month. We have Dhafer Youssef, the Tunisian oud player and singer, who, in my opinion, is one of the great world music/jazz combinations. I just finished his record, which will come out in September. We also have Nils Petter Molvær, who will be first of the Europeans that we'll represent. He's very established is Europe, not so much in the U.S.
Another thing that got misunderstood is when I said "no matter what the origins are," which was something that Nicholas picked up on. I know what the origins of jazz are historically. I wouldn't do work within that genre for 30 years if I didn't know what the historic roots are.
Mitchell: Now, I will tell you that this is what I agreed with in your piece, emphatically: "Still, within that multicultural scope, the label understands the artistic weight that modern African-American artists bring when promoting the credibility of its brand." I agree with you emphatically, even though you were saying it about Blue Note Records. But that also applies to OKeh Records. All I'm really asking for is that you give us a chance. In a year's time, evaluate us on how we built our roster. That's the big message.
Can you tell me about the timeline of the artists who got signed and mentioned in the initial press release? The first announcement mentioned John Medeski, Bill Frisell, Michel Camilo, David Sanborn, Bob James, and Dhafer Youssef, and I got a new press release for Kat Edmonson's upcoming OKeh release. Are these the first artists that were recruited to the label? I'm curious why you can mention some artists, such as Dhafer Youssef, whose record haven't been finished, but couldn't mentioned others like Craig Handy.
Müller: Negotiations—depending on the legal advisers and artists management—can be complicated. Some of these negotiations have been going on for a while. Some of these artists had records that were already recorded. John Medeki's record was already done; it was just good timing. The same thing with Craig. He gave me some tracks to check out and I said, "Yeah, I want to do this." But we're still working on it, and we're not finished.
Mitchell: Also in the press release, we want to put when [the records] will be coming out. Craig is finishing the whole thing and we're setting a release date. On the off-the-record signings, we expect to conclude all of those deals by mid-June.
I wrote the essay after observing and conversing with a number of black people in the jazz field. In marketing, you only get one chance to make a good impression. My essay argued that as of now, OKeh Records is not making a good impression regarding its legacy with black American music. When you issued that first press release and several others, did anyone anticipate having a conversation such as this?
Mitchell: Again, considering the background of the executives involved and the fact the OKeh Records had a subtitle, "global expressions of jazz," and our day-to-day dealings with musicians—black, white, Asian, European, African, whoever—the anticipation was not that we would get any negative response. People understand who we are. I'll be honest with you; I can't run a business on undeveloped perception. I'll say it again—and I'll say it until I'm blue in the face—talk to us in a year. By that point we're launched and we would be a fully fledged label with a body of catalog. The perception of a few, based upon one press release, at the beginning of a venture, doesn't matter to me, because I'm aware of what we're going to be.