Joe Paterno's Family Is Right to Sue the NCAA
But they're wrong to seek absolution for the disgraced Penn State football coach.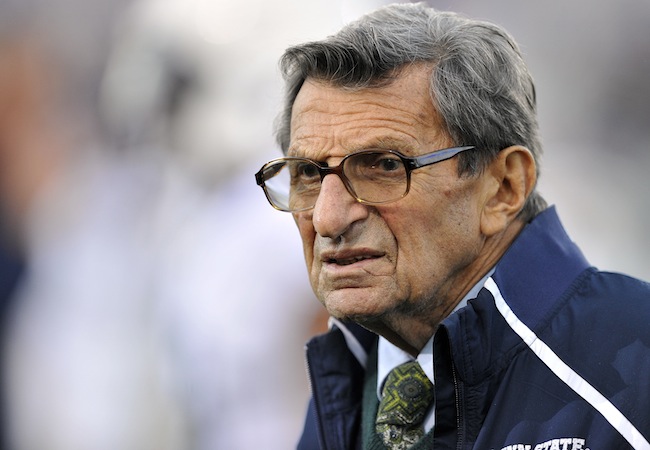 AP Photo/Jim Prisching
The attempted rehabilitation of Joe Paterno's reputation began last summer with the publication of Joe Posnanski's Paterno and is now in full swing. The latest volley in the PR campaign came this week on NBC Sports Network, when Bob Costas hosted Paterno family representatives to talk about the latest legal action to result from the scandal that unfolded in State College nearly two years ago.
The Paterno family—as well as some Penn State board of trustee members, faculty, former players, and former coaches—have filed a lawsuit that seeks to overturn the harsh penalties the NCAA placed on Penn State: $60 million in fines, a four-year ban on postseason bowls, severe scholarship cuts, and the removal from the record book of all of Paterno's victories since 1998. The suit, which follows the antitrust action against the NCAA filed by Gov. Tom Corbett in January, also seeks monetary damages that, according to the Paterno estate, will be donated to charity.
These lawsuits against the NCAA may very well succeed, and sports fans all over the country should join Penn State supporters in hoping that they do. For the past few decades, the National Collegiate Athletic Association has crept closer and closer to declaring itself a de facto lawmaking body. With its enormous financial and legal clout, it already controls the earning power of thousands of collegiate athletes—a situation that's problematic for a whole host of reasons.
NCAA head Mark Emmerts no doubt saw in the Jerry Sandusky child-sex-abuse scandal a chance for his organization to jump in, make a fast $60 million, and tighten its stranglehold on collegiate sports—all the while taking the high moral ground and looking as if the association only had the victims' interests at heart.
Leaving aside the obvious point—that the NCAA's sanctions punish a generation of students, athletes, and faculty, most of whom had no connections with the scandal or even the football program—there is a larger problem. Where did the NCAA get the power to place itself into the forefront of this issue? What legal authority does it have to hand down such punishments?
The answer: none. Neither Penn State nor any of 1,281 schools and associations that make up the organization's membership granted the NCAA such power. And there are no precedents for any such actions by the NCAA. To pull off this stunt, the organization is counting on the likelihood that a stunned and saddened Penn State won't have the will or resources to fight back.
In this, I think the NCAA is wrong. Though the university is wisely not party to either of the suits, there are enough trustees, coaches, and football players who are plaintiffs in family's suit to ensure Penn State wins resoundingly if the NCAA loses.
The Paterno family and friends, though, have a second agenda: discrediting of the Freeh Report, upon which the NCAA based its punitive actions. Penn State commissioned Louis Freeh, a former FBI director, to investigate and report on the Sandusky scandal, but the Paterno family is unhappy with his conclusions and is now openly challenging them. Their stated goal is to "Redress the NCAA's 100 percent adoption of the Freeh Report and imposition of a binding consent decree against Penn State University."
The lawsuit alleges that the Board of Trustees never held a formal vote to accept Freeh's findings; the consent decree, Paterno family lawyer Wick Sollers insists, was signed and the report accepted out of fear of the NCAA's threatened "death penalty" sanctions, which would end the Penn State football program. I've been writing about the NCAA for more than 20 years, and given the organization's past history of abusing power, I wouldn't be surprised if the allegations were true. But Paterno's family and friends want more than to prove that—they want Freeh's findings dragged down as well.
As Wick Sollers said on Costas's show Wednesday night, "We don't know what [Freeh's] motivations were, we just know he got it wrong." Of course, by simply mentioning the issue of motivations, Sollers implies that Freeh may have had reasons other than the simple pursuit of truth in compiling his report, which discredited Paterno and Penn State.
Wrong, exactly, about what? Well, for instance, the family objects to Freeh's conclusion that Paterno did not take strong action to have Sandusky investigated because Paterno wanted to shield the university from criticism. Sollers told Costas, "What does not make sense is that Joe Paterno would, in any way, risk his reputation to protect Jerry Sandusky," with whom it is known he did not get along.
In saying this, Sollers sets up a straw man. The Freeh Report does not say that Paterno was out to protect Sandusky. Moreover, regardless of motivations, the simple truth is that Paterno did not act to have Sandusky investigated or barred from the Penn State campus even after he had been warned a second time about Sandusky by his own assistant coach, Mike McQueary.
And that is the one fact that, so far, the Paterno family has not been able to find a way around. On Costas Tonight, Sollers called the report flawed, which is a safe statement: Any report is bound to be flawed to some degree. As Costas put it, "most sports fans are familiar with the Freeh Report, though probably not one percent have read it." If you have the time and inclination, you can download it off Penn State's site. You can also read criticisms of it on the Paterno family website.
What you will not find anywhere is clear evidence that Joe Paterno was not informed about Jerry Sandusky's heinous actions.
Bob Costas correctly states that "what the Freeh Report amounts to is the indictment of the people involved," and while some, such as former athletic director Tim Curley "will receive a court date, Paterno never will." That is not entirely true. Paterno did testify to the grand jury investigating Sandusky, and that testimony was pretty damning as to what Paterno knew and when he knew it.
If Paterno had acted earlier—much earlier, when McQueary told him what he had witnessed in the locker room showers in March, 2002—neither he nor any other Penn State official would have needed a day in court.