'I Trusted 'Em': When NCAA Schools Abandon Their Injured Athletes
Universities aren't required to provide healthcare when athletes get hurt—and that fact has proved devastating for some student-athletes and their families.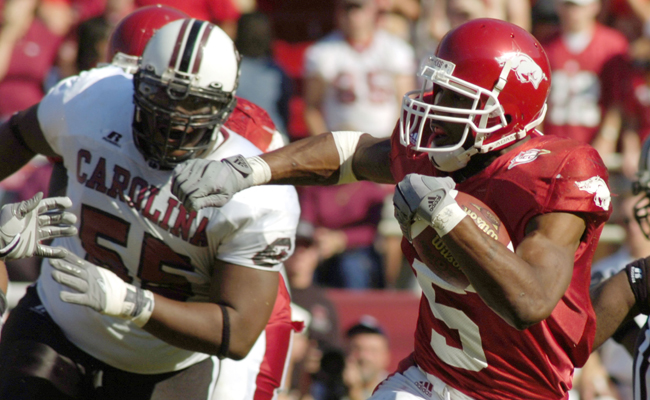 "Intercollegiate athletics programs shall be conducted in a manner designed to protect and enhance the physical and educational well-being of student-athletes." - 2012-13 NCAA Division I Manual
The National Collegiate Athletics Association Division I manual includes more than 400 pages of mandates for its member schools.
But there is less than a page regarding healthcare for athletes.
Instead, there's a half-page list of healthcare services that institutions may finance should they choose. Athletic departments (with the exception of those in California, where specific legislation has been passed) don't have to publish their healthcare policies in writing, leaving players to rely solely on the promises of recruiters.
In other words, after an incoming student signs a letter of intent binding him or her to a university, many schools have no contractual obligation to treat injuries or strains that result from playing for that college.
Some schools, maybe even most, provide exceptional care for their athletes. But there's little way to know who does and who doesn't—and these sparse guidelines can leave some student-athletes dangerously exposed.
Off Louisiana Highway 16, down a dirt road, and another dirt road, to where the road ends, Stanley Doughty sat with his family inside the doublewide mobile home he grew up in. It was April 28, 2007, and the bayou weather had already grown hot and humid. Doughty—all 325 pounds of him—lounged on the left side of the couch with his father, Hollis, on the right, and his mother, Sandra, in the recliner: their usual arrangement. The silver Sanyo television was set to ESPN, where NFL commissioner Roger Goodell was calling the names of the 255 players picked in that year's draft.
For Doughty, a promising defensive tackle who had just finished his junior year at the University of South Carolina, it was a tense moment. He had forfeited his final year of college in hopes of going pro, and now he was waiting to hear his fate.
Initially, the news seemed bad: Goodell never announced Doughty's name. Disappointed, the family turned off the television and walked several houses down to Doughty's grandmother's for a late-afternoon barbecue with family.
But about 10 minutes later, Doughty's phone rang. He can't remember exactly who it was. All he knows is that the voice on the other side of the line was from the Kansas City Chiefs and told him, "Stanley, we want you to come be a part of our organization." Now 29, Doughty doesn't speak in feelings. Everything is a fact, a business transaction. His father, though, is a bit more open. "It was an emotional moment," Hollis Doughty says. "It was emotional for all of us."
Doughty and his two siblings grew up in poverty. He never could afford to purchase his own gear, not even cleats. Most of his classmates from high school didn't go on to college—the same would have been true of Doughty if he hadn't earned a football scholarship. And while he felt fortunate to be at South Carolina, he says college brought its own difficulties. As one of just a small number of black students on campus, Doughty felt isolated. He also struggled academically, overwhelmed by a curriculum that bore little resemblance to the education offered at his rural high school. He didn't always make the best choices, but he pushed through. When he left for the draft, Doughty was only 12 credits shy of a degree. And when the Chiefs called, it seemed like his perseverance had finally paid off.
Within two weeks, Doughty was in Kansas City, Missouri, and had signed a two-year, $400,000 contract. He had his own locker with his name printed above, a new helmet, and a new uniform. He even had a new number, 71. He took a picture to send home to his parents. It showed a beaming Doughty standing next to his new locker while wearing a bright red Chiefs hat.
Doughty immediately began training with the team and undergoing the mandatory testing all new players submit to. When the doctors asked if he'd ever had any serious injuries, he answered no, thinking that since he'd been cleared to play in college there was nothing wrong. But then the Chiefs' head athletic trainer called Doughty off the field and into his office. The veteran trainer got right to the point: Doughty's X-rays revealed that he was playing with a cervical spine injury. One hit in the wrong place could leave him paralyzed for life. That meant Doughty couldn't play football for the Chiefs—or for anyone else, ever again.
The next day Doughty was on a plane headed back south, with questions on his mind. He thought back to the injuries he suffered while playing at South Carolina. There were two that immediately came to mind. The first was a helmet-to-helmet collision during a 2004 practice. The impact had left Doughty temporarily paralyzed and with a tingling sensation in his arms and neck that would never go away. He was taken to a neurosurgeon, who gave Doughty a diagnosis of mild congenital stenosis—a narrowing of the spine near the base of the neck that occurs at birth—but gave him the go-ahead to keep playing.
A year later, South Carolina traveled to Knoxville for an ESPN-televised, late October game against Tennessee. Doughty started on defense. With less than three minutes left in the first quarter, he lined up on his own 1-yard line. Arian Foster, who now plays for the Houston Texans, ran the ball into the end zone, barreling into Doughty and leaving him momentarily unable to move, similar to what happened after his previous 2004 hit. But this time team doctors didn't take him for a MRI. Doughty says he rested in the locker room for five minutes and then finished the game. South Carolina won. "I was young," Doughty says. "I thought they knew what was good for me. I just listened to 'em. I trusted 'em"
The Chiefs' surgeon and several after him have additionally diagnosed in Doughty an acquired spinal injury—the sort that often occurs from a sudden, traumatic blow to the spine, such as a helmet-to-helmet collision, like the two Doughty suffered. Records also show that Doughty's spine had become more deformed between the time of his first examination and that done by the Chiefs, which could mean that he had further injured himself during the second hit against Tennessee or another unrecognized play. He'd need surgery to prevent his symptoms, limited use of his right arm and a burning sensation, from worsening.
Now Doughty felt blindsided again. Had his doctors at South Carolina misled him? Ignored his injuries? At 23, he had no job, no college degree, and no insurance. What was he going to do? After the injury was found, the Chiefs terminated his contract. Would the university pay for the surgery he needed?
The answer to the last question would be no.
Upon joining a Division I team, every participant must have insurance and undergo a medical examination before playing. But when it comes to protecting players, who generate billions of dollars every year, from having to pay unanticipated medical bills or ensuring they receive superior, impartial healthcare, there are no official NCAA provisions in place.
Thus, when a player is injured, nothing prevents the athletic director from refusing to pay related medical bills—which sometimes keep coming for years. Even for those with private insurance, some policies don't cover varsity sports injuries, have high deductibles, or refuse to pay the entire amount due. In such situations, the remaining costs fall to the athlete (many schools, though, do pay those bills).
The NCAA has a catastrophic injury fund that kicks in when personal deductibles exceed $90,000. Doughty's surgery would cost around $20,000. According to Ramogi Huma, president of the National College Players Association, schools are more likely to help cover costs if the player is high-profile and the injury is severe or public, such as the one Louisville's Kevin Ware suffered when he broke his leg during a 2013 March Madness game. Or when running back Marcus Lattimore twisted his knee almost 180 degrees during a televised game last year.
There is also no provision in the Division I Manual to prohibit a coach from revoking a scholarship the year after a recruit gets hurt. For those from poor families and without coverage through a parent, this means that a young man or young woman can be enlisted on the promise of an education, get injured on the field, and lose his or her only source of medical insurance precisely when he or she needs it most. "There is no doubt there are horror stories out there about schools terminating scholarships," says Warren Zola, assistant dean for graduate programs in the Carroll School of Management at Boston College and a sports business expert. "It comes down to the ethos of particular schools."
Many from low-income families are completely dependent on the school's healthcare system, which in some cases means being cared for solely by team doctors and trainers—many of whom may feel pressure to keep a team's healthcare costs low or to get an injured player back on the field. Several lawyers experienced in college sports point out that the relationship between athletes and team doctors is unique because the university, not the patient, does the hiring. Doughty wasn't encouraged to seek out care by an impartial physician, and it didn't cross his mind to. "I put everything in their hands and trusted them," Doughty says. "They said I would be taken care of."
The NCAA reports there are 20,718 college football injuries a year, with 841 of those spinal injuries. The National Center for Catastrophic Sports Injury Research has recorded a steady rise in the number of football players who have permanent disability due to cervical cord and brain injuries.
Players with professional potential have the option to purchase Student-Athlete Disability Insurance through the NCAA, which guards against potential financial loses from career-ending damages. As a recent Atlantic article by Kevin Fixler explains, however, most individuals with these policies won't be able to cash in on them. The disability insurance only covers those who can never play their sport again and has resulted in fewer than a dozen successful claims in more than 20 years. With treatment and rehab, most can return, although it may not be to the same level as before the injury.
Knee injuries are generally less debilitating, but with around 4,000 incidences per year, they're the most common in college football and cost roughly $11,000 to repair. A competitor who gets hurt, then, can easily rack up thousands of dollars worth of medical costs. "Their situation is very vulnerable," says Ellen Staurowsky, a sports management professor at Drexel University who has researched various aspects of the college sports business.
It's impossible to know how many Doughtys are out there, although conversations with experts, retired coaches, and athletic trainers suggest there are many more. Officials won't release medical information because of privacy laws, and no one keeps track of what happens to players once they are off the squad. So these young men and women can fall completely off the grid. "This is a very difficult area to get specific data," Staurowsky says. "So we don't know what kinds of injuries are out there. I don't think there is any way to fully capture the problem."
For Doughty, the interest started trickling in late junior year—recruiters calling his high school coach, letters arriving from schools that wanted the wide-set defensive tackle behind their scrimmage lines. The teenage boy even got to go inside Nick Saban's house during a visit to the University of Alabama. But it was the recruiter South Carolina sent to the Doughtys' home on dusty G Lane that sealed the deal. The middle-aged man sat on the loveseat, against the front wall and across from the only window in the room, and told the 17-year-old and his parents this would be the best decision of his life.
Sandra Doughty, who was reluctant to send her son so far away, recalls how the recruiter kept saying if anything happened, they would take care of him, and they would call immediately. "We were so sure they were going to have his back 100 percent," she says.
That's what the Division I football sales pitch is meant to do: gain trust. It starts when a coach narrows in on a high school player and decides he wants him on the team. But he's not the only coach searching for talented young men to stock his roster in hopes of building a winning and lucrative program, and, ultimately, securing his job for another year. There are hundreds of recruiters on the prowl, all competing to convince a small number of top players to choose their school.
How is this accomplished? By sitting in the boy's living room and telling his parents that for the next four years their son will be in good hands. By forming a bond, and bringing the boy to campus. By convincing him this is the best decision for his future. Some may imply that the boy's scholarship will cover the entire tenure of his education—even if doesn't. Some, as in what the Doughtys say was their case, may promise that if anything happens the university will take care of it. "Of course I believed them," Sandra Doughty says.
There's no paperwork except for the letter of intent. Senior year Doughty inked his, along with two other players from his high school team. His classmates each played a year before dropping out.
The Doughtys didn't even think to ask about healthcare conditions, insurance, or long-term assistance. Stanley Doughty was the first in his family to go to college. How could his family have been familiar with the business side of Division I sports?
After Doughty discovered his injury, he went back to the university with the latest medical records. Doughty says his old coaches initially said they might be able to help him with the surgery and getting him back into school. But then, he says, they stopped returning his phone calls and denied his re-entrance. Stymied, Doughty went home, where he moved back in with his parents. He says that he often feels tingling and burning along the right side of his body and struggles to reach for things above his head without sharp, shooting pains. He's now on disability.
South Carolina's lawyer has declined to comment on the school's handling of Doughty's football injuries. Team doctor Jeffrey Guy had this to say: "At the end of the day, we take very good care of our athletes. We don't send them out and say we're not going to take care of you anymore."
The story was different for Kyle Hardrick, a basketball phenom from the Midwest who grew up wearing University of Oklahoma hoodies, hats, and even socks. "Everyone in Oklahoma knew how much I loved Oklahoma University," he says. As a 6'9" teenager, he dreamed of playing basketball there before making it to the NBA. And it looked like it might happen. In middle school, he was named among the top 10 in the country. He competed against others who have gone pro, from Blake Griffin of the Clippers to Daniel Orton of the Thunder. College coaches, including Sooners Head Coach Jeff Capel (who is no longer with the team), started coming to his games when he was in seventh grade. By Hardrick's freshman year of high school, Hardrick says, Capel made an unofficial offer.
The Hardricks heard the same recruiting pitch as the Doughtys and countless other families. But in this case, the Hardricks had even more reason to be trusting: By the time Hardrick made a verbal commitment at 14, he'd already known Capel for several years. The family moved from Lawton to Norman to be closer to his future school. In the afternoons and on weekends, Hardrick would practice in the campus gym. His parents, Valerie and Michael, talked, texted with, and saw Capel on a regular basis. Capel has not returned messages left for him at Duke University, where he is now an assistant coach. "We thought he was a really good guy," says Valerie Hardrick, while sitting in a sandwich shop down the street from where her son now attends college.
Although Hardrick tore his ACL freshman year of high school, the college solicitations never ceased—but he never entertained them. He says Coach Capel made it clear that if he talked to anyone else he would lose his tentative spot on the Sooner roster, a consistent competitor in the Big 12 conference. In 2009, the 18-year-old went to Oklahoma, where he had always dreamed of going.
During a practice just three months into that initial semester, though, a teammate fell on Hardrick's right leg, eliciting a pop loud enough for the whole gymnasium to hear. He felt like he'd been struck with a sledgehammer and collapsed on the hardwood floor in pain.
Team doctors said X-rays didn't show a tear. They estimated Hardrick would only miss the first few games. But he didn't end up playing once the whole season. Or at the start of the next season. During practices, Hardrick felt shooting pains whenever he tried to run or jump. He says when he told his coaches about the discomfort, they said he wasn't trying hard enough. "I was in pain," Hardrick says. "I had to fight just to get though warm-ups."
That January, a year and four months after the injury, the phone rang at Valerie Hardrick's house. It was a woman from a medical clinic, saying the family owed money for an MRI their son had undergone the previous fall. Valerie said they must be mistaken—her son had never gone for an MRI. And she would know if he had. The administrator persisted, going on to say that the film showed a torn meniscus.
The family says that when they confronted the school, the staff disputed the results of the MRI and continued to maintain Hardrick had only pulled a groin muscle. Meanwhile, Hardrick says, officials began pushing him out. He recalls that the athletic director told him to start thinking about other options, saying maybe this wasn't the best place for him. He was no longer told about team meetings, he says, and then one day when Hardrick went to the gym, he discovered his keycard had been deactivated.
Spring break of his sophomore year, Hardrick used his dad's military insurance to get surgery on his own. The surgeon who did the operation told him the tear was so severe he had to remove 10 percent of the tissue, which had been flapped behind the knee, making it painful to bend or run on. When Hardrick, still determined to get back on the court, asked Oklahoma for a medical redshirt waiver, which gives injured players an extra year of eligibility, the family said the athletic director continued to deny the injury and, therefore, the waiver request. By summer, Hardrick resigned himself to transferring, and signed up for one last set of summer-school classes. Then in July, he received a bill for $3,500 and a letter informing him that the university had canceled his scholarship—effective at the close of the previous semester.
Since Hardrick had a decent grade-point average, many other Division I schools were interested. All he needed was for Oklahoma to give him a medical hardship waiver (NCAA rules say players must sit out a year if they transfer, unless they didn't play the previous year because of an injury). Although Capel was no longer coaching at Oklahoma when Hardrick lobbied for the needed paperwork, he wrote a letter to the conference officials supporting his claims that he was unable to play because of his injury. The athletic director, though, would only grant a medical hardship waiver if the Hardricks signed a release saying there was never an injury and they would never sue (records of the correspondence confirm this). The family declined.
So the 20-year-old ended up transferring to a junior college. He's since had two more surgeries on his knee and has moved up to a Division II college, Southern Nazarene University, where he hopes to continue his recovery and finish his education (Southern Nazarene is paying for his rehab). Hardrick still believes that if his injury had been addressed immediately, he might be playing in the NBA right now. "I don't love basketball anymore," Hardrick says. "Not after everything that's happened."
The Oklahoma athletic director declined an interview. However, his attorney offered this statement: "Kyle Hardrick was provided the appropriate medical services and expenses while at the University of Oklahoma. Additionally, Mr. Hardrick requested permission to transfer to another institution, which permission was granted by the University."
Stories like Doughty's and Hardrick's speak to the larger paradox of college sports, wherein players are treated like employees of their institutions—but don't get paid or receive the same benefits as recognized workers. Let's say the athletic director walks through the stands, slips on spilled soda and breaks his leg. Because he is considered an employee of the university, worker's compensation will cover any costs, short and long-term. But if a player 15 feet away breaks his leg on the field, running a play at the coach's request, the school has no legal or financial obligations since he is considered a student-athlete, not an employee.
In 1973, the NCAA passed legislation banning athletic scholarships that guaranteed more than one year, a prohibition that stayed on the books for almost 40 years. Although many schools renewed these one-year scholarships annually and thus kept their athletes on campus for four full years, this changed the athletic landscape drastically: Players became expendable. It wasn't until 2011, despite a majority of schools protesting, that the governing board began allowing conferences to offer multi-year commitments. It remains to be seen whether commitments like those become standard practice. Meanwhile, administrators can choose not to renew one-year grants for any reason, from lackluster performance to an injury.
The NCAA actually invented the concept of a student-athlete in the 1950s, when the wife of a player who died from a head injury received while playing football tried to sue for worker's-compensation death benefits. The term was meant to distinguish the classes, so players wouldn't receive the same benefits. "Whenever we have a labor force that goes unrecognized, the benefits that would ordinarily be accessible aren't," says Staurowsky, who also co-authored the College Athletes for Hire: The Evolution and Legacy of the NCAA Amateur Myth.
Financial records from several of the top football Division I universities shows that, on average, they spend roughly $1 million on insurance premiums and health care for the entire athletic department. Take the University of South Carolina, which is comparable to most top-tier programs. Last year, athletics generated $83.9 million. The total spent on medical expenses was $1 million.
Unlike college players, NFL employees are eligible for five years of post-career health coverage. How much teams annually pay for insurance isn't known. But whatever amount that is, teams are additionally paying millions in workers' compensation claims. Duke Niedringhaus, an agent with J.W. Terrill who brokers claims with NFL teams, says for any given policy year a team owner will pay roughly $3 million in claims. Because student-athletes aren't considered employees though, they are not eligible for workers' comp claims, which ensure lifetime medical coverage.
Dan Rascher, who teaches sports economics at the University of San Francisco, says it's a reflection of university priorities. "The number of athletes is so small relative to the cost of running a university or athletic department," he says. "To provide healthcare for a couple of extra years, they could take a tiny bit out of coaches' pay. A relatively small amount of money would make a big difference when it comes to making sure everyone is fully covered."
Some experts say the disparities won't be resolved until the courts decide to acknowledge student-athletes as employees—something they've been reluctant to do. Several sports lawyers say the reason there have been so few lawsuits regarding healthcare is because schools currently have no legal obligations to pay for athletic-related medical bills. Refusing to pay may be considered by some to be unethical, but it is not illegal. In cases of negligence, which could include when a player isn't properly treated or is intentionally misdiagnosed, it can be hard to find a lawyer willing and capable of taking on such large institutions.
Staurowsky is one of the many who argues that the best way to protect the well-being of student-athletes is to start recognizing them as employees. Otherwise, she says, "It's like a Hobson's choice, where there really is no choice." John Collins, the lawyer who defended Kent Waldrop, a former Texas Christian University football player who suffered a paralyzing neck injury in the '70s, argues there are three criteria that prove money-generating athletes are, in fact, employees. First, there is a contract between the two parties. Regular students, even those on academic scholarships, don't usually have to sign a commitment to the school. Players do. Second, universities pay the players—tuition, room and board, stipends. And lastly, the school has the right of control. Coaches enforce curfews, require players to practice year-round and call the plays. If a player chooses not to follow these commands, the school can essentially fire him by revoking his scholarship.
The problem will likely only get worse, given the escalating demands being placed on student-athletes. It used to be that players practiced only several months outside of the regular season. These days, athletes are expected to train year-round. Some trainers say that added amount of time on the field puts extra strain on the body, making athletes more prone to injury. And while summer and spring practices are officially called "optional," it's common knowledge that in reality they aren't. An NCAA study found D1 football players estimate spending 44.8 hours a week practicing, traveling and playing during the season. And spring practices start just a couple of months after the season ends.
There may be hope for change. California requires schools to post athlete-related healthcare policies online. And last October, the state passed a new law, known as the Student-Athlete Bill of Rights, that goes even further. The bill, which only applies to schools generating more than $10 million annually in sports-media revenue, insists that universities pay medical premiums for low-income student-athletes and cover all medical costs for injuries that were a result of participation in intercollegiate athletics. Schools must also provide equivalent scholarships to student-athletes like Hardrick, who have lost their athletic aid due to a career-ending injury. The president of the National College Players Association is continuing to advocate for similar bills in other states, including Ohio and Oklahoma.
This is good news for current athletes, though it won't help Hardrick and Doughty. "I see my friends playing in the NBA and I can't help but still get angry," Hardrick says. "That could have been me."
Doughty, meanwhile, says he just wishes fans could see the young men like himself who have been sacrificed in this pursuit of money and glory. And he wishes the institutions that made an oath to protect the well-being of student-athletes, like his alma mater and the NCAA, would stay true to that promise.
Doughty still watches games—even the Gamecocks'—on his silver Sanyo, from his usual spot. He's now working at a car dealership and, for the first time since leaving South Carolina, has insurance.