How Matt Harvey Became the Most Exciting Pitcher in Baseball
By choosing not to micromanage the 24-year-old's game, the Mets have taken a wiser, healthier course of action than other franchises have with their young pitchers.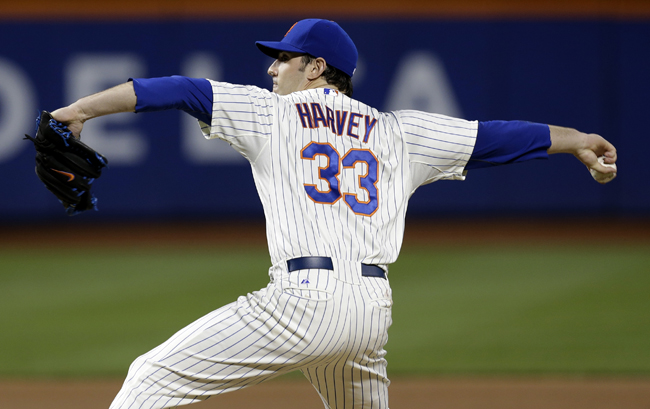 AP / Seth Wenig
Matt Harvey pitched the game of his career last Tuesday night against the Chicago White Sox. That may not sound like much, considering that Harvey's career so far consists of just 17 starts and 108.2 innings. But it was very nearly the game of any pitcher's career. As SNY announcer Ron Darling put it, "I've seen a couple of perfect games that weren't pitched with this kind of perfection."
Making his seventh start of the season for the New York Mets, Harvey allowed nothing more than a scratch infield single to Alex Rios with two outs in the seventh inning. He struck out 12. He wasn't around in the 10th inning when the Mets won the game 1-0, but by that time much of the Mets fan base wasn't either.
When the Mets trotted out reliever Bobby Parnell in the 10th inning, the crowd seemed to dwindle by half, and the Mets probably also lost a significant portion of their TV audience. Recently the New York Daily News' Bob Raissman noted that "when Harvey takes to the mound, the Mets are averaging 2.49 household rating, 14 percent higher than the team's average of 2.19. Harvey is also outpacing the team's average rating in two key demographics (adults 25-54 and men 25-54), the demos advertisers rely on when deciding whether to purchase commercial time." In other words, among the audiences the Mets most want to reach, when Harvey's on the mound ratings go up 35 percent. Or rather, they were up 35 percent—that was before Harvey's near-perfect game.
Tuesday's performance cements Harvey's status as the most promising young player in baseball. A pitcher who has shown what Harvey has shown in 12 decisions seems almost inevitably destined to be great. What's more, he's not just a Mets franchise player—he's practically the franchise. His story stands as an example of the way that teams should, but too often don't, groom up-and-coming pitchers: by letting them pitch.
Harvey's rise couldn't come at a better time for his team. The Mets have been having a bad month in what looks to be a bad season in a bad decade of a bad half-century. Though they should have virtually the same resources to draw upon as their crosstown rivals the Yankees, they have won just four pennants and two World Series from their first season, 1962, through last year. Following the Wilpon family's near-disastrous association with Bernie Madoff, the franchise has pared itself down more than ever. Their All-Star third baseman David Wright and Harvey are just about the only players celebrity Mets fans Jerry Seinfeld, Jon Stewart, and Bill Maher—and the rest of the Mets diehards—have to root for.
This is quite a burden for a young pitcher who just turned 24 and won only seven games (against five losses). His big-league ERA is 2.07, 1.28 this season. So far he has struck out 128 batters, which averages to about 10.8 strikeouts per nine innings. All the batters who have gotten hit off him in the major leagues, 22, would almost fit into one elevator. He's 4-0 and is currently the betting favorite to win this year's National League Cy Young award.
Harvey is a power pitcher, which you would expect from someone who is 6'4" and weighs around 225. His fastball is excellent, usually peaking at just under 85 mph, a speed that's good but not exceptional for a young prospect. But he throws it in two variations, a four- and a two-seam fastball, both of which have extraordinary movement. He throws fastballs nearly 60 percent of the time, mixing them up with a hard slider, an occasional curve, and a change-up that is still a work in progress.
His effectiveness largely comes from the fluid, almost flawless mechanics of his pitching motion, which have minimized stress on a precious right arm—an arm that seems to grow stronger every outing.
If the Mets have done nothing else right over the last few seasons, they did the right thing with the way they've managed Matt Harvey—by, as I said before, letting him pitch. Contrast that with the blunders made by the Yankees with their two hard-throwing right-handers, Joba Chamberlain and Phil Hughes. Towards the end of the 2007 season, the Yankees brought Chamberlain up and let him throw fastballs and hard sliders for 24 innings; he was practically unhittable, posting an ERA 0.38. The next season, anxious to protect their ace, they imposed a series of "Joba rules," limiting how many pitches he could throw in any one outing and also limiting the number of his appearances.
They repeated the process in 2009 with Phil Hughes, who many thought was the next Roger Clemens. But the Yanks couldn't decide if they wanted Chamberlain or Hughes in the starting rotation or in the bullpen, and constantly switched them around, costing both young pitchers experience and the chance to strengthen their arms. The result in 2013 is that Joba is once again on the DL, this time with pulled oblique muscles in his rib cage. Hughes, though he seems finally to be settling down as a starting pitcher, loses much of his effectiveness by the fifth inning.
Last year, former Yankee pitching veteran Tommy John said in an interview with ESPN radio that the Yankees "screwed Joba Chamberlain when they created the Joba rules." Comparing the Yankees' handling of Joba with the Washington Nationals and Stephen Strasburg, John said, "There's no guarantee that if you're shutting Strasburg down that he's going to be healthy down the road." John suggested that coddling didn't work: They stymied Joba's work load, and he still had to have surgery.
When I interviewed him a few days later, John expanded on that thought: "They wasted a lot of time and arm strength trying to teach him to throw curve balls and other pitches that put a strain on his arm instead of just doing what came naturally—rear back and fire."
Practically the same can be said of Hughes, and now Yankee fans are wondering if they'll ever see either pitcher fulfill what once seemed like epic potential.
Matt Harvey may not prove to be the superstar who nearly every observer—analysts as well fans—thinks he will be. But unlike Chamberlain and Hughes, he will get his chance.
(Matt Harvey will pitch against the Pittsburgh Pirates this Sunday, 1 p.m. EST)