Hip-Hop and the Company Line
Mountain Dew drops Lil Wayne; Reebok cuts Rick Ross. Turns out, words have a price.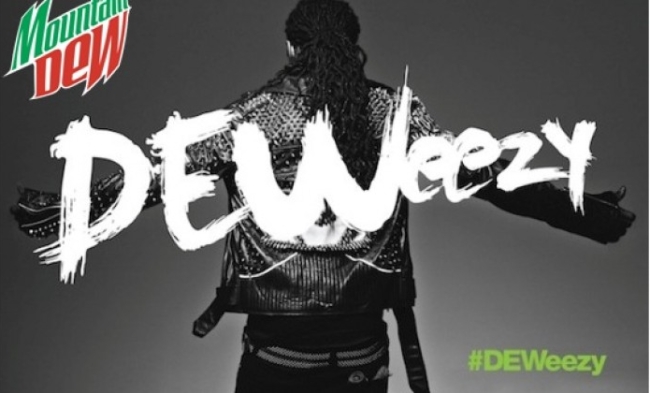 PepsiCo
Lil Wayne just got dumped by Mountain Dew for making a crude reference to Emmett Till and sex. Given how much time I spend looking at how white terrorism shaped America, I can't really bring myself to actually write what he said. Google it. At any rate Wayne paid a price:
"We do not plan any additional work with Lil Wayne moving forward," PepsiCo said in a statement on Friday. "His offensive reference to a revered civil rights icon does not reflect the values of our brand." Wayne began appearing in ads for the brand early last year. A rep for the rapper told The Times the split was due to "creative differences," and said it was an amicable parting. On Wednesday, months after he created a firestorm for the reference that appeared on a remix of the hit "Karate Chop" by Atlanta rapper Future, Wayne acknowledged the effects of his controversial lyrics in a letter he sent to Till's family. "It has come to my attention that lyrics from my contribution to a fellow artist's song has deeply offended your family. As a father myself, I cannot imagine the pain that your family has had to endure," he wrote. "I would like to take a moment to acknowledge your hurt, as well as the letter you sent to me via your attorneys."
Jon Caramanica looks at the decoupling of Rick Ross from Reebok, and Mountain Dew's decision to pull an ad crafted with Tyler, The Creator:
Mr. Ross's lyric is reprehensible; Lil Wayne's is regrettable and tacky. (Lil Wayne is by no means the only rapper to mention Emmett Till in song, but his use is easily the messiest.) Both men issued tepid nonapologies. Mr. Ross eventually progressed to a full apology, but only after prodding. In each case justice was swift, as companies said, rightly, that their values didn't jibe with the sentiments of those lyrics—and, by extension, those artists. Except when they do, that is. A cursory glance at any rapper's catalog, from Jay-Z on down, will be likely to turn up a lyric that's offensive, in poor taste or eyebrow-raising. By that metric, almost every rapper of note would be ineligible for corporate partnerships.
I think the issues is the difference between a catalog and right now. I also suspect that Jay is a little savvier than Wayne and Rick Ross.
In terms of the substance, I don't really see the hypocrisy. Corporations exist to make money. We have evidently reached a point where endorsing rape, or insulting the family of lynching victims can be judged to have market consequences. That is a good thing.