Buying a Wedding Gift for RG3 Isn't Crass—It's Touching
Don't be cynical: Sending a pizza stone to a quarterback you like represents a relatively sane, meaningful expression of fandom.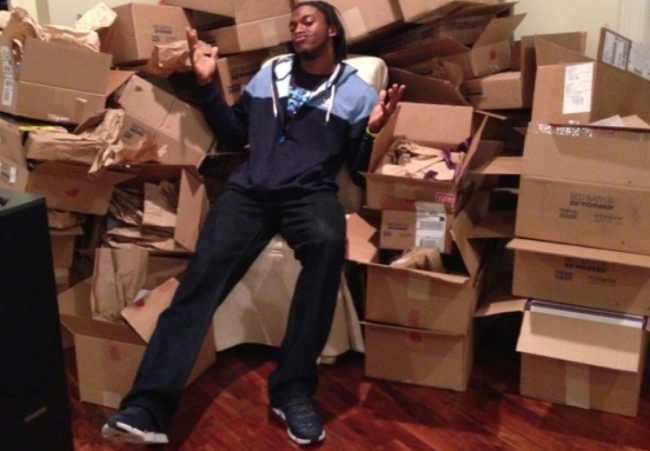 Robert Griffin III
Robert Griffin III might be the most famous person in Washington D.C., more so than President Obama, who has yet to beat the Cowboys in December.
Which doesn't totally explain why Redskins fans took it upon themselves in recent weeks to buy Griffin and fiancée Rebecca Liddicoat every item off their Bed, Bath & Beyond wedding registry. The registry was first uncovered by The Knot earlier this month. Griffin himself didn't exploit his ample social media leverage—he has more than 911,000 followers on Twitter—to troll for butter dishes. (He's not Zach Braff, asking people on Kickstarter to help fund his movie, or former Arkansas governor Mike Huckabee, who set up a Target registry for well-wishers looking to provide him with gifts for his post-governorship house.) Nor was there any sort of organized #letsgetRG3everythingonhisregistry online push.
This appears to be a simple case of people spontaneously buying kitchen supplies for an NFL quarterback with a $21 million contract because they happen to like him. Griffin, for his part, seems grateful and more than a little taken aback. On Sunday, he tweeted out a thank you to his followers with a picture of himself semi-engulfed by empty boxes.
(It's still unclear how many presents he has received from fans. I count upwards of 30 empty boxes in the picture he sent out, but there are almost certainly more than that. It also should be noted most of the items already purchased have been of the inexpensive variety—$2.99 bronze napkin rings , $7.99 Calphalon dish towels and $19.99 sandstone coasters have all been popular picks—while pricier things like a $499.99 non-stick cookware set have languished.)
Depending on your tolerance for sports fandom and the wedding-industrial complex, this is either a pointless or brilliant way of telling someone wealthy and famous that you appreciate them. It's easy to be cynical about it. For example: Atlanta Journal-Constitution sports blogger Jeff Schultz, who took to Twitter to register his outrage that "people who probably wouldn't give a can of soup for a food drive will buy new sheets for RGIII."
Well, let's think about that. I have two friends who are getting married July 6, the same day as RG3. They got him a $14.99 pizza stone, after initially considering margarita glasses and pie plates. "We thought this would be the perfect opportunity to express our gratitude and support for him," they explained to me. "He's a phenomenal quarterback and a great person." If you believe in karma—and you really have to believe in karma if you're doing something like this—why wouldn't you get him something he can use around the house to voice your appreciation? It's still cheaper than buying a $100 jersey.
It's actually amazing it took this long for something like this to happen. Popular athletes have been getting married forever and fans have been fans forever, but there's no record of anyone giving, say, Tom Brady a candelabra before he married Gisele Bundchen. For shame. Nobody likes crass materialism, but to a certain extent, spending money is a fine way to show how much you care. Hence the reason people still have weddings when it would be easier and cheaper and saner not to.
If this all sounds unreasonable, you just don't understand sports. Instead of buying another t-shirt, car magnet, or team-licensed puffy jacket, these fans are passing their love directly on to the player and cutting out the middleman. It's silly, yes, but it's also sort of beautiful—just like a wedding.