American Sports Fanaticism Was Born in the Great Gatsby Era
Sports became a U.S. obsession in a time when underground gamblers like Arnold Rothstein—the inspiration for Gatsby's World Series fixer Meyer Wolfsheim—ruled.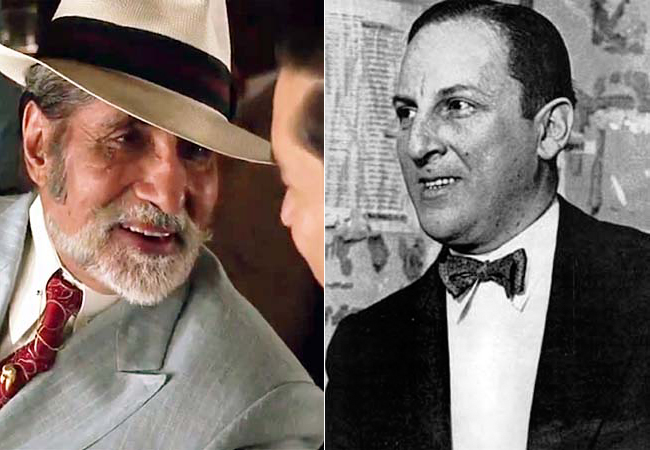 Warner Bros.; Wikimedia
"He's quite a character around New York," Jay Gatsby tells Nick Carraway, in the opening pages of F. Scott Fitzgerald's The Great Gatsby, about his friend Meyer Wolfsheim, "a denizen of Broadway."
"Who is he, anyhow?" asks the ingenuous Nick. "An actor?"
"No," Gatsby tells him. "He's a gambler. He's the man who fixed the World Series back in 1919."
The notion staggers Nick: "It never occurred to me that one man could start to play with the faith of fifty million people—with the single-mindedness of a burglar blowing a safe."
"How did he happen to do that?" Nick asks. Gatsby gives his famous reply: "He just saw the opportunity."
The inspiration for Meyer Wolfsheim was the underworld figure Arnold Rothstein. Whether or not he actually fixed the 1919 World Series depends on your source. Eliot Asinof, in his hugely popular Eight Men Out, argued that Rothstein did not, and that he merely became involved when he saw the opportunity. But David Pietrusza, in his superb 2003 biography Rothstein, lays the blame with the gambler. What's indisputable, though, is that Rothstein was larger than life. Then again, the same could be said for most of the other big names connected to sports in the time of Jay Gatsby.
Rothstein represented the dark side of athletic entertainment in the 1920s, a time when, as Frederick Lewis Allen wrote in Only Yesterday, "Sport had become an American obsession." The stars were big hitters—Babe Ruth in baseball, Jack Dempsey in boxing, Bobby Jones in golf, Bill Tilden in tennis, and Red Grange in football—and existed larger in the public's imagination than any athlete today.
Allen again: "Promoters, Chambers of Commerce, newspaper-owners, sports writers, press agents, radio broadcasters, all found profit in exploiting the public's mania for sporting shows and its willingness to be persuaded that the great athletes of the day were supermen."
This is reflected in the most famous sports lede ever written, for Grantland Rice's October 18, 1924 story in the New York Herald-Tribune about Notre Dame football: "Outlined against a blue, gray October sky the Four Horsemen rode again." Sportswriters in later, more skeptical times would question whether Rice penned his oft-quoted line while lying on the turf looking up on his subjects.
The public didn't actually see their gods that often—just a few seconds in a newsreel now and then, or in the occasional newspaper photo. With so few chances for fans to behold their idols up close or even to see them in action, fans had to rely on their imaginations.
Fortunately for Babe Ruth, he had a face that once glimpsed was never forgotten; his round, flat-featured mug is probably the most enduring image of sports in the 1920s. In popular culture Ruth is remembered as the man who saved baseball, the player who fans went back to the ballparks to see after the bitter experience of the Chicago "Black Sox" in the 1919 Series. But that really isn't true. Baseball wasn't in danger of losing its popularity. It is true, though, that Ruth's prodigious home runs ushered in the modern era of the game and brought it millions of new fans.
Ruth had no rival as a team-sports hero; pro football as we know it today didn't exist. But a college football player named Red Grange placed a strong second. "The Galloping Ghost," as Chicago sportswriter Warren Brown dubbed him, was the first football player to pack crowds numbering in the tens of thousands into stadiums. In his senior year, 1925, the year The Great Gatsby was published, Grange was by consensus the best in the country; when ESPN took a poll among sports historians 83 years later, they voted him the best college football player of all time.
The 1920s also saw tennis and golf become integral to a rising middle class. Bill Tilden won seven U.S. Open tennis tournament in the decade (1920-1925 and 1929) and took two Wimbledons (1920 and 1921). Tilden is regarded by tennis historians as the game's first great power player, but the idol of the country-club circuit harbored a secret from the public: He was gay. His sexual orientation was well known to sportswriters, but he played at a time when the private lives of athletes were left private. Babe Ruth, for one, frequented speakeasies owned by the real-life Wolfsheims and Gatsbys, but his fans never read about it.
Even more popular than Tilden was Bobby Jones, whose fandom extended beyond the confines of country clubs. His mortar-shot drives and precise putts (from his favorite putter, "Calamity Jane") made him the first golfer—amateur or pro—to have entourage of thousands following him from hole to hole.
But the man who drew crowds that dwarfed those of Bobby Jones or even Red Grange and Babe Ruth was a part-Irish, part-Jewish, and part-Cherokee former miner and hobo who, like Gatsby, hailed from the West: William Harrison "Jack" Dempsey. His best biographer, Roger Kahn, wrote in his 1999 A Flame Of Pure Fire: Jack Dempsey and The Roaring '20s, "More than any other individual, Jack Dempsey created big-time sports in America. The time frame ran roughly from 1919, when Prohibition began, until 1929, when the stock market crashed and 'the era of wonderful nonsense' came to a shattering conclusion."
The number of ticket buyers for Dempsey's fights was awe-inspiring; more than 100,000 fans filled stadiums to watch him face the Argentine champion, Luis Angel Firpo (a brawl depicted George Bellow's famous painting), French champion Georges Carpentier, and the man who finally took his title, Gene Tunney. Dempsey's bouts electrified the country as no other sporting event before or since. His rematch with Tunney on September 22, 1927 at Chicago's Soldier Field attracted a staggering 145,000, including America's most famous bootlegger, Al Capone, and Arnold Rothstein himself. (The box office was a jaw-dropping $2.6 million.)
More importantly from a social standpoint, it presaged the mass sports audience of the future: 40 million (or so the broadcasters claimed) listened to the fight on radio. In the seventh round, Dempsey floored Tunney and announcer Graham McNamee, a former opera singer who became the radio voice of his age, screamed, "Tunney is down! Tunney is down!" Legend has it, at least nine people dropped dead of heart attacks at their radios.
The Roaring '20s lasted just over two more years—October 29, 1929, the Black Tuesday when the stock market crashed, is as good a date as any to mark its death. Arnold Rothstein did not live to see the end of the wonderful nonsense he had help bankroll. He was murdered in a card game in November of the previous year. He would have been astonished to see sports gambling become a legitimate business. In today's sports world, the grand old denizen of Broadway would probably be an odds-maker for online gambling.