10 Films From Cannes 2013 You'll Probably Want to See
An intense lesbian love story, a valentine to 1960s folk music, a four-part portrait of violence in China, and a tale of a teenage prostitute were among the fest's best movies.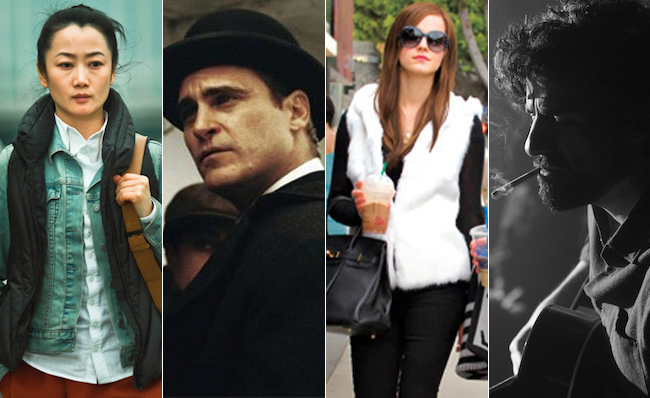 For the past two weeks, film critic Jon Frosch has been chronicling the Cannes Film Festival for France 24 and The Atlantic. Here are his picks for the movies to catch when they see stateside release, with descriptions drawn from his posts over the course of the festival.
Blue Is the Warmest Color (La Vie d'Adele)
Based on a graphic novel by Julie Maroh about a teenage girl who falls in love with a slightly older woman, French-Tunisian director Abdellatif Kechiche's three-hour Palme d'Or winner is a shattering masterpiece about sexual awakening, heartbreak, and self-discovery. Blue Is the Warmest Color covers six years in the life of Adèle (Adèle Exarchopoulos, little known now, but not for long), who, at the film's start is a quiet 17-year-old high schooler living with her middle-class parents outside the northern French city of Lille. The story's catalyst comes in the alluring, blue-haired form of Emma (Léa Seydoux, whose star has now officially risen), a lesbian graduate student and artist from a loving, bourgeois-bohemian family. The film serves as confirmation that Kechiche, with his interest in people living on the margins of modern France (North African immigrants and their children, inner city youth, and, here, gays, lesbians, and bisexuals), is French cinema's greatest observer of human behavior—and of French society in all its complexities and contradictions. Warm, sensually alive, and sublimely acted by its two leading ladies, the movie adds up to much more than a lesbian love story. By the time it reaches its quietly devastating, though hopeful, final shot, Kechiche's film has become a map of the human soul.
Read the full review here
Inside Llewyn Davis
Set in early 1960s New York, the Coen brothers' sorrowful deadpan comedy, winner of Cannes' second-place Grand Prize, ranks with their very best (Fargo, No Country for Old Men, A Serious Man) in its nearly pitch-perfect balance of biting satirical humor and deep reserves of feeling. The film's struggling folk singer protagonist (played by singer-actor Oscar Isaac in a star-making, award-worthy turn) embodies the tricky duality of cruelty and tenderness that makes Inside Llewyn Davis such a treat. Navigating his mess of an offstage life—couch-hopping, mooching, and wrangling with his scam artist manager and another folk singer who may or may not be carrying his child (Carey Mulligan, radiating fury tinged with longing in a wonderfully vivid comic performance) - Llewyn Davis is a schlumpy, scowling grump. But when he performs (glorious folk tunes arranged by T-Bone Burnett and sung live on set), revealing a honeyed, slightly raspy voice, his face mellows, his eyes close, and he seems to be opening his soul to the world. The folk songs in Inside Llewyn Davis (even the ones the filmmakers mock affectionately), with their yearning lyrics and melancholy melodies, don't just offset the dry, Coen-esque wit of the screenplay. They give the movie a rich emotional subtext, allowing the characters' often laugh-out-loud gripes, swipes, one-liners, and accusations to echo with hints of regret and desire.
Read the full review here
A Touch of Sin
A bitter, brutal, often brilliant exploration of violence and corruption in contemporary China, Jia Zhangke's new film won the Best Screenplay prize at Cannes. Separated into four stories (the main figures are a miner, a migrant worker, a spa employee, and a teenage factory hand), A Touch of Sin paints a despairing picture of a country ravaged by socio-economic woes and populated by exploited individuals pushed to acts of rage and destruction. Jia punctuates his ruminative pace and realism-driven style with startling images of horror and sensuality, conjuring a vast, rugged China of snakes, sandstorms, sex workers, and beleaguered-looking villagers slurping bowls of noodles or huddling together in the cold to watch an outdoor opera performance. As in many of the director's films, the characters in A Touch of Sin are restless figures, constantly plotting their escape to another place and a better life. What feels new, though, is Jia's play on various genres—western, crime film, martial arts flick, and romantic melodrama—to tell his stories. The movie is sometimes unpleasant to watch (shootings, slashings, and beatings galore), but its ambition and blistering anger sear themselves into your memory.
Read the full review here
Young and Pretty (Jeune et jolie)
A tender, slyly funny and splendidly shot portrait of an adolescent prostitute, Young and Pretty (Jeune et jolie) is easily the director's best work since Swimming Pool (2003). Revolving around Isabelle, a ravishing 17-year-old Parisian (played by Marine Vacth, in an exquisitely modulated, expressive performance) who leads a double life as high-schooler and high-class call girl, the film observes the young woman's sexual awakening, the time she spends with clients, and the consequences of her actions with a fine-tuned sense of irony, real depth of feeling, and not a shred of judgment. Wisely, Ozon never provides any explicit psychological explanation for why Isabelle, who comes from a well-off family presided over by a loving mother (the terrific Geraldine Pailhas), slips into prostitution. One of the movie's most unsettling and provocative ideas is, in fact, that such a transgression could actually be easy for a young woman who is so consistently an object of desire. If it looks at first like a clinical, quintessentially French study of sexuality, Young and Pretty ventures into gratifyingly risky territory when it ponders the impact of Isabelle's choices on those around her. It is to the director's great credit that the film never turns moralistic, its mysteries deepening as it heads toward its haunting conclusion.
Read the full review here
La Grande Bellezza (The Great Beauty)Italian director Paolo Sorrentino's visually imaginative, very entertaining new film is essentially a variation on Fellini's La Dolce Vita, plunging us into the cruel, voluptuous world of Rome's media, artistic, and intellectual elites. Revolving around a novelist-turned journalist played by Toni Servillo (who looks like Italy's version of Joe Biden), the first hour and a half of The Great Beauty is a delight; Sorrentino's gliding camera snakes its way through lavish, champagne-soaked, techno-thumping parties (the film's opening sequence is a tour de force), and then slows down for quieter day-after scenes (mornings in bed with a new conquest, lunches with friends, meetings with the editor-in-chief, afternoon strolls) that echo with loneliness and regret. In the final half hour, the movie starts slipping into self-indulgence, with the director unnecessarily explaining things through dialogue and voiceover that his images have already evoked perfectly. Still, the film holds up as a vivid glimpse, both funny and deeply unsettling, of a Berlusconi-era Italy rotting below its luscious-looking surface.
Behind the Candelabra
Currently airing on HBO (because Hollywood movie studios thought it was "too gay" to finance, according to director Steven Soderbergh), Behind the Candelabra is a witty, touching look atthe tumultuous relationship between flamboyant Vegas pianist Liberace (Michael Douglas) and one of his much younger boyfriends, Scott Thorson (Matt Damon). Soderbergh, with his typically seamless camerawork, punchy editing, and pleasure in recreating kitschy 1970s and '80s clothes and décor without ever veering into kitsch himself, frames the material as a sort of same-sex Sunset Boulevard: Douglas plays the vampiric Norma Desmond role to Damon's more vulnerable version of William Holden's Joe Gillis. What gives their bond a real shudder of dysfunction is the perverse extent to which Liberace's own narcissistic impulses and implicit fear of death drive and shape the love story. In an effort to mold Thorson into a more accurate reflection of himself, Liberace sends him to a plastic surgeon (a hilarious Rob Lowe), who redoes the younger man's face to resemble his mentor's. Liberace also talks of legally adopting Thorson, citing his long-simmering desire to be a father. I wish Soderbergh, ever the brisk, prodigiously skilled craftsman, had slowed down to linger on these hints of horror in the romance. Still, Douglas turns in a career-best performance and Damon once again proves he is one of the least fussy, most versatile and effortlessly convincing American actors working today.
Read the full review here
Nebraska
Alexander Payne's lovely black-and-white road movie about a stubborn old man (a wonderful Bruce Dern, winner of Cannes' Best Actor prize) and his endlessly patient son (appealingly underplayed by Saturday Night Live veteran Will Forte) is far from the director's richest or most interesting work (that would be Sideways or About Schmidt). Still, it's a pleasure to watch: a melancholic comedy graced with the trademark Payne balance of tenderness and irony. If Nebraska covers familiar thematic and visual ground—father-son tensions, wide fields dotted with grazing cows, an acoustic guitar soundtrack, small-town Americana tweaked with a sharp but forgiving satirical touch - and is a bit long at nearly two hours, it also feels lived-in, and strikes gold in June Squibb's scene-stealing turn as Dern's exasperated wife.
The Past
Iranian Asghar Farhadi's French-language, Paris-set follow-up to his smashing A Separation is less assured, but still pretty strong stuff. Like the previous film, The Past centers on a couple divorcing—an Iranian played by Ali Mosaffa and his French wife, played by The Artist's Bérénice Bejo—and the ensuing secrets, lies, and complications (in this case, concerning the woman's children and her new lover, played by an excellent Tahar Rahim). The mysteries, dilemmas, and bad choices that made A Separation so electrifying were rooted in the respective roles the characters found themselves trapped in as Iranians. In France, without the context of a repressive country and the cultural-religious baggage that goes with it, the plot's tangled web of deceptions and dissimulations loses much of its meaning; it plays as pure melodrama, and the pile-up of twists and red herrings seems slightly arbitrary. Still, Farhadi's sense of pacing is superb, and he has a genuine feel for the way our personal histories entangle us even as we strive with all our might to move on. He also gets a forceful, diva-like performance from Bejo (Best Actress winner at Cannes), who pulls off the extraordinary feat of humanizing a woman who, on paper, is a total shrew.
Read the full review here
The Bling Ring
Inspired by the true story of a group of wealthy LA teens who broke in to celebrity homes in 2008, making off with three million dollars in clothes, jewelry and accessories, The Bling Ring finds writer-director Sofia Coppola working in a lighter register than usual. Eschewing the languorous rhythms and visual lyricism of her previous work, Coppola has crafted a fast-paced caper about vapid youth obsessed with wealth and notoriety (leading the attractive cast are a very fine Katie Chang, Israel Broussard, and Emma Watson of Harry Potter fame, doing a delicious take on Valley Girl cadences). It's a decidedly less searching, poignant work than we're accustomed to from Coppola, never really enveloping you in its characters' moods or making you feel for them. Still, the director's touch is there, not just in the tale of pretty, privileged young people adrift—one of her pet themes—but also in the anthropological attention she brings to their expressions, mannerisms, and poses. The Bling Rings is filled with snappy dialogue and gorgeously choreographed sequences of night-club bacchanals, shopping sprees, and, of course, the burglaries. Coppola uses slow-mo and a soundtrack full of pop and hip-hop hits to give the film a kinetic force, even if it doesn't cut very deep or go very far.
Read the full review here
The Immigrant
James Gray's most ambitious film yet isa costume drama set in early 1920s New York, in which a Polish immigrant (Marion Cotillard, subtle and affecting) is lured into prostitution by a Jewish cabaret director (Joaquin Phoenix) and tentatively romanced by his magician cousin (Jeremy Renner). The movie goes to the roots of themes that have always fascinated Gray: the grimy underside of the melting pot, and the ways that the dogged pursuit of the American dream can pull individuals toward excruciating choices with dire consequences. The result is a solid, subdued, old-fashioned melodrama, with a pleasingly ripe musical score and scenes full of big emotions performed at a hushed pitch. If The Immigrant is never quite gripping, it's because its characters are a bit thinly imagined, and their relationships with one another slightly programmatic; there are few of the shivers of ambiguity that made his last film, Two Lovers, such a gorgeous puzzle. Still, Gray is one of the few American filmmakers who can pull this kind of thing off; the film never slips into period-piece pompousness, the director drawing you into a menacing, sepia-toned Lower East Side teeming with recent immigrants being swindled by those who've assimilated. There are alsostirring sequences throughout—notably an opera performance for new arrivals at Ellis Island and a splendidly shot chase scene in which Cotillard and Phoenix rush through a dark tunnel, sunlight darting on and off their bodies.
Read the full review here