Here Comes Honey Boo Boo Is a Fabulous Cultural Ambassador for America
The much-maligned TLC series that recently premiered in the UK is revolutionary for its depiction of happy, unpretentious Americans handling widespread American problems.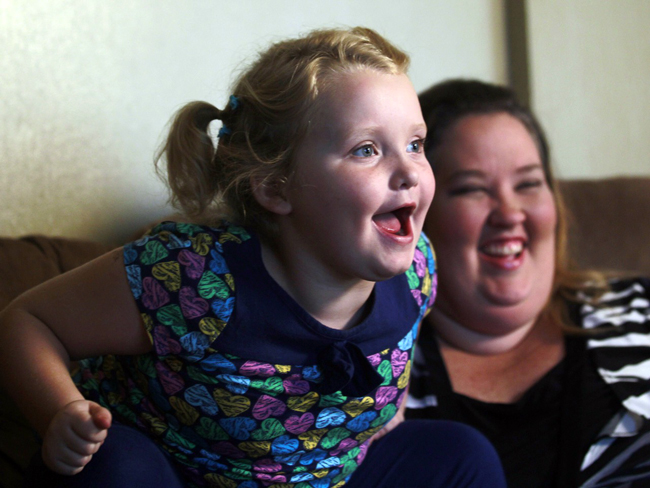 TLC
Ever wonder how Glitzy the Pig would get on in Britain?
Here Comes Honey Boo Boo recently debuted there to unsurprising critical snark. The series, about seven-year-old aspiring beauty queen Alana and her freewheeling middle Georgia family, "disssassified" the Independent, who rebuked the "declasse" clan's grammar and perceived dental hygiene, christening The Learning Channel (TLC) where the show appears a "feed-pipe for low-brow reality swill."
The vitriol echoed much of what was flung at the show by America's television opiners when it debuted here last year. Here Comes Honey Boo Boo is "transparently heinous" and "soul-scarring" and "dehumanizing," some groused. It is "incremental tearing down of the social fabric," not to mention "salacious, exploitative and celebratory of violent, abusive and predatory behavior."
Given all that, out of the TV shows to send to the mother country, surely this one could be skipped? I'd argue just the opposite: This is exactly the kind of cultural product America should be exporting.
Yes, the way producers construct the show implores its audience to laugh and cringe at the Thompson/Shannon family's life: hoarding toiletries, renaming foods with fewer syllables (spaghetti = sketti), and mud bathing at the annual Redneck Games. Mama June, Alana, and her three older sisters, Chubs, Pumpkin and Chickadee, reside in a small house beside railroad tracks where they clip coupons, rehearse pageant routines and occasionally voyage to Macon, the "big city"—where I grew up—to shop and dine. Cameras fixate on shooting the women from unflattering angles; sound effects repeatedly magnify their farts and burps.
But if the show were only about bodily functions and beauty pageants, audiences would partake briefly, then speed past to other empty-calorie fare. Rather, the program—which averaged some 2.4 million viewers per episode, and is renewed for a second season beginning in July—features among the most real, relatable, unpretentious Americans on television. Viewers return because at its heart, here is a loving, American family that adheres to its own standards. In the words of Mama June: "You like us or you don't like... we just don't care."
That spirit is refreshing, even radical, in the universe of reality TV. The Thompson/Shannons are the anti-Kardashians—an unprivileged and guileless family that gets along. Their antics offer a counterweight to the jealousy, striving, and backstabbing of the Housewives. And they defy the tropes assigned to their many female reality-show peers: the slut, the fame-seeker, the betrayer.
What's more, the show depicts and humanizes a national reality that too often gets ignored on TV. For many Americans, poverty, obesity, teen pregnancy, and unemployment are facts of life, just as they are for the Thompson/Shannons. Mama June's couponing prowess allows her to feed the family on $80 per week. She and her girls diet and discuss their fight to lose weight on the show. Chickadee is among the teens who make up the one-fifth of all unplanned pregnancies in the U.S., and the show's season finale featured the birth of her own daughter. Despite all this, they seem genuinely happy. They're not in denial of their problems, but they're not defined by them, either. Of course, this is what's behind many of the attacks on them. As Megan Carpentier wrote in The Guardian, "[T]he Thompsons don't aspire to those mannerisms or those beauty standards yet so many people find it shocking that they love each other and themselves."
To be disgusted by all of this is to be disgusted by a population that's often marginalized and belittled in pop culture. As Tracie Egan Morrissey put it in The New York Times, while reality television shows "may not depict an America that you like, they are part of an America that exists." Debasing the American South as a backwater filled with drawling troglodytes is still perfectly acceptable prejudice in swaths of this country, even as Southern culture gets appropriated by elites more than ever. Mama June gets mocked for serving pork culled from a whole pig at her wedding... while tail-to-snout eating and pricey butchering courses proliferate from Portland to Brooklyn. Bathe in mud at the South Georgia Redneck Games like Honey Boo Boo and company do, and its laughable. Do it in Napa Valley, and it's a restorative spa treatment costing nearly $100.
With a $50,000 per-episode take—Alana herself is reportedly worth $300,000—the family is hardly poor anymore, much to the chagrin of the Hollywood Reporter writer who called them "annoying" because "they've taken the power we had over them—laughing at their pathetic lives—and are turning it into cash."
The real power of the Thompson/Shannons is that they aspire to no ideal but their own. Mama June refused a professional manager because she thought that hiring one would detract from her time with her family. She won't agree to appearances or show-related decisions without her daughters' say-so. Giving back is a family priority: They blanket their yard in Christmas decorations or wash cars to raise funds for local charities, and did so before their wealth or fame. There's nothing more Southern than the proper thank-you note, and Alana's family-run Facebook page is a live online diary of them, featuring dozens of photos of Alana wearing bows sent to her by fans across the country.
These are appropriate heroes for a country struggling out of a recession—certainly a better standard-bearer than other reality-TV families who aggressively pursue money, beauty, and fame. Mama June likes to say that she and her girls represent nobody—not Georgians, Southerners, or anybody else—but themselves. Luckily for us, she's wrong.