Every week for the third season of HBO's fantasy series
Game of Thrones
, our roundtable of
Ross Douthat
(columnist,
The New York Times
),
Spencer Kornhaber
(entertainment editor, TheAtlantic.com), and
Christopher Orr
(senior editor and film critic,
The Atlantic
) will discuss the latest happenings in Westeros.
---
Related Story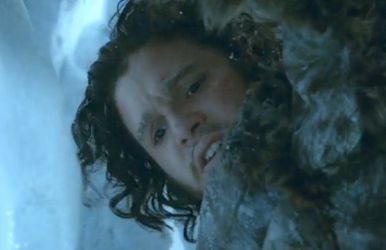 Orr: Last week, I applauded how nicely showrunners David Benioff and D. B. Weiss were putting their own mark on George R. R. Martin's source material. This week, alas, I'm forced to contemplate the flip side of that coin.
The pace of Game of Thrones, episode to episode, continues to be perplexing. Two weeks ago we received an installment crammed thick with developments and hewing very closely to Martin's books. Last week and this week, by contrast, the show has slowed to a crawl and repeatedly veered in non-canonical directions. The difference is that last week's episode was good (among the best, in my assessment), and this week's, "The Bear and the Maiden Fair," was probably the worst of the season so far.
Let's begin with the obvious: the titillation and (presumed) mutilation of Theon Greyjoy. Last week, Ross, you noted that all too often when Benioff and Weiss insert their own material it tends toward exploitation, and they could hardly have proven your point more emphatically than they did with this scene. Nameless female extras show up and immediately disrobe, arouse Theon with a combination of anatomical flattery and straightforward friction, and then—toooot!—in a twist sure to surprise no one (least of all Theon), Mad Mr. "Have You Guessed My Name Yet?" shows up with a silly horn and a wicked blade, like the infernal offspring of Harpo Marx and Jack the Ripper.