When Baseball Was a Whole Different Ballgame
A recording from 1939 captures the tumultuous eight-inning career of a 33-year-old rookie pitcher playing a crueler, simpler sport than the one we know today.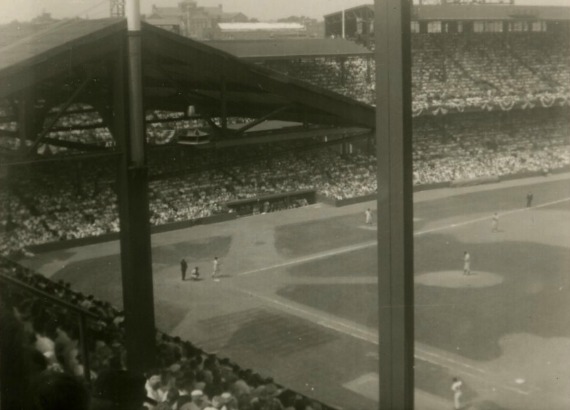 On Thursday, September 21st, 1939, Washington, D.C.'s WJSV decided to record an entire day of broadcasting. They captured a major address by President Roosevelt, as well as Aunt Jenny's Real Life Stories, the Ask-It Basket, and 30 minutes of a performance by New Orleans Jazz great Louis Prima. And they preserved the last five innings of a baseball game at Washington's Griffith Stadium, whose former site is now occupied by Howard University Hospital, played between the first iteration of the Washington Senators (a dismal 63-83 at the time), who are now the Minnesota Twins, and the Cleveland Indians.
Heard today, the voices in this broadcast originate on the other side of an unbridgeable distance of time and culture. But they speak a language that present-day baseball fans can nevertheless recognize. I've encountered no other cultural artifact that makes the game's history seem more jarringly immediate or real. And I've found few others that so clearly rebut the nostalgia and idealization that dominates American society's engagement with the game's past.
This partly rests on the fact that this is a normal contest, similar to thousands of games that will be played over this forthcoming season—routine, insignificant, monotonous, and of only the most abstract historical import. I have been to dozens of games like this: lopsided late-season afternoons spent between teams with nothing to play for in ballparks barely a quarter full, where hopes of a no-hitter or a 10-RBI performance have long since evaporated. At a game like this, the otherwise unengaged mind starts to hunt for quantum-level dramas that could give some meaning to the whole: things like the resigned sense of duty that spurs a slumping and zoned-out manager to argue a late-inning call, or the September parade of anonymous minor league strivers, or just the slow encroachment of the early-autumn shadows.
To listen to this game is to be seized by the timelessness of that late-season ennui, an experience far more common to baseball fans than the high of a pennant or a World Series victory. There have been only a handful of truly classic games, but their status rests on tens of thousands of unremarkable ones. So it was on that September afternoon: the crowd is small and passive, the players are mostly—although not entirely—mediocrities or outright obscurities. The pitches hit the catcher's mitt with a melancholy thump that seems to mark the passage of empty time. Above all, play-by-play men Harry McTigue and Walter Johnson—as in pitching colossus Walter Johnson, clearly limping towards the end of his first and only season as the Sens lead radio broadcaster—just don't seem to care that much about what they're watching.*
But that doesn't mean this game is uninteresting. Within it exists the entirety of a short but remarkable major-league career—a drama that is forgettable within the awesome scope of baseball history, but more revealing of the game, its history, and even its meaning than a thousand, better-remembered moments.
***
The live broadcast begins in the middle of the fourth inning; for whatever reason, WJSV couldn't be bothered to air the entire game. Those who sat through Scattergood Baines in anticipation of the coming Sens matchup suddenly found themselves in the midst of a nail-biter. "This has developed into a pitchers' battle out there so far," says the grandfatherly sounding yet only 32-year-old McTigue, explaining that it's a scoreless game with only a single hit on either team's ledger.* "This is ladies day out here. Quite a few of the fairer sex out," adds Johnson, who, along with Cleveland's Lou Boudreau and Bob Feller, and Washington manager Bucky Harris, was one of four eventual Hall of Famers at the ballpark.
Johnson is not a great broadcaster. He has a strained, drawling delivery, and when something exciting happens his speech accelerates rather than amplifies, resembling the rushed and unintelligible patter of a cattle auctioneer. But he is the greatest player in Senators history, and Bill James's pick for greatest pitcher of all time, as of the 2000 edition of his Historical Baseball Abstract. Seven decades later, every word he utters still seems imbued with God-like authority.
Between the fourth and fifth inning, the Big Train began ruminating on the Sens starting pitcher, a 33-year-old rookie named Dick Bass, who, as of 2002, was the oldest starting pitcher since 1900 only to have appeared in a single major league game—this one. He was not a striver, but a toiler. According to a biographical essay by Bob Boynton, a baseball writer and researcher who unearthed the broadcast recording in 1989, "Bass pitched for eight different teams in fourteen minor league seasons and compiled a record distinguished primarily for durability."
According to Boynton, Bass once pitched an entire 21-inning game in college. He bounced from farm system to independent league team to Spring Training invite, to a series of odd jobs as a bowling alley manager and aluminum alloy purchasing agent. It is impossible to know how the tribulations of this game affected the rest of his eventually 82-year-long life—whether his eight innings on the mound at Griffith Stadium haunted or encouraged him, and whether, later in life, he felt that this one game had vindicated his lengthy and itinerant career. In any case, the pinnacle of his life in baseball—the momentary fulfillment of a dream that he had struggled towards for well over a decade—is preserved in what Boynton notes is one of only four baseball radio broadcasts from the 1930s for which a recording exists.
"Bass, the boy just up from [minor league team] Chattanooga," Johnson begins. "Bass mixes them up pretty well down there, has a fairly good fastball, he's supposed to have a good knuckler. Looks like he has a pretty fair curve. He's just been a little bit wild, but apparently he has something on that ball. He's had 3 and 2 on most of the batters, and usually when they get a pitcher where he's got to come down in there to them, they get a hold of that ball. But they're hitting a little bit late."
***
The first batter of the Cleveland fifth is Lou Boudreau, a 22-year-old who would eventually have eight all-star appearances, an American League MVP award, a World Series victory, and a plaque in the Hall of Fame on his resume. Bass follows a deadeye curve ball with a low knuckler. A pitch later, the young shortstop has grounded out. Bass soon finishes the first three-up, three-down major league inning of his career, and he's earned something even greater than a recorded out against a future legend: He gets words of actual praise from the Big Train himself, preserved for all time.
"Young Bass has showed us a little of everything out there," says Johnson, clearly unaware of the righty's age. But, he warns: "Usually those pitchers who fool around with the knuckle ball, it's just about like those spitball pitchers used to be [the spitter was banned in 1920]. There were a few real outstanding spitball pitchers and a lot of the other boys were trying to throw that spitter, and they'd get in trouble every once in a while and attempt to come in there with a spitter. There wouldn't be anything on it and somebody would frag it on him." Then again: "He's showed us a good knuckler, a fairly good fastball. Anyway, those Cleveland Indians haven't done a whole lot at the plate."
Bass leads off the top of the sixth, and the tiny crowd is immediately shaken from its game-long stupor; the hero's welcome that Bass receives disrupts a game-long din of murmurs and catcalls. McTigue mentions that he's rather an attractive man as the righty tips his hat to the crowd. "He's getting a nice hand from these ladies," says the Big Train. He grounds out.
Boudreau gets a hit for the Indians in the seventh. "Boudreau was in the International League at Buffalo," Johnson notes. "Looks like a pretty good ballplayer."
In the bottom of the inning, the Sens' Charlie Gelbert hits an inside-the-park home run, thanks to the Indians' Roy Weatherly slamming his head into a concrete barrier near the box seats along the power alley in left field. According to a news article about the game that Boynton quotes, Weatherly was knocked out cold. As the outfielder lies keeled over in pain, the entire Indians bullpen and dugout rush the home plate umpire, arguing that the ball had bounced off of Weatherly's glove and over the wall, which would have been a "two-base hit," as McTigue terms it, under the park's ground rules. Weatherly eventually makes it back to his feet, but he isn't pulled from the game, which would be a certainty in a more concussion-conscious time. And McTigue notes that he doesn't speak with the umpires as he ambles off the field at the end of the inning, at which point the Sens lead 2-0. "That's a case of Wheaties for Charlie Gelbert!" McTigue says.
This cool treatment of a nearly maimed Weatherly highlights the broadcasters' aforementioned lack of interest in the game or the people playing it. In the broadcast booth, there aren't even scraps of discussion about batting averages or streaks or recent play or injury history or personal history, nothing to give any real depth or feeling to the game and its participants, aside from the spare facts of the action on the field. Either broadcasters didn't do their homework back then, or the popular approach to the sport was significantly less cerebral than it is today—there was no expectation of the game being discussed on anything but the most rudimentary level, no appetite for the kind of obsessive quantitative or emotional detail that modern-day fans expect. Perhaps not coincidentally, this was a static era for baseball: As James writes in the Abstract, "there is probably no other decade in the history of the sport in which the game changed as little as it did as between 1929 and 1939."
As the 8th began, Bass had a two-run lead and a three-hit shutout. He had impressed the man then considered to be the greatest pitcher in history, and dismissed a future Hall of Famer. He even recorded a single big league strikeout. But he was down to his final inning, as the Sens would suffer the kind of rapid self-destruction common among defeated teams sleepwalking their way through the closing days of a failed season—and Bass would fall victim to the superficiality of contemporary attitudes towards the game.
In the eighth, an addled Weatherly singles on the opening toss; center fielder Ben Chapman "hits the ball hard into third base" on the very next pitch. Sammy Hale singles, making it 2-1. It's obvious what's happening: The Cleveland lineup, which has been grounding out on knuckleballs and curves all afternoon, has finally figured out how to hit an exhausted Bass, who Boynton estimates has thrown nearly 100 pitches at this point. In today's game, a starting pitcher has more than done his job if he can record 21 outs while yielding a single run; it's irrelevant if the opposition has realized how to hit off of him, because they'd be facing a fresher arm at this point in the game anyway. Bass's doom is painfully apparent, and the decision to leave him in counts as severe baseball malpractice, as well as the death-knell of a player who would never get a second chance.
Of course this all goes unmentioned. The name of Sens manager Bucky Harris doesn't cross the lips of either broadcaster in the course of that disastrous inning, and the manager makes no trips to the mound. There's occasional word of a pitcher warming up in the bullpen. But it's clear that no one is coming to help Bass.
He beans right-fielder Campbell in the foot, loading the bases. Third baseman Ken Keltner hits one hard off the wall. There's still no one coming to help Bass. For reasons of custom or inertia or expectation or Bucky Harris falling asleep in the dugout, the inning is Bass's responsibility and no one else's.
The pitcher hits a sacrifice RBI to first. The Indians bat around. The score is 6-2 by the time the eighth is over. "Shadows extending over the field," Johnson says.
***
The fans at Griffith Stadium were witnessing a far crueler game, played in a far crueler time. There were no black players on the diamond that day; baseball wouldn't be integrated for another seven years. Replacement-level white players owed their job security to the racism of the day, but they were hardly people we should envy: As Bill James writes, the legendary General Manager Branch Rickey boasted of "[offering] mill hands, plowboys, high school kids a better way of life," as if there were no other route—the education system, for instance—to prosperity or social mobility for them. Bucky Harris, James's 70th greatest second baseman of all time, was a failed minor leaguer headed for a life mining coal in Pittson, Pennsylvania before he broke into the big leagues on a bizarre quirk of luck (he mistook a minor league manager's letter to his brother, also a second baseman, as being for him—and made the team anyway). Several players in this particular game—including Sens center fielder Elmer Gedeon, who was killed in France in 1944—would have their lives and careers interrupted or outright ruined by World War II.
Memory is the fourth dimension of the game, as Washington Post columnist Tom Boswell once wrote. Maybe it is the future that is the game's real fourth dimension: the hope of better and more successful seasons, a better sport, and, perhaps, a better world.
---
* This post originally misspelled Harry McTigue's name and described him as "grandfatherly" without mentioning his actual age. We regret the errors.