What Willie Nelson Understands About Country: Deep Down, It's Like Jazz
The 80-year-old's latest album, Let's Just Face the Music and Dance, showcases Nelson's prodigious familiarity with the inter-mingled ancestries of country, jazz, swing, and pop.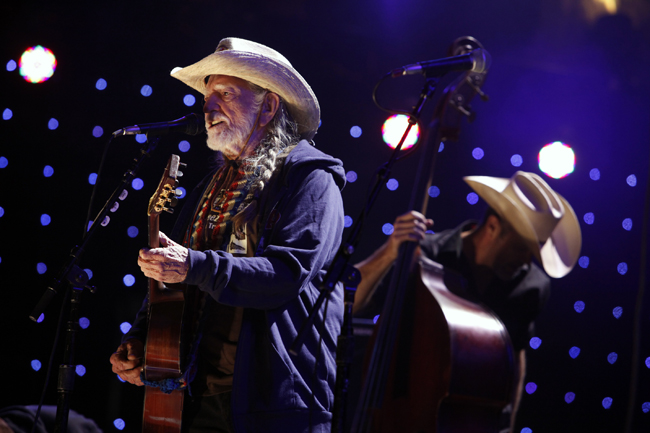 AP / Jacqueline Larma
Willie Nelson's Let's Face the Music and Dance is an exercise in nostalgia two or three times over.
In the first place, the collection of oldies and standards harks back to perhaps Nelson's most famous album: 1978's Stardust, an assortment of pop and jazz tunes produced by Booker T. Jones. That album broke with Nelson's rock outlaw-country image and shocked Columbia executives by selling like hotcakes.
Stardust itself was deliberately and audaciously backwards looking. First, it featured chestnuts like "September Song" and "Georgia on My Mind." But perhaps even more tellingly, it, like Let's Face the Music and Dance, followed in a long country tradition of borrowings from pop and jazz.
Country has always been willing, and even eager, to point to its links with blues and, more recently, rock—pop and jazz have a lower profile. But, historically, they have been every bit as important. Western Swing, one of the most popular country styles of the '30s and '40s, was swing-band jazz with string-band instrumentation. Its most famous proponent, Bob Wills and the Texas Playboys, would cover Ellington and Basie along with folk tunes and blues and rags. Louis Armstrong recorded with country star Jimmie Rodgers in the 1920s; Tennessee Ernie Ford recorded with the great pop singer (and one of Lester Young's favorites) Kay Starr in the 1950s. Merle Haggard was a huge fan of Bing Crosby—and of course Crosby himself wasn't above covering the odd country song, such as Al Dexter's "Pistol Packin' Mama."
Looking at individual collaborations or influences, though, can somewhat miss the main point. That point being that, for decades, country and pop and jazz and blues simply weren't all that separate from one another. The genres were distinguished as much by demographics as by any real musical difference. Country star Tennessee Ernie Ford's style and repertoire, for example, were all but indistinguishable from those of pop star Frankie Lane. Ford was simply marketed to a (marginally, theoretically) more rural audience.
In fact, over time, it often seems like the marketing categories created the style, rather than the other way around. Charlie Parker, for example, is supposed to have admired Bob Wills's band—but the Playboys were country, so they almost never get cited or mentioned in histories of jazz (which is why you don't see more jazz steel guitarists, perhaps.) By the same token, Frank Sinatra isn't part of the history of country not because he wasn't imitated within the genre, but because country's demand for rural authenticity has pushed it towards other touchstones (like, somewhat counterintuitively, '80s hair metal).
But if country has left Sinatra, Willie hasn't. Nelson sounds like a jazz singer even when he's crooning folksy murder ballads or chugging rock anthems—but it takes an album like Let's Face the Music and Dance to really underline his debt to the songbook singers of the past. The Irving Berlin-penned title track sets up a swaying Latin beat just so Nelson can virtually ignore it. His voice—a little ragged and a little more quavery with every album—sounds almost like he's muttering to himself, the phrases rising and falling to his own breath rather than to anything happening in the musical backing. When he says, "Soon, we'll be without the moon, humming a different tune," the sing-songy rhymes come off as a casual wink at the past—and a declaration that effortless mastery, or the mastery of effortlessness, can change the oldest cliché into something new.
The rest of the album has that same confidence. "Vous et Moi," associated with Django Reinhardt, gets a shuffling beat added and a harmonica solo, and turns into a languid cowboy ode to the open range that could have been performed by the Sons of the Pioneers. On Carl Perkins's itchy "Matchbox," Nelson speeds up his diction, and the result is (surely intentionally) comical. He sounds like he can't quite keep up, the syllables piling on one another as he tries to reach the end of the phrase before the music does. It's a charming love letter from a terminally laid-back, aging performer to the rockabilly genre obsessed with jittery energy and youth. "Eh, you whippersnappers with your newfangled notions! I'll getcha! Just you wait!" Nelson seems to say, and so he does—showing that you need to be old before you really know how funny, and how cool, it is to be young.
Country's always had an odd relationship with time and age. On the one hand, it venerates the rural past. On the other, that veneration often seems to erase the memory it claims to honor—as if to move forward the genre has to pretend it's not moving forward, stomping out its own past in order to convince everyone that it's still being true to tradition. Nelson, though, is still facing the music that brung him, and dancing with it. The result is that, at 80, he's come out with yet another album that's weird, and new, and old, and beautiful.