The Surprisingly Serious Quest to Make Muggle Quidditch a Real Sport
At this weekend's Quidditch World Cup VI, more than 1,500 players will unite to play the semi-ridiculous Harry Potter-inspired game and support its effort to be recognized.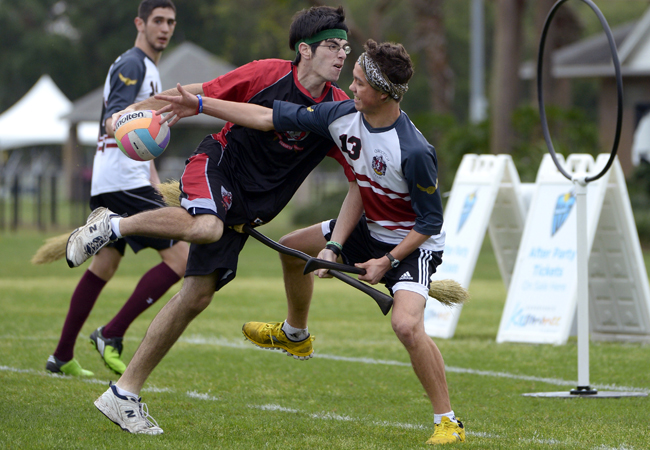 "I've had my shoulder thrown out from an illegal tackle. I've had my lips busted open more times than I can count. I had a concussion earlier this year and I spent my first week of senior year with a black eye from a broomstick... It's certainly not for the faint of heart."
Amanda Dallas, a student at New York University, isn't talking about rugby or dodgeball or even high-risk housekeeping. She's talking about Quidditch, the sport of choice for wizards and witches in J.K. Rowling's Harry Potter books.
Dallas recounted her history of Quidditch-related injuries on the way to Kissimmee, Florida, where she'll compete this weekend with her college intramural team, the NYU Nundu, in the Muggle Quidditch World Cup VI, the highlight of the Muggle Quidditch year. She, like an estimated 1,500 other college-age players along with 12,000 spectators from around the world, will descend upon Kissimmee with broomsticks and gusto, ready for the sixth installment of the magical athletic tournament.
In the fictional boy-wizard bildungsroman, Quidditch is described as "an extremely rough but very popular semi-contact sport, played by wizards and witches around the world." In the muggle (or non-magical) realm, Quidditch has strived to stay close to its fictional conception. Athletes play the game with one hand firmly gripping a broomstick, itself comfortably nested between the player's legs.
Most of the novelized characteristics of the game have stayed intact: There are seven people per team, three elevated hoops that act as goalposts, quaffles (volleyball-like balls, thrown through the hoops to score points), bludgers (kickball-like balls used to hit opponents with), and, of course, a golden snitch. In J.K. Rowling's original, the snitch was a tiny self-propelled golden ball with wings that darted around until a team's "seeker" captured it, thus ending the game. But in Muggle Quidditch, the snitch is a person, dressed in yellow, who has a tennis-ball tail. To end the game in real-world terms means to capture the snitch's tail.
Quidditch is more than a whimsical expression of fandom, though. It's an amalgam of different sports, from dodgeball to basketball to rugby and more, with more than 700 rules laid out in a 172-page manual. Hundreds of teams have popped up across the globe, 300 of which are officially-recognized members of the governing body, the International Quidditch Association. Thousands of college-age plus students clamber to participate. And many of those participants would like to see the game, which has only been around since 2005, achieve some sort of legitimacy as a sport in its own right.
So the players who show up for World Cup VI take Quidditch very seriously. Will the rest of the world ever do so as well?
October 9, 2005 has gone down in Quidditch lore as the day of the first official Muggle Quidditch match, held by a student named Xander Manshel started on a field at Middlebury College.
"For him, and I guess for us, it was a fun experiment to try," said Alex Benepe, the current president, CEO and commissioner of the International Quidditch Association and de facto godfather of Muggle Quidditch. "But it was addicting to some."
Benepe lives for Quidditch. Asked how many hours a day he dedicated to it, he didn't hesitate: "all day long—as soon as I wake up to when I go to bed." He's helped grow the sport in the past seven and half years through the creation of an official governing body, the International Quidditch Association, a 501c(3) "magical nonprofit dedicated to promoting the sport of Quidditch and inspiring young people to lead physically active and socially engaged lives."
There are six people on the IQA core executive board, including Benepe. Below are several tiers of domestic and international leaders, organized by region, country and continent: six US regional reps, 42 US state reps, and nine international reps all tasked with representing the IQA for the hundreds of teams within their region. The IQA works year-round, gearing up regional tournaments, guiding teams, organizing social and philanthropic events and most importantly, the annual World Cup. And because the IQA is nonprofit, everyone works for free.
Though he has big goals for the sport, Benepe seems to understand the challenge of having a purely volunteer-based organization, and for that matter, of being at the helm of an organization that has yet to turn a significant profit, the quest for legitimacy's biggest obstacle.
"The league is starving," said Benepe. "It's like a plant—I love metaphors—it's like a plant that needs to be transplanted to a new pot. And it needs money. You can't just do that magically. It can happen organically but organic growth is long and slow... Anything that is truly viral and sustainable has money."
IQA events are indeed expensive to run. World Cup V in November 2011 cost around $200,000, money the IQA barely managed to make back through ticket sales and merchandising ventures—the league's main source of revenue. Benepe is expecting World Cup VI to cost significantly less since it moved out of New York.
The first Quidditch World Cup took place in 2005, and featured 10 intramural teams from Middlebury College. Five years later for World Cup IV, the sport had expanded with more than 46 college and high school teams competing on New York City fields with what some estimate was 15,000 spectators and media outlets watching. 2011's World Cup VI saw 96 teams competing over a two-day tournament, with teams traveling all the way from New Zealand to compete.
"This past year, Quidditch has decisively made the jump from game to sport," said Benepe over the phone from Kissimmee, where he is overseeing the final touches. "We were sort of on the fence last year, in our aim to legitimize the sport, but we've stepped up our game since."
The IQA has made many changes over the last year to in the quest for legitimacy: Its now charging higher fees per team registration, to cull the less competitively ambitious teams and to allow the organization to offer better services. The sport has also started referee certification programs, as well as Snitch Academy courses to train and certify snitches. And while the game has held onto its college demographic, community (non-college affiliated) teams have formed in many cities in the world.
"The players also treat it as a sport rather than a game," said Benepe. "They're playing harder, better, smoother, and are investing in their teams and playing at a much higher level."
But injuries are also a very real aspect of the sport, and have made many question violence as a necessary part of the game. Players can expect to be hit by fast-traveling balls or opposing players, tackled or wrestled. There is a lot of falling and diving, as well as the occasional accidental collision.
"I live in constant fear that someone's going to die," said Benepe, only half-jokingly. "It could happen. It's not that hard."
"I would say it's a dangerous sport," Dallas said. "But Quidditch is an insanely athletic." She explains that the majority of players on her team come from athletic background: basketball players, swimmers, track stars. "There' a reason rosters are made of 21 people even though only seven are on the pitch at a time," she said. "You're constantly running, jumping, dodging, throwing, all essentially with one hand because you have to hold up a broomstick."
Aside from the increasing public awareness, businesses are now realizing Quidditch's potential for revenue generation. In January 2013, a game was broadcast on Toledo, Ohio cable-TV station BCSN, making Quidditch history.* When the IQA put the call out for American cities to host the World Cup, it got a large number of responses.
"We had to put in a competitive bid to host the World Cup," said Shelley Maccini, executive director of Experience Kissimmee, a destination marketing firm charged with boosting Kissimmee's tourism and the IQA's official partner in hosting World Cup VI. "Kissimmee hosts a lot of events, a lot of 'normal' sporting events, but we were looking to expand into non-traditional sports, especially those we see as having real growth potential, like Quidditch."
Experience Kissimmee clearly considers the investment in Quidditch worthwhile. It's providing cash sponsorship for the event and donating facilities including their massive sports complex, as well as services, free of charge.
"The main draw for us is obviously visitors," Maccini said. "We have a great demographic for Quidditch in the area, what with colleges nearby and the Harry Potter theme park down the road... But this event is expecting 12,000 visitors as well as 1,500 participants. This is becoming a real sport and we're excited to get at it from the start."
Harry Potter is the best-selling book series in history with more than 450 million copies sold in more than 67 languages. The series' popularity was expanded through the eight Warner Brothers films released in the past decade. The books, films and related merchandise have seen the Harry Potter brand valued at more than $15 billion. Warner Bros. still owns the copyright on the word "Quidditch."
College-age students from 2005-onwards fall neatly into the Harry Potter-generation, who, now grown, retain a fondness for the novels and films. It's an ardent nostalgia, but one that has pushed an armada of post-teens to take up broomsticks and reconnect with a youthful fancy they might have lost.
But despite that spirit, many involved in Quidditch talk about a dividing line, separating "sporting enthusiasts" from "Harry Potter-lifestyle enthusiasts." More simply put, jocks vs. nerds. There is a camp of Quidditch players who would rather phase out some of the more eccentric Potter-flavored rules, to legitimize the sport even further. But Benepe is opposed to this. He suspects that if you do away with the broomsticks and the magic, then you do away with the very ridiculousness of the game that the more marginal participant base wants and expects. That ridiculous quality has allowed the sport to flourish, but it could be its biggest downfall.
"Quidditch is successful because it's unique and if it becomes too much like other sports, I'm not sure that it would continue to be popular," Benepe said. "Is the game powerful because it [has] a fringe audience? And when it loses that fringe audience, will it still be cool?"
"It's sort of a back-and-forth within the Quidditch community," said Matthew Ziff, a member of the University of Miami's Quidditch team, this year's favorite for the gold. "There's a big separation between those who want the whimsical and those who want the sports."
But regardless of this potential divide in Quidditch culture, "I haven't encountered anyone in Quidditch, whether athletes or Harry Potterists, who doesn't want the sport to be legitimized," said Maxwell Parks, a sophomore at the University of Texas, and the head of the Snitch Academy. "I don't want our legitimacy to come at the expense of what makes us unique as a sport."
Although the mantra repeated by Benepe is that Quidditch is poised to enter the mainstream, the charm it exudes and the appeal it holds come directly from its position of marginality, which may affect the sport's ability to appeal across the board.
"I'm passionate about Quidditch, I am," Benepe said. "There's a lot of hurdles in front of us, in terms of monetizing the sport and going into the mainstream but there's too much potential to give up on it... I've learned never to count on anything in life, so I'm not assuming it's going to be successful. But if I didn't try my very best, I would spend the rest of my life wondering what if? What if I had just tried a little harder? But if it doesn't work out... I don't know what I'll do after that."
---
* This article originally stated that BCSN is a Boston network. We regret the error.