The Enduring Lesson of Michigan's Fab Five: Winning Really Isn't Everything
When the revered starters from Michigan's 1992 and 1993 national runner-up teams showed up at this year's title game, they provided a timely reminder that championship wins aren't the only measure of greatness.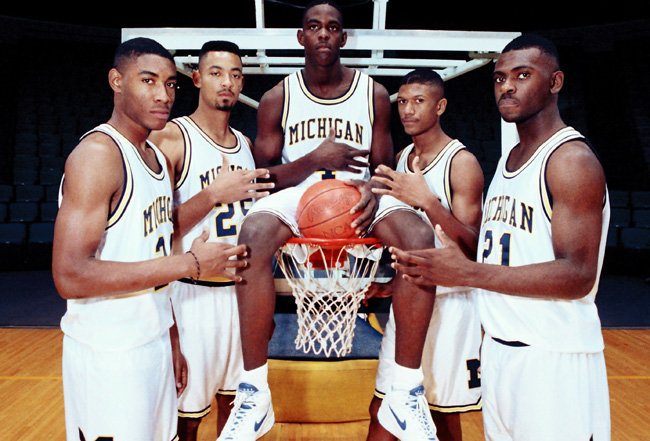 AP
Some years back, Vince Lombardi, legendary coach of the Green Bay Packers, is reported to have said "Winning isn't everything; it's the only thing." He may have cribbed the sentiment from a UCLA football coach of lesser repute, but Lombardi's words, which reflect the no-nonsense, substance-over-style mentality typically associated with old, white coaches from bygone eras, have since been codified as gospel.
In our sports culture, you're either a winner or you're not. Take home a championship, and in the immediate aftermath sportswriters will spare no effort eulogizing your accomplishments and turning your back story into a narrative worthy of Hollywood. Come up just inches short, and the first line of your CV will always make mention of your lack of titles. Just ask Charles Barkley, or until last year, LeBron James.
But in some respects, Lombardi may have been half-right, though not in the way he (probably) intended. Winning, as it turns out, may not be everything—not within the context of creating a legacy that outlasts your time spent in the arena. Consider Monday's NCAA Men's National Championship. Two good teams played a great game, and a significant number of pundits working within the sports media industrial complex immediately labeled it a classic. While I find myself agreeing with that assessment, I don't think the winning team, the Louisville Cardinals, achieved "everything." There have been a lot of classic NCAA championship games in the past 20 years, but the sad truth is most of the participating teams are largely forgotten, one thread in the tapestry of past champions, one brief clip on a retrospective edition of "One Shining Moment." The 2012-13 Cardinals' legacy will only live on within the confines of Kentucky, but in 10 years, kids on playgrounds across the country aren't going to be talking about Peyton Siva. After all, when was the last time you heard someone reference the 1999 Connecticut Huskies and Khalid El-Amin in casual conversation?
What made Monday's championship game especially ironic in terms of legacy and winning is that in the stands of the Georgia Dome sat the five members of the most influential and oft-remembered college basketball team of the past 25 years. Chris Webber, Jalen Rose, Jimmy King, Juwan Howard, and Ray "Don't forget about me" Jackson, the members of Michigan's famed Fab Five squad, staged an impromptu reunion within the sea of fans wearing the maize and blue. They watched their alma mater lose the same title game they lost for a second straight time 20 years ago, but unlike this year's championship game participants, the Fab Five's legacy will live on forever, in spite of the fact that they never won a thing.
In this respect, the Fab Five are something of an anomaly, a team whose achievements are far greater than those of the championship winning teams from that era of college basketball. They were a cultural phenomenon, a group of young men whose novel style of dress (black shoes, black socks), on-court bravado, and exciting style of play made them bigger than the game. Though it's been well documented in recent years, it bears repeating: The 1991-93 University of Michigan men's basketball team achieved a cultural relevance that approached the likes of professional athletes and proven champions like Michael Jordan and Magic Johnson. That's no small feat, and the Fab Five achieved it not by winning but by playing the game and comporting themselves in a manner that was invigorating and fresh. They were trailblazers, and that's why they will always be remembered. Former UNC stars Eric Montross and Donald Williams can spend the rest of eternity dusting off their championship hats, but few young basketball players today know who they were or what they accomplished. That will never be the case with Webber and Rose.
This may not be news, but it feels important considering the current state of the NCAA, a state most intelligent people agree is corrupt and probably beyond repair. But the problems don't stop there. The endless verbal abuse these student-athletes are subjected to at visiting arenas and in practice (Rutgers coach Mike Rice is probably not the only Division I coach to demonstrate such loathsome behavior) are equally repugnant. One of the root causes of these problems is our sports culture's pervasive obsession with winning. Athletes, coaches and athletic directors are pressured to triumph at all costs every season, because they are led to believe that doing so is the only way to achieve glory within the realm of sports. This mentality pushes all participants to push the boundaries of acceptable behavior on a regular basis, and problems arise.
It's not worth it, and that oft-unspoken truth may be one key to breaking this cycle. It's time we all started recognizing that while winning at the collegiate level is a great accomplishment, it's far from the only thing worth celebrating. How the players play the game is as important as whether they win or lose. I'm not advocating for some sort of youth-sports model in which the score doesn't matter and all involved parties go home with a participation trophy, but people should start paying more respect to athletic accomplishments other than winning. Let's celebrate the innovators, the teams with a fresh sense of style and flair. Let's give more mind to teams like Florida Gulf Coast, not just because they pulled off a few upsets but because of the way they did it: with a sense of fun and a style all their own. Let's stop beginning every discussion of teams like Houston's Phi Slamma Jamma by mentioning their inability to win a national championship.
Not every team can be the Fab Five, and an athlete or team's relevance will always correlate with their talent. But 20 years after they failed to win on one of sports biggest stages, people are still talking about the Fab Five. That's worth remembering.