The College Basketball Victory That Seemed Too Good to Be True—and Was
In 1950, my alma mater, City College, pulled off a miracle: winning the NIT and NCAA championships. But when the team's cheating came to light, I learned a tough lesson.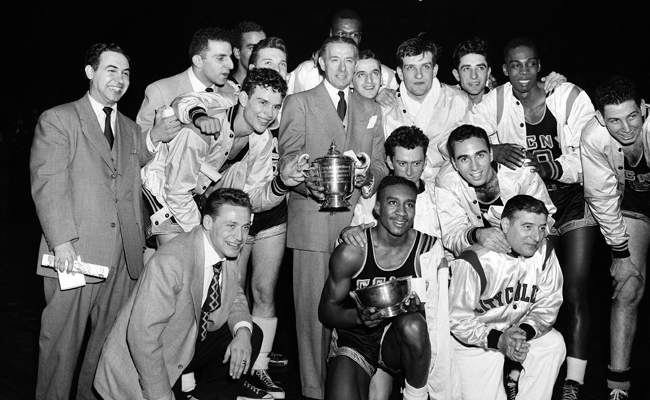 AP / Marty Lederhandler
For me and my brother, City College was one of God's greatest gifts. I enrolled in the college in February, 1948 and was graduated in June, 1951. It was a time of campus tumult, enormous intellectual growth, and a basketball scandal like no other in college history—all against the backdrop of a Cold War with the Soviet Union and a hot war in Korea.
One day, I knew, journalism as a career would call, and I'd happily respond. My brother, as always, had paved the way. He was by now a reporter for the New York Times, and he and a number of his friends had become my role models. When I knocked at the door of The Campus, the more traditional of the two newspapers at City College, I didn't know that I would be given the opportunity of a student's lifetime. I would soon be covering a story that made college basketball history in the spring of 1950: The City College team won both national tournaments, the National Collegiate Athletic Association (NCAA) and the National Invitational Tournament (NIT), a feat so exceptional no team had ever done it before, or since.
The glory, unfortunately, was short-lived. Less than a year later, seven of its players were arrested for shaving points as part of an illegal Mafia-run betting scheme. From their pinnacle of fame, they had fallen into a pit of shame, disgracing themselves and the college. It would take decades for City College to recover a modest measure of its former glory. City College was not alone. Other colleges with more luster shared its shame, discouraging many students from applying for admission and many donors from contributing to their future. For the rest of my life, this basketball scandal would taint my memory of what was otherwise a rich and rewarding college experience, and it also taught me important lessons in journalism helpful many decades later in my coverage of wars and political upheavals around the world.
At the time, the college had 16 varsity teams, none more celebrated than the basketball team, which was coached by the legendary Nat Holman. My first impression of "The Master," as he immodestly referred to himself, was that he acted like a British dandy. Even in warm-up garb and sneakers, Holman conveyed an air of elegance, a character out of Oscar Wilde, his dark hair speckled with gray, combed neatly, not a lock out of place; his hands, soft and unblemished, looked like those of a scholar, not a basketball coach. His accent was high Rooseveltian with broad a's and a broguish roll. Only occasionally, during an intense practice period, did it betray his humble roots. (He was born in New York in 1896, and his name, at birth, was Nathan Helmanowich.)
He rose to prominence at a time when the children of Jewish immigrants did not play football, tennis, or golf. Their game was basketball, which they played so often in playgrounds and neighborhood gyms that it was sometimes called "Jewish basketball." Anti-Semites found a pitiful pleasure in describing a Jewish player as "duplicitous" and "crafty" if he could shift swiftly from left to right while dribbling to the basket. Holman was already competing at age 12. He studied the game closely, concluding "the two most essential parts of basketball" were ball handling and movement, not brawn and size.
Molding a Champion
As Holman previewed the 1949-50 season, he knew he had a good team. He had a superb crop of freshmen, bursting with enthusiasm, and his returning veterans were led by Irwin Dambrot and Norm Mager, both outside shooting forwards capable of slipping into the center spot, disrupting the defense and changing the rhythm of the game.
Dambrot was a slender, graceful, 6'4" athlete, so proficient at both offense and defense that he was selected as a first-round draft pick by the professional New York Knicks. Holman once described Dambrot as "the greatest player I ever coached." But the "greatest player" wanted to be a dentist: rather than accept the Knicks' offer after his college career, he enrolled in the dental school at Columbia, a move that profoundly disappointed his coach. Mager was 6'5", so paper thin I often worried about his stamina and durability. Yet, on a basketball court, he proved to be an amazingly resilient athlete
Holman could rely on his seniors. Could he also rely on his sophomores?
Ed Roman was the tallest of his heralded freshmen, clearly destined to be Holman's new center, a position he had played skillfully at Taft High School. He stood 6'6" and weighed 220 pounds, but he did not look like an athlete. He looked more like a pear, his shoulders pinched forward, his hips broad, and his long arms dangling awkwardly at his sides. Yet on a basketball court, he was transformed, almost miraculously, into a beautiful athlete. He had a deadly accurate hook shot while in the pivot, an equally good one-handed shot from outside, and his defense against centers, who were usually taller, was remarkable.
Eddie Warner was another exceptional athlete, a graduate of DeWitt Clinton High School, where he often watched Dambrot at practice. He himself had been playing basketball in Harlem since he was 10. At 6'3" and, in his prime, weighing 215 pounds, he looked like an Olympic god. He moved with the easy grace of a Joe DiMaggio, showing so many dazzling, unexpected moves he often left defenders looking foolish. He could play center or forward, he could score, and his defensive skills were awesome. He was the best basketball player I'd ever seen. Years later, when I watched Michael Jordan soar to the top of the basketball world, I often thought about Eddie Warner. His potential was that big.
Al Roth, 6'4", 210 pounds, played at Erasmus High School in Brooklyn, where he led his team to a city championship in 1948. Though he was never a great shooter, nor especially quick, he knew how to pass, a skill that instantly caught Holman's attention. By the time he was 16, "I was eating, drinking and dreaming basketball." Holman penciled him in as one of the team's two starting guards.
The other was Floyd Layne, a graduate of Benjamin Franklin High School in Manhattan. Layne was a wiry 6'3" guard, a race-horse-swift defensive whiz who used his long arms like windmills to distract a shooter. He, like Roth, was not known for his shooting, though he could score, if necessary; he was the player who had the same task each game—to stop the opponent's best scorer from scoring.
By the time the '49-'50 season opened, Holman knew he had a winner. He didn't know he had a champ. The team easily demolished much of the opposition and finished the season with a 17-5 record, good enough for the National Invitation Tournament (NIT) to offer City College its 12th and final invitation to March Madness. Bradley and Kentucky were both favored to win the championship.
City's first opponent was St. Francisco, the NIT's defending champion. Bookies figured the game was a toss-up, but it was a blow-out, City coasting to a 65-46 win. City's next game was against Kentucky, a prohibitive favorite, and it was here, I thought, that City's season would end. Kentucky players, all white and all-American, strutted into town, cocky and confident. Their coach, Adolph Rupp, arrogant, successful and wealthy, nicknamed the Blue Grass Baron, once boasted that he would never allow a "black" or a "kike" to play on his team. He knew that three Jews and two blacks started for City College.
The buildup to the game, at least among City College students, was electric with tension and anxiety. My editor called it a "culture war"—not a basketball game but a collision of fundamental values. The battlefield was Madison Square Garden, standing like a "medieval fortress," in writer Stanley Cohen's memorable phrase, on Eighth Avenue between 49th and 50th Streets. "The crowd funneled up from under the ground," Cohen wrote, "from the Independent subway, into the twilight shadow of sport's first great indoor temple." The Garden was noisy, sweaty, packed, every one of its 18,000 seats occupied. Because there were no elevators, no ramps, no escalators, many ticket holders had to trudge up steep banks of stairs until they found their seats in the upper balcony. It was like climbing the Alps without skis.
Holman, probably the only one in the Garden who thought "my boys" could beat Kentucky, engaged in his style of psychological warfare. He gathered his players around him. "Let's shake hands with each of them," he whispered, pointing to the Kentucky players across the court. "Let's show these boys how polite we New Yorkers can be." If the City players thought their coach had lost his mind, they disguised their feelings behind nods and grunts of approval. "Sure, Coach, sure," they said.
After the teams took their positions on the court, seconds before game time, I kept my eyes on Layne, as he extended his hand to Kentucky's top scorer. The other City College players did the same thing, their hands extended in faux friendship. In full view of 18,000 fans, not a single Kentucky player returned the gesture. In fact, they all turned their backs on the City players. I heard Layne hiss, "You gonna be pickin' cotton in the morning, man."
The game started, and a miracle took place on the Garden floor. City College, the undisputed underdog, walloped Kentucky. After 10 minutes, the score was 28-9, City leading. At half-time, it was 45-20. With ten minutes to play, City was leading by 30 points. Final score—89-50. Unbelievable! It was the worst defeat in Kentucky's 46-year history of college basketball. The news lead that flashed through my mind: "Murder took place last night before 18,000 witnesses." A glorious murder!!
Having trounced Kentucky, City College went on, almost effortlessly, to win the NIT tournament for the first time in its history. One miracle piled on another. The National Collegiate Athletic Association (NCAA), in those days not as prominent or powerful as the NIT, invited City College to participate in its tournament. City accepted. How could it not? City College's rhapsodic fans believed they were living the American dream. Given the opportunity for an education, the City College players had proved that Jews trying to make it in America, and blacks trying to make it in America, could make it in America; that we were as worthy as anyone else.
For the City College players, there was really not much time for celebration. They had to practice. Holman kept their eyes on the big question: Could they also win the NCAA crown, thus becoming the only team in college-basketball history to win both tournaments? In many ways, such a goal was beyond their imagination. And yet, so close, they reached for the gold ring—and grabbed it, writing a new chapter in the intertwined histories of City College and basketball.
If the Garden fans went wild after the NIT championship, they went wilder still after the NCAA championship. "Allagaroo, garoo, garra," they screamed, "allagaroo, garoo, garra." It might have sounded like a voodoo incantation, but it was actually the college's chant at any of its sporting events. The students came tumbling out of the balcony and spilling onto the court, mobbing the players and hoisting them onto their shoulders. There were as many tears as cheers. Holman looked like an athlete who had just scaled Mt. Everest, his hair on this night ever so slightly mussed up, his jacket unbuttoned, his handkerchief limp—but he was absolutely triumphant, his clenched right fist extended to the heavens. He and his players had just won the grand slam of college basketball, having beaten the best in the country: San Francisco, Kentucky, Duquesne, Ohio State, North Carolina State, and Bradley twice. The following morning, the New York Times acknowledged that City had "[run] out of basketball worlds to conquer." Its grand slam, said the Times, was "a vindication of the democratic process."
Immigrant parents of City College students might not have appreciated the scope of City's basketball accomplishment until they watched The Ed Sullivan Show, their weekly exposure to American culture. When they saw, first, that coach Nat Holman had been invited on the program, second, that the ovation for him from the studio audience was so loud Sullivan had to repeat his introduction three times and, third, that Holman was there to discuss City's basketball triumph with Ed Sullivan, no less, then they understood that something truly momentous had happened at City College. And when the mayor of New York, William O'Dwyer, hailed the Beavers as "our athletes" at a special noontime rally at City Hall, an event covered and broadcast on the evening news, they knew that City College now occupied a unique place in American life. From one end of the country to the other, City College was now recognized as the college of national champions. Even kids in San Francisco were chanting "allagaroo."
For the next ten months or so, City College lived in a fairyland world of sugared championships won in tinseled Gardens. Students seemed to walk on air, and the basketball players were treated like gods.
And so, when, in the early morning hours of February 18, 1951, the news broke that three of the basketball team's top stars had been arrested at Penn Station in midtown Manhattan for shaving points in an illegal betting scheme run by Mafia gangsters, I refused to believe it. Was this someone's idea of a sick joke? My brother and I were driving to Manhattan after a weekend visit with our parents in Brooklyn. Bernie was at the wheel on a clear, cool Sunday morning. WQXR, the classical music station in New York, interrupted Beethoven to present a news bulletin about the arrest of three City College basketball players. "No," I groaned, "no, there must be some mistake." The story did not name the players, but it did say, quite clearly, that the players had accepted Mafia money to shave points.
I felt I had to get to the college as soon as possible. Though I was now in my senior year, no longer sports editor, concentrating instead on Russian language, literature, and history as a prelude to graduate work in this field, my life still rotated around The Campus.
Across the Brooklyn Bridge, into Manhattan and then up the West Side Highway, Bernie kept asking me questions, and I tried answering them. "Shaving points," or the "point spread," for example: What was that all about? I didn't know much about shaving points, but I did know it was illegal. It was the bookies' way of betting on a game: not which team won the game—that was old-time betting. Now it was, by how many points? The bookies could be seen at the Garden, Runyonesque characters, Mafia mobsters in large brim hats, smoking fat cigars, making money on their new point-spread betting, which got started in the early 1940's and flourished by the late 1940's. "Point spreads attracted gambling," wrote columnist Heywood Hale Broun, "like honey draws bees." Obviously, I thought, as we sped up the highway, I should have looked into this corner of college basketball when I was covering the City College team, but, in truth, it never occurred to me that "our" team would have anything to do with point spreads or Mafia hustlers. Maybe other teams, but not City College.
At the time, reporters were not yet infected by the skepticism of later years, the distrust of government and large corporations. Vietnam was still a failure over the horizon, Watergate a political nightmare yet to happen. We all lived in the post-World War II glow of optimism, growth and prosperity. We felt that our government worked for us and our team played for the glory of the college. We were still innocents at home and abroad. I was, certainly. While covering the grand-slameroo of City College basketball, I was in Nat Holman's hip pocket, a cheerleader with a typewriter. Only later, after years as a CBS correspondent in Moscow, did I acquire a certain skepticism about the stories I covered, a skepticism I then brought to Washington, where I covered Watergate and the American descent into Vietnam. I realize now that a dash of skepticism has always been an essential tool of journalism. Had all journalists had this tool, had they used it well, we might have been able to avoid Vietnam and Watergate.
When I reached the office of The Campus, I could see that the newsroom was alive with both excitement and apprehension. I learned quickly that the three players were Warner, Roth, and Roman, and they had been arrested at Penn Station at roughly 2 a.m. New York District Attorney, Frank Hogan, had sent two detectives to Philadelphia for the CCNY-Temple game. After the game, which City won easily, the detectives joined Holman and his players on the train ride back to New York. Quietly, they informed Holman that they intended to arrest three of his players as soon as they entered New York's jurisdiction. Holman was stunned but offered no objections. "I have no sympathy for them if they are guilty," he said.
The players were charged with illegal point spread manipulation in three Garden games, against Missouri, Arizona, and Boston College. They had cooperated with a once-jailed mobster named Salvatore Sollazzo. Moments after their arrival in New York, standing together on a damp, dreary platform, a devastated Holman told his players that if they had nothing to do with the gambling charges, he would support them "fully, to the best of my ability," but if they did have something to do with gambling, then he would let "the chips fall where they may." As the detectives hustled the players toward a police van for the short ride to the Elizabeth Street Station in downtown Manhattan, Holman walked off by himself, his coat collar pulled high around his neck, into the misty darkness of the railroad platform. It was a scene from Anna Karenina.
The players were questioned by police detectives for several hours and then whisked to the Criminal Courts Building on Center Street. They looked frightened, their heads down, their hands in their pockets. News photographers snapped pictures of these "fallen idols," the title of the column I wrote that night for Monday's paper. I was sympathetic but deeply disappointed in the players. Just by being arrested, they had ruined themselves and besmirched a beautiful accomplishment, their grand slam triumph—"truly betrayal at a biblical level," I wrote. What they had done was incredibly harmful to City College. It was, for me and so many other students, a heartbreaking introduction to the complex frailties of human nature.
How did a Sollazzo get acquainted with a Roman, a Roth, and a Warner? The question opened the door to a look at the summertime "borscht belt" in the Catskill Mountains, where New Yorkers, mostly Jews seeking a break from the humidity and heat of the big city, would go for weekends, weeks or months of vacation. Waiters, really college basketball players with an apron, were hired for a pittance not to wait on tables but to play basketball, one hotel team against another. An informal league was established, according to Bob Cousy: "the Borscht Belt Basketball League." Gamblers, like Sollazzo, were introduced to the players by Gard, and the betting would begin. Players would dump games or win (or lose) by a pre-arranged number of points. They would earn a $1,000-$1,500 for a summer's play (and pay), Sollazzo a great deal more. Even guests bet. It was fun after six-course meals—and for them harmless.
When the summer games ended, and the players returned to school, the betting schemes merely changed locales, from the borscht belt to Madison Square Garden. Gard, working for Sollazzo, maintained close contact with the players and persuaded them to engage in more point spread profiteering. Why not?, he would ask. The gamblers were making fortunes. Why not you? For City College players, all from relatively poor families, the temptation was too great, especially when Gard assured them that Sollazzo didn't want them to dump games, only to win by a certain number of points.
A few days after the initial arrests, on February 20, Hogan dramatically widened the net. He arrested three players from LIU—Sherman White, LeRoy Smith and Adolph Bigos. They were charged with "throwing" games, not just spreading points. Eventually, Hogan was to arrest 32 players from seven colleges across the country, including Bradley and Kentucky. It was a front-page story. Basketball was shamed, but so were the colleges, which soon discovered that their reputations were tarnished and their fundraising diminished. Three other City College players were also arrested in this nationwide crackdown—the dentist Dambrot and his buddies Herb Cohen and Norm Mager. These arrests only deepened the gloom at City College, which was in mourning for a glorious memory now blackened in shame.
The players actually spent very little of the money they earned. Cooperating with the police, they returned most of it. Roth secretly opened a safe deposit box in his mother's name in a small Brooklyn bank, where he put $5,060. He delivered the key to the box to the DA. Roman's family hired a lawyer, who brought $3,000 to the DA's office in two installments. Warner led detectives to $3,050 in tightly rolled bills, which he had placed in a shoe box in the basement of his aunt's home.
One star, though, remained untouched: Floyd Layne. The gamblers, we thought, couldn't get him. The affection and pride we had earlier heaped on all the great City sophomores, we now heaped on Layne. He was our man, our hope, our bridge back to an earlier era. On February 22, Layne led a drastically weakened City College team against Lafayette, and he played the best game of his career, scoring a team high of 19 points, handing out one assist after another and, for good measure, moving in and out of the pivot, where he grabbed a handful of rebounds. He seemed to be playing for himself, for his college, and also for his arrested teammates. When the game ended in a 67-48 City College victory, the fans noisily allagarooed and raised Layne to their shoulders. At that moment, he was our hero, our vindication. He took some of the sting out of our collective shame.
Five days later, on February 27, Layne was arrested. It was like dying twice.
"Well, I was expecting it," he later told reporters. He went with detectives to his home on Prospect Avenue in the Bronx—to a flowerpot in his mother's bedroom, where he had carefully wrapped and buried the $3,000 he had received from Sollazzo.
At The Campus, we pondered many questions about ourselves, our college and the players—few perhaps as painful as the one that focused on Holman: how could this great coach not have known? How could he not have wondered why shots that should have been made were missed; why players, usually smooth, could suddenly become so sloppy? Holman refused to give interviews, though I asked on an almost daily basis. My guess was that he never second-guessed himself—he was, after all, The Master. But, after a while, he might have indulged in what the Soviets used to call "self-criticism." If he, for example, had simply alerted his players to the many dangers of gambling at the Garden; if he had urged them to report any approaches by mobsters; if he had had a closer personal relationship with the players and discussed their problems, he might then have been in a position to preempt the obvious temptations laid before the players by the likes of a Sollazzo. But Holman was not that kind of coach. He seemed to believe his news clips, and he kept his distance. He was, however, touched by the scandal that enveloped his players: There was no escape. After the 1959-1960 season, Holman retired, a tired and disillusioned coach, the questions "Did he know?" and "What did he know?" still hanging over his head and his legacy.
He lived the last lonely years of his life in the Hebrew Home for the Aged in the Riverdale section of the Bronx. My roommate Mark and I often wondered whether Holman would sit for an interview about his life in basketball and, inevitably, about "the scandal." One day in the early 1990's, Mark visited Holman at the Hebrew Home.
"It was a grey autumn afternoon," Mark remembered. What Mark saw in Holman's room "shocked" him. "When I entered," Mark said, "there was Holman, curled on the bed in fetal position, facing the wall and staring into nowhere. His cheeks were sunken and, if memory is correct, his teeth appeared marked by their absence. The walls were covered with children's drawings and paintings and created a warmth that was remarkable, given the circumstances. There was a friendly private nurse in attendance, and I felt a bit guilty at being there. So, after a few pleasantries and having extended my deepest respect, I made as diplomatic a withdrawal as possible." Holman probably never knew he had a visitor. He died on February 12, 1995 at the age of 99.
It is not known whether Holman ever reached out to "my boys," or they to him, but the seven arrested players seemed desperate for the anonymity of an average Monday-to-Friday existence. "For years," Mager told the Times in 1994, "when people on the street asked if I was Norm Mager, I would say 'no.' I tried to hide out. Got married, moved to the suburbs, raised three kids, didn't mix."
Five of the players—Mager, Roman, Cohen, Dambrot, and Layne—got suspended sentences. Roth and Warner were not that lucky. Roth was sentenced to six months in a workhouse, but he struck a deal with the judge. He joined the Army, and his sentence was dropped. Warner was the only City College player to go to jail—he spent six months behind bars.
What did they do for the rest of their lives?
Dambrot worked as a dentist in New York and New Jersey. He died of complications of Parkinson's disease in 2010 at the age of 81. A year before, he celebrated City's grand-slam triumph at Madison Square Garden, arriving there in a wheelchair.
Layne was there, too, fighting back tears, as he held Dambrot's hand. "We were always close," he told the Times. "We bonded then, we bond now. We will always bond." Ironically, considering the impact of the scandal, Layne was given the job of coaching the City College basketball team for 14 years in the 1970s and '80s. Now he is the top basketball coach at the George Washington High School, my alma mater.
Roth, after his Army tour, played basketball for several years in the Eastern League (the seven City players were banned from ever playing in the NBA) and then attended the City College business school, before retiring to a suburb of New York where he sold insurance.
Roman, who died of leukemia in 1988 at the age of 57, spent two years in the Army after the scandal and then settled in Seattle, where he earned his baccalaureate. When he returned to New York, he did graduate work in adolescent psychology, got a Master's degree and a doctorate and worked in the public school system in Queens.
Warner, after serving six months in prison, played basketball in the Eastern League, as did Roth. In the 1960's, he was back in prison for peddling heroin. He then worked as a high school basketball referee, an observer of officials for New York City's Public Schools Athletic League, and finally as a recreational supervisor in Harlem.
Warner might have enjoyed a sensational career in the NBA were it not for the scandal. He once tried to explain that he and his buddies needed supervision, suggesting that if they had got it, they might have avoided the temptation that destroyed their lives. "We weren't seasoned criminals," he said. "We didn't receive the guidance we should've." He sought a measure of comfort from the fact that City College was not alone in the scandal that rocked college basketball in the early 1950's. "We weren't the only team doing it. There were several that escaped. But we paid the price."
Mager, years later, offered his take on the scandal, suggesting that it sprang from the bitterness he felt playing basketball for the love of the game while his college reaped the rewards in its cool exploitation of his talent. "You're talking about kids, kids, who were busting their humps while the school was making a ton of money. What can I say? We loved the game. We really loved the game. I'm not proud of what I did. And we will never know how great we could have been."
They crossed the line and paid a stiff price. City College, the college they disgraced, paid a higher price. It took many years for City College to regain its former luster as a first-rate educational institution. The basketball scandal, while not the only reason for the college's decline, was a major precipitating factor. No student there at the time will ever forget both the triumph and the tragedy of the basketball scandal. I learned at the time that a journalist must never fall in love with a story, as I think I did back then. It's better just to cover it.